---
Thursday, December 23, 1999
St. Louis wrongly
fired Pariante,
poll says


Of those who are familiar
with his dismissal, more than
8 out of 10 believe the
board mishandled it

By Christine Donnelly
Star-Bulletin

Nearly everyone who has heard about the Rev. Mario Pariante's ouster as president of St. Louis High School has an opinion on the matter. And the vast majority think he got a raw deal, a new poll has found.

The latest Honolulu Star-Bulletin/NBC Hawaii News 8 Poll asked Hawaii residents if they were familiar with Pariante's fate and 81 percent said they were. Of those, 85 percent believed the Board of Trustees that fired him had mishandled the situation. Thirteen percent said the trustees handled it well and two percent were not sure.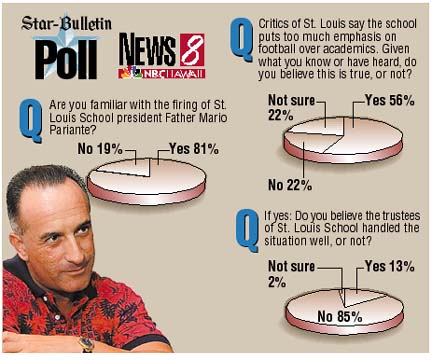 The Marianist priest had headed the Roman Catholic boys' school for 2 years when he was fired Nov. 17 with about seven months left on his $75,000-a-year contract. Trustees said he showed poor communication skills and ineffective leadership at the 900-student school, but his supporters contend that he was punished for reining in errant players on St. Louis' powerhouse football team.

Fifty-six percent of those polled said they believed St. Louis overemphasized football at the expense of academics, a belief held equally among both men and women. Twenty-two percent of all people polled said that was not true and 22 percent were not sure.

Statewide problem

Elsie Hollingsworth, 80, of Pearl City, was among the majority, although she made a point of saying that appeared to be a problem at most high schools, not just St. Louis. "I have always been of the opinion that we put way too much emphasis on sports in this state," said Hollingsworth, who has lived in Hawaii for 24 years.

St. Louis trustee Kitty Lagareta, chief executive officer of the public relations firm Communications-Pacific Inc., said poll results reflected misperceptions caused by the public not knowing the full story of Pariante's tenure. But the trustees would never publicize all the details because his dismissal was a private personnel matter, she said. She reiterated assertions by other trustees that the firing had nothing to do with "football vs. academics" and was really about how Pariante ran the school.

"I'm proud of the board and the way they handled a very difficult situation," said Lagareta. "The poll doesn't surprise me because if I was on the outside looking in without all the facts that's probably the same conclusion that I would draw. It's just unfortunate that people rush to judgment without realizing that there's always two sides."

Priests preferred

The 150-year-old school traditionally has been headed by a priest, and poll respondents want that to continue. The school's bylaws call for first considering a Marianist as president, then a priest of any order and finally a lay Catholic. But a Marianist official has said a shortage of qualified priests might result in the first layman president.

Forty-six percent of Hawaii residents polled said it was not a good idea to consider a layman for the top post, 30 percent thought it was a good idea and 24 percent were not sure. The youngest and oldest respondents most strongly preferred a priest, with 51.9 percent of those older than 60 and 51.7 percent of those ages 18 to 29 not wanting a layman.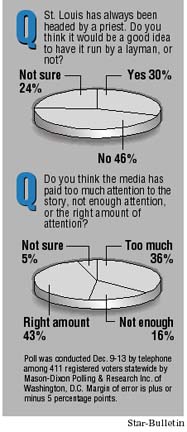 Walter Kirimitsu, chairman of the school's board of trustees, said he hoped a new president would be hired by June. A special committee will conduct a nationwide search.

The board, which includes many alumni, is "absolutely committed" to continuing a rigorous curriculum with Marianist values at its core. "That's unanimous," he said.

Many have questioned why the trustees did not simply allow Pariante's contract to expire in June, rather than disrupting the school year. But Kirimitsu said that once the trustees had decided Pariante was not right for the school, it was best to act quickly. "It was basically a business decision that once you decide not to renew, you don't just wait around, you try to move as quickly as possible to find the best candidate," he said.

Pariante's firing prompted a flurry of newspaper articles and television and radio news reports and even weeks later continues to generate a steady stream of newspaper "letters to the editor." Some have complained that the story was overplayed, but the poll findings did not bear that out. The largest segment -- 43 percent of all those polled -- said the news media have paid the right amount of attention to the story. Another 36 percent said there's been too much coverage, 16 percent said there's been too little and five percent were unsure.

Hawaiians heard enough

Women were more apt than men to think the story had been overdone, with 44 percent of the women vs. 27 percent of the men believing that. Among races and ethnicities, native Hawaiians felt most strongly, with nearly seven in 10 saying there was too much media coverage.

Pariante could not be reached for comment yesterday. But in an interview early this month, he said he had received job offers from Roman Catholic schools in Florida and California. He planned to wait until after Jan. 1 to make a decision, after taking time off to visit family and friends.

He received hundreds of e-mails, letters and phone calls after his ouster.

"I believe very deeply that I helped St. Louis move forward," and it was encouraging to hear from so many others who believed that too, Pariante said. "I was honestly surprised at the extensive outpouring of support."

The telephone poll, which was conducted from Dec. 9-13 by Mason-Dixon Polling and Research, Inc. of Washington, included 411 registered voters. The margin for error is plus or minus 5 percentage points.
E-mail to City Desk
---
---
© 1999 Honolulu Star-Bulletin
https://archives.starbulletin.com