Advertisement - Click to support our sponsors.

---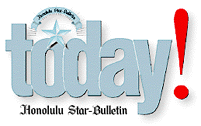 ---
Thursday, December 23, 1999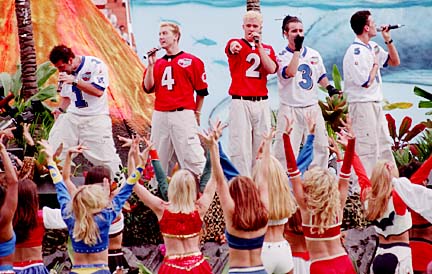 By Dennis Oda, Star-Bulletin
'N Sync performed at the Pro Bowl last year.
The band returns to Oahu to ring in year 2000.
---
2000


Merry millennium!

Wherever you end up on New Year's weekend, look up -- there'll likely be fireworks overhead.

The "big" event is a trio of 'N Sync concerts -- Dec. 30, 31 and Jan. 1 -- at the Blaisdell Concert Hall. For local-style entertainment, Cecelio & Kapono and Kalapana are set to perform beginning at 8:30 p.m. at Irwin Park, Aloha Tower Marketplace. The concert will end with fireworks at midnight. And, over at Ala Moana Beach Park, the Starlight MADDness First Night Event will begin at noon on the eve with food booths and entertainment.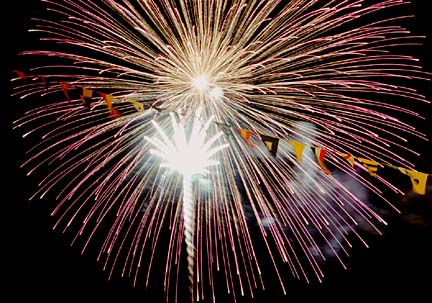 Star-Bulletin
You'll have a wide choice of fireworks displays.
---
Fireworks will shoot off at midnight off barges at Magic Island, and at the Hilton Hawaiian Village, Halekulani, Sheraton Waikiki and Kuhio Beach.

There's lots more.

CONCERTS/STAGE EVENTS

Cecelio & Kapono and Kalapana

Irwin Park, Aloha Tower Marketplace, 566-2337
8:30 p.m. Concerts with a fireworks finale at midnight. Tickets on sale at Gordon Biersch, Big Island Steak House, Hooters, The Pier Bar or Neal Blaisdell Box Office. Tickets: $30. A portion of the proceeds go to Child and Family Services.


The Krush Millennium Concert

Outrigger Waikoloa Beach Hotel, 886-6789
Dinner show includes a variety of ethnic food stations, open bar and a champagne toast with a keepsake glass and party favors, 7:30-10:30 p.m. $125 adults; $65 for children 12 and under.
Cocktail show includes champagne toast with a keepsake glass and party favors, 9 p.m. $95. Reservations required.


"Loose Screws: The Last Laugh"

Kumu Kahua Theatre, 536-4441
7:30, 9 and 10: 30 p.m. Featuring improvised scenes with Stephanie Curtis-Conching, Monica Cho, R. Kevin Doyle, Cat Gonzaga, Blake Kushi plus special guests. Tickets: $6. Bring an object that sums up the millennium and receive a $1 discount.


'N Sync

Blaisdell Concert Hall, 591-2211
8 p.m. Dec. 30, 31 and Jan. 1. Tickets are $40, $65 and $45, respectively. Buyers using their Oceanic Cable Kupaa Cards can purchase up to four tickets at $40 each at the Blaisdell box office only. Other ticket venues include UH Campus Center, Tempo Music stores on Oahu, charge- by-phone at 526-4400, or online at www.ticketslive.com.


Sheraton Waikiki

"Hoomaka Hou 2000," a celebration of music and dance features the Moana Chang Trio; Makaha Sons with Robi Kahakalau; Hapa; Moe Keale with Nalani Keale; Kanilau; and Kapena and a hula halau. Platinum seating, $95; Gold seating, $85. Dinner packages are $225 and $200.


---




RADIO

"Kssk To '99 Rewind"

296-5959 or 296-9292
5 p.m. KSSK 92.3 and KSSK 590 will present a locally-produced 24-hour show highlighting the Top 10 news stories and music from 1999.


---




Parties

"Back to the Future"

Sheraton Princess Kaiulani
The pool deck of the Pikake Terrace and Lounge will be transformed into a time machine with a "Back to the Future" theme. A band will play songs spanning the '40s through '60s. A giant pineapple will match the ball dropping in New York's Times Square, counting down to the new year. The pool party celebration also will feature pyrotechnics, lit balloon sculptures, confetti and lasers. Call 922-5811.


"Cuisine Under the Stars"

Halekulani, 931-5040
Honolulu Symphony provides the night's entertainment. Also performing is the Bruce Hamada Band, and there will be fireworks at midnight. Dinner includes lobster, sashimi, carving stations with grilled meats, rotisseries, tandoori specialties and desserts. From 9 p.m. in Halekulani Courtyard Gardens. Evening attire recommended. Call for reservations; $300 per person.


"Hard rock Cafe Future 2000"

Hard Rock Cafe, 955-7383
9 p.m.-1:30 a.m. Featuring entertainment by Mystical Sounds, glow in the dark amenities and traditional party supplies. White or fluorescent colored attired recommended. Must be 21; $15.


Kahala Mandarin Oriental

There will be four parties going on, with gourmet food stations, champagne, party favors and live bands. The party themes are: "Rockin' to Y2K"; "Millennium Magnifico"; "Swing Style 2000"; and "Reflections '99." The evening will end with a fireworks display on the beach. Admission is $225. Call 739-8888.


"Millennium Masquerade Party"

Diamond Head Grill,
Features the music of David Swanson and Azure McCall. A seven-course meal by chef David Reardon includes Ama Ebi-Kona Lobster Ravioli, and special dishes of quail and veal loin. Seatings are at 9 and 9:30 p.m. Cost of $250 includes mask and champagne at midnight.


"New Year's Eve Millennium Cruise"

Kewalo Basin, 254-1272
8 p.m.-1 a.m. Buffet dinner aboard the Abner T. Longley, party favors and entertainment by Take Two Duo, Galen and Lisa Rankin. $100.


"Party of the Century"

Ala Moana Hotel, 955-4811
7 p.m. Slack key with Del Beazley, Dwight Kanae and David "Kawika" Kahiapo, 7 p.m.; dinner buffet, 8-9:30 p.m.; Karen Keawehawaii, 9:15 p.m.; Kaala Boys, 11 p.m. Tickets: $85.


Roy's Millennium Jubilee Celebration

Roy's Hawaii Kai, 396-7697
Sixteen-course and 14 wine extravaganza. 6 p.m. Hawaiian Halau Reception featuring an array of dim sum carts; 7 p.m. The Millennium Dinner Banquet; 10:30 p.m. Countdown to Ecstasy begins with swing music by Shari Lynn & Friends and Roy's Millennium sparkling wine. $325. Advance reservations required.


So & Soooo

Anna Bannanas, 946-5190
9 p.m.-1 a.m. hip hop, house, funk, reggae and jazz music; $10 before midnight; $5 after midnight.


Starlight madness

Ala Moana Beach Park, 523-6232
This is a scaled-down version of the alcohol-free First Night festivities of years' past. It runs noon-9:30 p.m. and features children's activities, food booths and a craft fair. Entertainment is by Dennis and David Kamakahi, Michael Kaawa, the Ophi Pickers, Brother Noland and Pekelo Cosma. Admission is free.


Star sisters

Sheraton Moana Surfrider
The outdoor Banyan Courtyard will host five hours of entertainment by the Star Sisters, Jan Brenner and Rea Fox, from 7:30 p.m. to a half-hour past midnight. The $100 admission gains entrance to an appetizer buffet and outdoor party festivities, holiday beverage, favors and a glass of champagne at midnight to toast the new year. Tickets to the entertainment-only festivities at the Banyan Courtyard are $75 per person.


"Y2K on the H20"

944-8855
10 a.m.-1 p.m. Cruise aboard the Starlet, a privately chartered yacht out of Kewalo Basin. DJ music and cash bar; no outside beverages permitted, $25. Call Dave for more information.


---




RESTAURANT GALAS

Aaron's: Millennium Countdown dinner with entertainment and dancing with Night Groove, 10 p.m. to 2 a.m. Five-course meal, $200. Call 955-5559.
Alan Wong's: A 15-course tasting menu includes wine pairings, estate coffees, party favors and a glass of Billecart-Salmon Chardonnay. Cost is $300. Call 949-1939.
Chef Mavro: "A Fabulous Evening in Provence" features six courses "featuring the best of Marseilles and Honolulu." The menu by chef George Mavrothallasitis includes Steamed Onaga with Ossetra Caviar Sauce and Rocky Mountain Roasted Lamb Loin. Dinner is $119; $164 with wine parings. Call 944-4714.
Sam Choy's Diamond Head: A five-course meal is $65 ($75 for an additional duck breast entree); add $20 more for wine. Call 732-8645.
L'Uraku: "Kaiseki for the Millennium" is a 10-course meal featuring the contemporary Japanese cuisine of chef Hiroshi Fukui, with five wine pairings by master sommelier Chuck Furuya. The meal is priced at $99 in honor of the outgoing year. Reservations: 955-0552.
Padovani's Bistro and Wine Bar: Chef Philippe Padovani's Millennium Dinner includes Sauteed Langoustines in Essence of Hazelnut Oil, Pan-Fried Moi with Almonds and Tomato Confit and Roasted Prime Colorade Lamb Loin. The $500 meal includes a glass of 1990 Louis Roederer Cristal Champagne and 1-pound box of Padovani's Chocolates. A Century Dinner, without the champagne and chocolates, is $300. The Wine Bar will feature dancing with a band headed by Rachel Gonzales and Nick Lido. Short menu will offer foie gras, caviar, oysters and more. Call 947-1236.
Royal Hawaiian Hotel: Executive chef Tom Wong cooks up a five-course "Art of Food and Wine" dinner in The Surf Room, at $100 per person. Afterward, listen to the Cathy Foy Trio at the Mai Tai Bar. The Monarch Room will feature "Flavors of Hawaii," a six-course dinner prepared by chef Wong, with entertainment by a 16-piece band; $400 a person. Each guest will receive a keepsake and party favors. Call 931-7194.
Sarento's Top of the I: Millennium Countdown dinner with entertainment and dancing with Bac n Time, 9:30 p .m. to 1:30 a.m. Five-course meal, $175. Call 955-5559.

See also:

Do It! Electric: Millennium Events






Click for online
calendars and events.
E-mail to Features Editor
---
---
© 1999 Honolulu Star-Bulletin
https://archives.starbulletin.com