---
Wednesday, December 22, 1999
Poll finds
hope for stagnant
economy


A majority, however, don't
believe the governor and
lawmakers have a clear plan

By Pat Omandam
Star-Bulletin

Marsha White has not been affected much by the state's stagnant economy, but she knows she is an exception.

"I'm OK. I'm making about the same money I always do," said the 60-year-old waitress.

"But I know people who tried to find jobs here and can't. And on the mainland, employers are hurting for people in some areas ... and I think that's pretty sad," she said.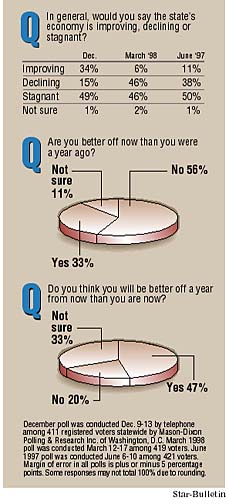 Gov. Ben Cayetano and the state Legislature failed to win the confidence of a majority of Hawaii registered voters, such as White, in the latest Honolulu Star-Bulletin/NBC Hawaii News 8 Poll.

About 78 percent of respondents said they don't believe state lawmakers have presented a clear vision on how to boost the economy, while 53 percent said the same for Cayetano. The lack of confidence showed across the poll's demographics in ethnicity, ages and income levels.

"I don't see there are concrete steps being taken by the governor or the legislature to encourage a turnaround," said respondent Joe Lew, 39, a Waikiki resident.

The English literature professor at the University of Hawaii said he sees more tourists in Waikiki, but knows that alone doesn't lead to economic recovery. State officials may still be hoping the bad economy will just go away, he said.

But the poll also found some optimism: Although half the respondents said the economy continues to be stagnant, 34 percent said they believed the economy was improving, a nearly sixfold increase from 6 percent who felt the same way in March 1998 and three times the number in June 1997.

And while 53 percent don't believe Cayetano has a clear vision for the economy, 34 percent said he does, up from 21 percent in February.

Cayetano attributed the growing confidence to the tax cuts enacted during the last two legislative sessions. He added that the private sector is investing more in the economy, such as through auto and real estate sales, and that private construction is getting better.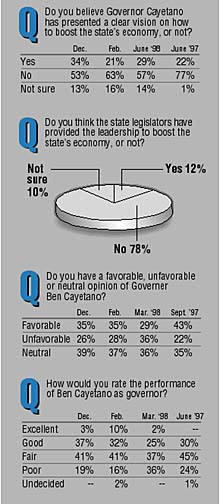 Some of those polled agreed. Michael Papuzza, 63, a retired Northwest Airlines ground services chief, predicts an economic rebound in a few years.

"I see it is finally leveling off, and I think its on the up-climb but at the very early stages," Papuzza said. "I think within three years, we'll have a tourist record-breaking economy."

Meanwhile, Cayetano's job rating has held steady this year.

Thirty-seven percent gave him a "good" rating in the latest poll, while three percent rated his performance "excellent." Another 41 percent said Cayetano is doing a "fair" job, and 19 percent said he is doing a "poor" one.

More women than men gave Cayetano a good/excellent job rating, while one-fourth of those ages 30-44 gave him a poor rating.

By ethnicity, nearly half of those who identified themselves as of Japanese ancestry gave him a good/excellent rating, followed by 43 percent of Filipinos. A third of the Caucasians polled gave him a poor rating.

"I'm very glad he's in there. I think he's doing a good job," Papuzza said.

The poll included 411 registered voters interviewed Dec. 9-13 by telephone by Mason-Dixon Polling & Research Inc. of Washington, D.C. The margin of error is plus or minus 5 percentage points.
E-mail to City Desk
---
---
© 1999 Honolulu Star-Bulletin
https://archives.starbulletin.com