Advertisement - Click to support our sponsors.

---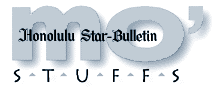 ---
Wednesday, December 22, 1999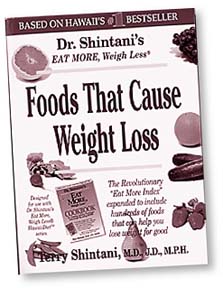 ---
Eat more of these
to lose weight
Planning to make weight loss your resolution for the year 2000? Yeah, you and a million other people. But that doesn't mean you're doomed to failure. Dr. Terry Shintani does his part to help by way of his newest book, "Foods That Cause Weight Loss." The slim paperback is meant as a take-along companion to Shintani's HawaiiDiet series, first designed to help the seriously overweight at the Waianae Coast Comprehensive Health Center.

"Foods That Cause Weight Loss" is a guide to 2,000 common foods, ranked in order of Shintani's "Eat More Index," or EMI. Each food is assigned a number based on how many pounds of that food it would take to provide a day's worth of calories. "So, if you want to lose weight, you simply eat foods that are higher on the EMI scale," Shintani says in the book. "You can eat as much as you want and still lose weight."

Shintani's philosophy pretty much runs against current teaching regarding low-carb, high-protein diets. Most of his favored EMI foods are breads, whole grains, fruits and vegetables -- his least favored being meat-based proteins. But for those following his method, the book will help with choices.

"Foods That Cause Weight Loss" will be available at an introductory price of $5.99 at Longs Drugs Stores through Friday. After that, the regular price will be $7.95. All proceeds from the sale of Shintani's books support the Hawaii Health Foundation.

To Your Health
Safe from New Year smoke
The Ilikai/Hotel Nikko Waikiki is offering a Safe Haven Special through Jan. 3 for those who want to escape the fireworks and smoke surrounding new year celebrations. The hotel is offering 50 percent off regular rack rates.

For reservations, call 949-3811 and ask for the Safe Haven Special.

For more information on the American Lung Association's Safe Haven 2000 program, call 537-5966, Ext. 304.
Holiday blood drives slated
Hope Chapel Kapolei will hold a blood drive from 7:30 a.m. to 1 p.m. Sunday in the spirit of fellowship and in support of the Blood Bank of Hawaii's year-round community program.

Anyone 18 and older, in good health, who weighs at least 110 pounds, is encouraged to donate blood.

For information, or to make an appointment, call the Blood Bank at 845-9966. Hope Chapel meets at Kapolei Elementary School.

Another blood drive will be held noon to 8 p.m. Dec. 29 at Makiki Christian Church, 829 Pensacola St. Call 595-6113 for more information.

Da Kine
Nile treasures due next year
The Honolulu Academy of Arts is offering gift coupons that may be redeemed for tickets to the "Mystery of the Nile: Treasures of Ancient Egypt" exhibit that runs from March 16 through July 30.

The coupons are available at the weekday ticket price of $12 for adults and $9 for youths ages 13-17 but are good for admission on weekends as well, a $3 savings on the weekend rate. They may be purchased by phone at 532-8724 or at the academy.

The exhibit spans 5,000 years of Egyptian cultural history and features a mummy case, shrouds and masts, jewelry, ornaments, tools and architectural fragments.

Information: 532-8700.
Explore architecture on film
The Honolulu Academy of Arts and American Institute of Architects will host a documentary film series, "Into the New Millennium: Western Design and Eastern Influences in 20th Century Architecture," beginning Jan. 6

Admission is $5 per event, with tickets through the AIA Honolulu office, 1128 Nuuanu, or at the door. Call the academy at 532-8768 for information. Following is the schedule. All programs start at 7:30 p.m.
Jan. 6 -- "Cross Cultural Influences" -- "Museum on the Mountain: The Miho Museum, Japan" and "Arata Isozaki: Building the Los Angeles Museum of Contemporary Art"
Jan. 7 -- "American Mavericks"-- "Frank Lloyd Wright: House on the Waterfall," "Frank Gehry" and "Philip Johnson: Diary of an Eccentric Architect"
Jan. 13 -- "Individual Visions" -- "Maya Lin: A Strong, Clear Vision"
Jan. 14 -- "Individual Visions" -- "Antonio Gaudi"
Jan. 20 -- "East/West" -- "Kisho Kurakawa: From Metabolism to Symbiosis" and "The New Modernists: Nine American Architects"
Jan. 21 -- "East/West" -- "First Person Singular: I.M. Pei" and "Guggenheim Museum Bilbao"

Click for online
calendars and events.
---
Send WatDat? questions, stories
or any other story ideas or comments to:
Features, Honolulu Star-Bulletin, P.O. Box 3080,
Honolulu, HI 96802 or send a fax to 523-8509
or E-mail to features@starbulletin.com.
Please include your phone number.
E-mail to Features Editor
---
---
© 1999 Honolulu Star-Bulletin
https://archives.starbulletin.com