Advertisement - Click to support our sponsors.

---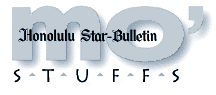 ---
Tuesday, December 21, 1999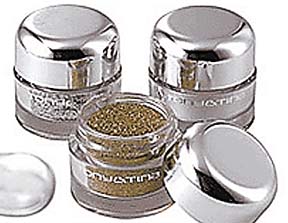 www.beauty.com
Tony & Tina's "Cosmic Lights" glitter powder
is available at Sephora for $12.
---
You glow, girl
LAST holiday season, rhinestones were the rage, whether fastened to strands of hair, or punctuating eyelids. With year 2000 fast approaching, the focus is on the future and the high-tech gleam of silver. In makeup, all that glitters is the goal. The whole body can shine now that specks of light-reflecting materials are blended into products.

Glitter gets sophisticated this season, moving out of the teen realm into higher end makeup lines.

Dotsy Hopkins, assistant manager at Sephora at Ala Moana Center says all the makeup lines carried at the store have some sort of glitter product, ranging from body shimmer to eye liner and glitter eye pencils.

The Hard Candy line offers eyeliner for $17. Its hot seller is a silvery tone called Trailer Trash. "Shimmer," a body gel that can be used on the eyes, cheeks and chest areas is $12. Sephora sold out of Hard Candy's glitter mascara, at $16. Benefit shimmer "Showoffs" goes for $13. Bloom shimmer body gel, $12 comes in gold, silver and bronze tones. Tony & Tina's "Cosmic Lights," a glitter powder, costs $12.

Sephora also carries small Christmas gift packs the receiver can use to sparkle, along with fireworks, into the year 2000. Tony and Tina's Millennium Key glitter polish is $25; glitter nail polish and lipstick pack, also $25.

Hopkins says millennium mania "definitely has everything to do with the influx of glitter products we're seeing" and with women wanting to use them.

Hopkins says the hot holiday color is plum, and she invites people to explore Sephora's "glow library" and tester shelf.

Those on a budget will still be able to head to Longs Drugs for glitter products such as L.A. Girl lip gloss, $4.99. A glitter hair mascara by Color Spot is $5.99. Moonglows' glow-in-the-dark body glitter, $1.49, has tiny sequins shaped in stars and crescent moons in the gel .

But how do you apply the shiny stuff without looking like a disco ball? The way to avoid overkill is to focus on one feature, says Gerry Davenport Brown, a makeup artist with Paul Brown Salon and Day Spa at Ward Centre.

If eyes are the highlight, then go all out with a combination of glitter eyeliner and shadow, or mascara and tone down on the lips and cheeks. Or focus on the cheeks and go subtle on the eyes.

Body shimmer is not a favorite idea with her, because "if it's used all over the body, you end up looking like a glowing alien."

It's best to focus on a small area, like shoulders, neckline or near the outer corners of the eyes, she says.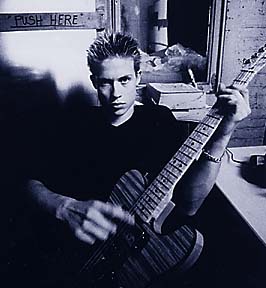 A&M Records
Johnny Lang, the blues artist who opened for the
Rolling Stones at Aloha Stadium last year, is back.
---
Lang back for concerts

Seventeen-year-old guitar sensation Jonny Lang returns to Hawaii in February.

Lang, the blues artist who opened for the Rolling Stones at Aloha Stadium last year, will perform at 7 p.m. Feb. 4 at the Honolulu Zoo and 5 p.m. Feb. 5 at the Kona Brewing Co. on the Big Island.

Tickets are $25 and are available in Honolulu at Tower Video on Kapiolani, Tower Records at Kahala and Pearl Kai, Hungry Ear and Rainbow Books at the University of Hawaii-Manoa.

Tickets for the Big Island show are available at Kona Brewing Co., Mele Kai Music, Ocean Eco Tours, Aloha Cafe Store, Byrds CDs, Holuakoa Cafe, MJS Music, Kipuka Smoke Shop, CD Wizard and Kilauea General Store. For tickets by mail, call 808-925-3514; information, call 808-326-9148 on the Big Island.

Preview

Coming to the big screen

Two films begin their Oahu run tomorrow:

Any Given Sunday
Rated R
Director Oliver Stone examines the seamier side of professional football with bone-crunching reality. Starring Al Pacino, LL Cool J, James Woods, Aaron Eckhart and Jim Brown.

Man on the Moon
Rated R
Jim Carrey plays the late innovative comic Andy Kaufman. Director Milo Forman employs large chunks of Kaufman's routines.

---

Two other movies open on Saturday:

The Talented Mr. Ripley
Rated R
Matt Damon stars as the deeply solitary Tom Ripley, a chameleon-like nobody who decides to do anything necessary to emulate the elegant lifestyle of a wealthy shipbuilder's son. Co-stars Gwyneth Paltrow and Jude Law.

Galaxy Quest
Rated PG
Stars of a "Star-Trek"-like series are drafted into battling real-life extraterrestrial villains in this sci-fi comedy. The cast includes Tim Allen as a William Shatner-type character and Sigourney Weaver as the program's "babe."

Scoops

Scholarships and more

Applications Available for Summer Student Research Project: The Straub Foundation is accepting applications from college and university students interested in participating as student researchers in its annual Summer Student Research Program. Students are selected based on their overall qualifications, academic performance, interests and letter of recommendation.

The eight-week program offers participants hands-on experience in clinical research and is open to graduate and undergraduate students pursuing careers in medicine. Call 524-6755 for an application. Deadline for submission is March 6.

"Great Beginnings for Girls": Girls can learn volleyball and leadership skills from University of Hawaii volleyball coach Dave Shoji and the women's volleyball team at the YWCA Laniakea Center Gym. The 10-week program will take place from 2-4 p.m. Saturdays beginning Jan. 15.

The program is open to 180 girls, ages 8-16. Cost is $70 and scholarships are available. Call 538-7061, ext. 277 for information and applications.






Click for online
calendars and events.





---





Send WatDat? questions, stories
or any other story ideas or comments to:
Features, Honolulu Star-Bulletin, P.O. Box 3080,
Honolulu, HI 96802 or send a fax to 523-8509
or E-mail to features@starbulletin.com.
Please include your phone number.
E-mail to Features Editor
---
---
© 1999 Honolulu Star-Bulletin
https://archives.starbulletin.com