---
Monday, December 20, 1999
Poll: 55 percent
majority favors
fireworks ban


Those most in favor are
in the 60-plus age group,
while young adults, 18-29,
are the most opposed

By Pat Omandam
Star-Bulletin

When the clock strikes midnight on Dec. 31, Joe Lew, a University of Hawaii English literature professor, likely will be hunkered down in his sixth-floor Waikiki apartment trying to keep out the New Year's Eve fireworks smoke.

"I will probably close up my apartment as tightly as possible and run the air conditioner and air filter," Lew said. "I know a lot of people with asthma who are severely affected, and I have allergies that are set off."

Lew, 39, was among a slight majority in the latest Honolulu Star-Bulletin/NBC Hawaii News 8 Poll who favored a statewide ban on fireworks except for religious and cultural activities.

Fifty-five percent backed a ban on fireworks -- a public sentiment that hasn't changed in the past seven months. A similar percentage favored a ban in a Star-Bulletin poll last May.

About 41 percent opposed a ban in the latest poll.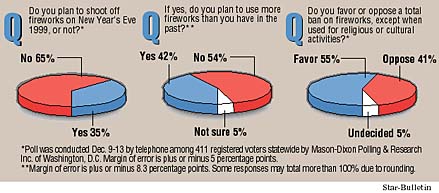 Mason-Dixon Polling & Research Inc. of Washington, D.C., interviewed 411 Hawaii registered voters for the four-day telephone poll, which began Dec. 9. The margin for error is plus or minus 5 percentage points.

Demographic breakdowns show those most in favor were in the 60-plus age group. This group also showed the most support for allowing counties to regulate fireworks.

Marsha White, 60, a waitress, said she favors a ban because people and animals are bothered by the smoke and noise. Every New Year's Eve, White said, a friend stays with her at her Nuuanu home because the individual lives in Kalihi and the fireworks smoke there is so bad.

Still, others polled in this age group have different views.

Michael Papuzza, 63, of Kailua, said he opposes a ban because many ethnic groups in Hawaii use fireworks for religious reasons. The retired chief of ground services at Northwest Airlines said he realizes the danger fireworks pose, but he believes "spiritual aspects" must be considered.

Papuzza said he favors county regulation but fears bureaucracy would get in the way of good ordinances. What the government should do, he said, is to pay for the First Night programs which he has attended during the past five years in Downtown Honolulu. Funding for such family-oriented events has fallen off in the last year.

"They have a big professional fireworks display, and it must save lots of fires, lots of damage and lots of accidents," Papuzza said.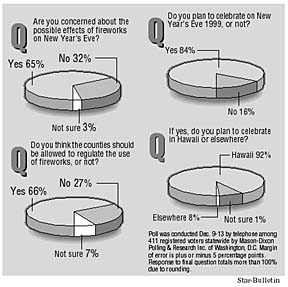 The state Legislature earlier this year could not agree on any fireworks legislation. The House favored a bill that allowed the counties to regulate fireworks, while the Senate supported a statewide ban.

Lawmakers are expected to take up the measure again next year. But any progress will likely depend on what problems arise this Dec. 31.

Gov. Ben Cayetano has stated that he would like to see a ban passed next session to help those with respiratory problems. Of those polled, 64 percent said they were concerned about the effects of fireworks, while 32 percent were not.

"We are the only city of our size, I think, in the country that allows this kind of celebration to happen on New Year's Eve," Cayetano said last month.

Two-thirds of those polled said they won't shoot fireworks on Dec. 31. Demographic data shows nearly three-fourths of those of Caucasian and Japanese ancestry do not plan to use fireworks. At the other end, 56 percent of those of Filipino ancestry said they will.

Ethnicity aside, the findings showed the older the person, the less likely they were to use fireworks. Only 13 percent older than 60 said they would do so. Nearly 57 percent of those between age 18 and 29 plan to.

This young adult group was also the most opposed to a fireworks ban.

Sheldon Lau, 27, of Kuliouou was among them. The real estate appraiser said fireworks have been a tradition in his family's New Year's celebrations as long as he can remember.

He expects this Dec. 31 to be worse than last year. And that was bad enough, he said.

"You can just see the haze that's there, and in the morning it's almost like there's red snow from the firecrackers."
E-mail to City Desk
---
---
© 1999 Honolulu Star-Bulletin
https://archives.starbulletin.com