Advertisement - Click to support our sponsors.

---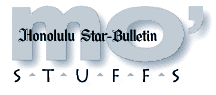 ---
Monday, December 20, 1999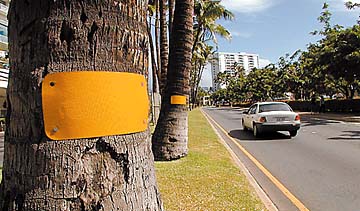 By Ken Ige, Star-Bulletin
Reflectors on trees along medial strip of Ala Moana Boulevard.
---
Palm trees shed light
on blind spot
Faithful reader Bob Jones of Honolulu wonders about all the reflectors tacked onto palm trees on the short stretch of Ala Moana Boulevard between the Ala Wai bridge and Kalakaua Avenue. They're clustered mostly on the median, but trees on the sidewalk side also sport reflectors. Nearly every tree in the region.

"The trees sit well back from the roadway alongside the divider fence. There's also a curb," points out Jones. "So why does each tree need a reflector? In case someone jumps over the curb, drives across the grass, hits a tree, and then says, 'I didn't know there were trees there'?"

And just around the corner, Bob, along Kalakaua, trees grow even closer to the curb and there isn't a reflector in sight. What's up with that?

As you might have guessed already, Ala Moana and Kalakaua fall into different jurisdictions. Ala Moana is administered by the state, and federal highway laws come into effect. Feel that little bump as you drive into Waikiki? You're entering city limits, road-wise.

The reflectors aren't necessarily put only on trees, said state traffic engineer Paul Hamamoto. "It's called object-marking, and it's a matter of judgment how to point out visual obstructions."

The key is the big picture. Don't look at the forest of reflectors for the trees, go with the flow, because the journey is the destination. Now and zen, what we mean is that the groupings of trees have to be considered en masse.

The difference is that Ala Moana curves blindly in that area. The reflectors, grouped together, show from a distance that the road curves out of sight.

Are they all the same distance from the ground because that was the height of the zealous reflector-nailer? "Nah," said Hamamoto. "There's a specific guideline for that, about 4 feet above the pavement."
---
Burl Burlingame
---
Curious about something you've seen? Ask us: WatDat?, Honolulu Star-Bulletin, P.O. Box 3080, Honolulu, Hi, fax at 523-7863 or e-mail at features@starbulletin.com.
---
Radio Log

KONG 570-AM / 93.5 FM: Adult contemporary rock with some Hawaiian music
KSSK 590-AM / 92.3-FM: Adult contemporary music
KHNR 650-AM: All news
KQMQ 93.1-FM: Contemporary hit radio
KQMQ 690-AM: Radio Disney
KGU 760-AM: Sports radio
KHVH 830-AM: News, talk, traffic, weather
KAIM 870-AM / 95.5-FM: Christian music and teaching,
KJPN 940-AM: Japanese-language news, adult contemporary music and talk shows,
KIKI 990-AM / 93.9-FM: Contemporary country AM; contemporary hits FM
KLHT 1040-AM: Christian radio
KWAI 1080-AM: Talk radio
KZOO 1210-AM: Japanese-language, broadcasts from Japan
KNDI 1270-AM: Live news and programs from the Philippines, in 10 languages
KIFO 1380-AM: News, public affairs
KCCN 1420-AM / 100.3-FM: All talk / UH sports AM; contemporary island hits, FM
KUMU 1500-AM / 94.7-FM: Adult standards, AM; light favorites, FM
KHPR 88.1-FM: Classical, news, public affairs
KIPO 89.3-FM: Jazz, classical, news
KTUH 90.3-FM: Jazz, blues, Hawaiian, rock, country and alternative
KKUA 90.7-FM: Classical, news and public affairs
KKCR 90.9 / 91.9-FM: Hawaiian music, midnight-3 p.m.; and rock, reggae, classical and new age
KRTR 96.3-FM: Adult contemporary music and news
KPOI 97.5-FM: Modern rock
KKLV 98.5-FM: Contemporary Hawaiian
KORL 99.5-FM: Adult contemporary
STAR 101.9-FM: Modern hits
KKHN 102.7-FM: Country
KXME 104.3-FM: Top 40
KINE 105.1-FM: Hawaiian
KGMZ 107.9-FM: Oldies


Click for online
calendars and events.
---
Send WatDat? questions, stories
or any other story ideas or comments to:
Features, Honolulu Star-Bulletin, P.O. Box 3080,
Honolulu, HI 96802 or send a fax to 523-8509
or E-mail to features@starbulletin.com.
Please include your phone number.
E-mail to Features Editor
---
---
© 1999 Honolulu Star-Bulletin
https://archives.starbulletin.com