Advertisement - Click to support our sponsors.

---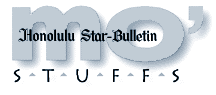 ---
Tuesday, December 14, 1999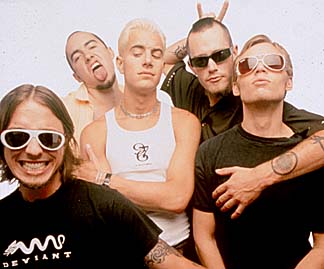 ---
Boys just
wanna have fun
Midwestern rockers 311 return to Hawaii Jan. 27 for an 8 p.m. concert at World Cafe.

The five-man musical circus combines rap, reggae, R&B and funk into its own unique sound. Unlike many of its pop peers, 311 brings a spirit of glee rather than nastiness to its material.

Tickets are $20 and go on sale Saturday at Hungry Ear Records, Radio Free Music Center, Tower Records, Tower Video, Jelly's, UH Campus Center, Tempo Music, House of Music, Pearl Harbor Bloch Arena, Kaneohe Marine Base and Schofield Barracks and by phone at 526-4000.

Info: www.goldenvoice.com.
---
Preview
The following films are scheduled to begin their Oahu run Friday:
Anna and the King

Rated PG-13
Jodie Foster stars in a nonmusical version of the book that inspired "The King and I," the story first recounted by real-life royal governess Anna Leonowens in "Anna and the King of Siam."

Bicentennial Man

Rated PG
The saga of an android (Robin Williams) who acquires full human characteristics through a 200-year span.

Stuart Little

Rated PG
The life and times of a three-inch mouse with a very large vocabulary. A pretty free adaptation of the old E.B. White book. Nathan Lane as the kvetchy cat of the household.

Felicia's Journey

Rated PG-13
Felicia (Elaine Cassidy), a naive young Irish woman, goes looking for the cad who's left her pregnant. Instead she meets Hilditch (Bob Hoskins), a timid man who has become mentally unhinged by his relationship with mother, a TV cooking show hostess.He wants to help Felicia but his seemingly kind intentions in the past have proved deadly for other women.


Click for online
calendars and events.
---
Send WatDat? questions, stories
or any other story ideas or comments to:
Features, Honolulu Star-Bulletin, P.O. Box 3080,
Honolulu, HI 96802 or send a fax to 523-8509
or E-mail to features@starbulletin.com.
Please include your phone number.
E-mail to Features Editor
---
---
© 1999 Honolulu Star-Bulletin
https://archives.starbulletin.com