Advertisement - Click to support our sponsors.

---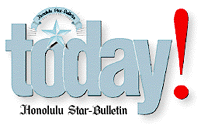 ---
Tuesday, December 14, 1999
The line
on Necklaces



By Craig T. Kojima, Star-Bulletin
Necklaces pictured are from Sedona at Ward Centre, except
the pearl strand, which is from a staffer's collection. From
left, Karma Stone turquoise power bead, $29.96; Flowering
Heart necklace of sterling silver and rose quartz by Rare
Treasures, a family-owned company on Maui, $66.50;
Lapis lazuli Flowering Heart necklace, also by Rare
Treasures, $35.00; Zad sandalwood, $26.00;
Karma Stone carnelian necklace, $29.96.
---
Going to great lengths to match
the necklace with the neck line

Stories By Catherine Toth
Star-Bulletin

IT'S a moment in every woman's dressing routine. It happens during the final glance in the mirror. Something doesn't look right, something's missing. The exposed area between the neckline and the chin is, well, naked. Something needs to balance that out.

But what?

The perfect necklace is what they are searching for. "It's all about being sexy for women," said Tania deJesus, director of education at Kathy Muller Talent & Modeling Agency in Kaimuki.

And this season, it's even more than just being sexy. It's about power, history and simplicity.

Bead Power

The power lies within the stone itself. "Power beads are all over the country," said Lavina Wong, director of fashion and special events at Liberty House. "Everybody's selling them, everybody's wearing them."

This jewelry is made from crystals and semiprecious stones that purportedly have a healing influence over mind, body and spirit, made popular by New York entrepreneur Zoe Metro. His jewelry line, called Stella Pace, can be found in Liberty House and Neiman Marcus.

"It's a continuation of the spiritual, bohemian trend," said Wong, who admitted to buying power beads herself. "Not only are they decorative, but there's also reasons for wearing them."

For romance? Choose rose quartz. Need money? Wear mother-of-pearl. Worried about your health? Try on some turquoise. Whatever the problem, power beads, sellers claim, can help.


By Ken Sakamoto, Star-Bulletin
Power bead bracelets and necklaces from Sedona at
Ward Centre range from $17 to $29.96. Each stone
represents a certain trait or strength.
---
Celebrities like Madonna, Neve Campbell, Ricky Martin and Keri Russell have publicly touted the power-bead philosophy, mixing and matching them with both eclectic and simple looks.

Sedona in Ward Center has felt the impact of power-bead popularity, more accurately called "mala." Co-owner Malia Johnson said they have sold hundreds in a week, and this may not even be the height of the craze.

"They're accessible for a wide range of people," Johnson said. "It's not just the young people that are buying them. It's the older people too and for everyone in between."

Johnson claims the 11-year-old store has the island's widest selection of semiprecious stones and more than 300 kinds of beads, including locally made jewelry. Sedona also carries more unique stones such as lapis lazuli, bloodstone and goldstone. Hematite, onyx, tiger's eye and amethyst stones are the most popular sellers.

To prepare for the onslaught of Christmas shoppers, Johnson, who owns the store with her husband Martin, ordered power beads by the thousands.

"It's like the magnetic jewelry craze," Johnson said. "But because they come in different colors, they're more fashion-oriented."

Power beads have had a similar effect at Neiman Marcus, said Pauline Worsham, public relations manager at the Ala Moana store. "When we first got them in, we couldn't keep them in stock," she said.

Like Sedona and Liberty House, Neiman Marcus geared up for the holidays by stocking up. "They're fun to wear, and people like to collect the different virtues, or stones," she said.

Hand-me-downs

Pairing necklaces with necklines usually begins with the jewelry. The exception: heirlooms.

"The jewelry definitely comes first here," said Amos Kotomori, local designer and owner of Amos Kotomori Production Services.

Using jade as an example, he said with the right shape and color, heirloom pieces could be matched with either something contemporary or eclectic. A simple, streamlined look, he said, would draw attention to the piece.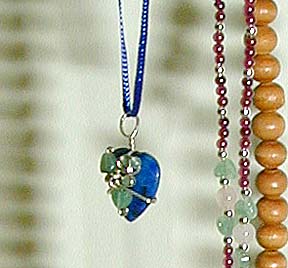 By Craig T. Kojima, Star-Bulletin
Ribbon strung with a piece of jewelry can be used
as a necklace, to get an effect similar to the one above,
by Rare Treasures, available at Sedona, Ward Centre.
---
Pearls, another popular heirloom piece, are always in style, Kotomori said.

Instead of wearing long strands on the outside of the top, he suggested tucking the pearls inside.

"You've got something precious under there," he said. "It's not as flamboyant, but it's a tease. It's just another way of wearing classic pearls."

But there are no hard and fast rule to matching pearls to outfits, Kotomori added. "It's about a feeling," he said. "It's about the essence of the piece."

Less is more

"This fall, it's about simplicity," deJesus said. "The lines are clean, very simple and very understated. I think it's because we just came off of a very heavy accessory season."

The trend is toward refined, practical jewelry, deJesus said. Floating necklaces, popular in the summer, are still lingering this season. "It's simple," Kotomori said. "Practical pieces transition from day to night very well."

Worsham said last spring's floating necklaces are still popular. "They're very romantic and delicate. And versatile."

She added that diamonds are, by far, the most sought-after floating stone at Neiman Marcus, which exclusively carries Jeffrey Roberts's Micro Cord necklaces.

"This (look) will definitely carry on through Fall," deJesus said.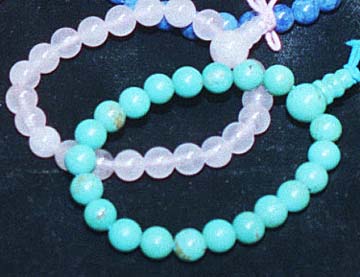 By Ken Sakamoto, Star-Bulletin
Power bead bracelets from Sedona.
---
Powerful trend

What began in New York City has found its way to Hawaii despite the more than 4,000 miles of separation -- and just in time for the holidays. Power beads, which offer solutions to life's less-than-fashionable problems, have taken a mystical hold on customers who can't get enough of the threaded semi-precious stones.

"(The trend's) hotter now than it's ever been," said Sedona co-owner Malia Johnson, whose store began selling these semi-precious stones years before the recent craze.




Here are some stones
and their meanings:

Amethyst: intelligence
Aventurine: success
Black Onyx: willpower, protection
Bloodstone: health
Fluorite: meditation
Goldstone: attitude
Hematite: anti-depressant, happiness, health
Honey Jade: long life
India Agate: motivation
Magnetic Hematite: happiness
Mother of Pearl: money
Palmwood: luck
Rock Crystal: strength
Rose Quartz: love
Tiger's Eye: courage, creativity, luck
Turquoise: health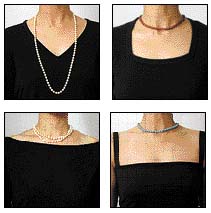 By Craig T. Kojima, Star-Bulletin
V-necklines look best with long jewelry, top left. Necklines
that are square (top right), or straight (bottom row) are best
matched with short necklaces. Square necklines are the trend for spring.
---
Let body type
and personal style
be your guides to
the perfect necklace

WHETHER power beads or semiprecious stones, pearls or heirloom works-of-art, a neckline's shape will dictate what type of necklace you wear.

What it comes down to, said designer Amos Kotomori, is the individual. "Your body type dictates the neckline," he said. "And it depends on the style of the woman.

It's kind of a Zen way of doing it.

"Jewelry of substance has to be on a woman of substance," he added. "The more expensive the piece of jewelry, the more simple and elegant the dress should be.

The V-Neck

According to both Kotomori and Kathy Muller's Tania deJesus, the always-fashionable V-neck line is best paired with an elongated neck piece, one that drops into the v-shape.

The Round Neck

This is a versatile neckline, deJesus said, one that could be complemented by either chokers or mid-length necklaces. "You would want a rounded look," she said.

Kotomori suggested a ribbon with a piece of jewelry in the middle. "To be a little more romantic," he said.

The Straight Neck

With strapless and off-the-shoulder tops still expected to be popular during the tropical winter season, the straight neck will be a look in Hawaii next season.

Because the straight neck opens up the entire neckline, neck pieces should stay close to the collar bone, deJesus said.

The High Neck

Cowl and turtlenecks are back for winter, even in 80-degree Hawaii. This neckline -- or lack thereof -- requires long neck pieces, like strands of pearls or beads. Johnson said she's noticing a trend towards longer necklaces. She hopes it catches on with power beads, which are popular mostly in bracelet form.






Click for online
calendars and events.
E-mail to Features Editor
---
---
© 1999 Honolulu Star-Bulletin
https://archives.starbulletin.com