---
Monday, December 13, 1999



N F L _ I S L A N D E R S
---
Big day for Von Oelhoffen

By Pat Bigold
Star-Bulletin

Cincinnati Bengals defensive tackle Kimo von Oelhoffen had a big day in his team's 44-28 victory over the Cleveland Browns.

The Molokai native made four tackles, including one-and-a-half sacks for a minus-10.5 yards. He also forced a fumble and recovered it.

The force and recovery came during a Browns' drive into the Bengals' red zone in the second quarter.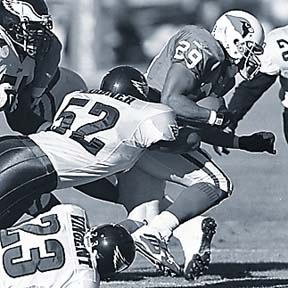 Associated Press
Adrian Murrell rushed for 41 yards and had another
44 yards receiving yesterday.
---
On second-and-10 at the Bengals' 11, von Oelhoffen hit Marc Edwards coming over right guard to cause the fumble.

Von Oelhoffen now has 22 tackles and 3.5 sacks on the season.

Adrian Murrell (Leilehua) had 41 yards rushing on four carries and 44 yards receiving on four receptions coming off the bench for the Arizona Cardinals.

Late in the first half, Murrell ran through a huge hole for a 14-yard gain, but fumbled the ball.

The Cardinals lost, 28-3, to the Washington Redsksins.

Murrell now has 483 yards rushing on 169 carries. He has 293 yards on 43 receptions.

Linebacker Kurt Gouveia (Waianae) did not play for the Redksins.

The Denver Broncos and a pair of former Hawaii players will take on the Jaguars in Jacksonville tonight on Monday Night Football.

Defensive end Ma'a Tanuvasa (Mililani) has 3.5 sacks and 27 tackles.

Tanuvasa's former Rainbows teammate, Jason Elam, leads Denver in scoring with 87 points.
E-mail to Sports Editor
---
---
© 1999 Honolulu Star-Bulletin
https://archives.starbulletin.com