---
Monday, December 13, 1999
Isle leaders
reflect makeup
of population


Asian Americans are
a dominant force

By Richard Borreca
Star-Bulletin

Asian-American men dominate the ranks of Hawaii's state policy leaders, according to a survey by the University of Albany's Center for Women in Government.

Allicyn Hikida Tasaka, executive director of the Hawaii State Commission on the Status of Women, said her own survey of state boards and commissions shows that of the 1,155 appointees, only 450 are women.

"Change will only happen when there is equal representation on all boards and in decision-making roles," she said.

Just two white males are appointed policy leaders in Hawaii state government, but there are 15 Asian-American males, according to the university study. No African-American, Latino or American Indians serve as policy leaders, according to the report.

Asian Americans were over- represented among the leaders in state government, according to the survey. Twenty-five of the appointed leaders, such as department heads, gubernatorial assistants and executives, are Asian- American. That amounts to 76 percent of the policy leaders, while Hawaii's Asian-American population is 59.8 percent of the state's population.

Tasaka said that because of the discrimination against Asian-Americans in Hawaii before statehood, many minority groups sought jobs in state and county government. During the years, she said, jobs in government have become something to be looked up to, and those working in government became role models.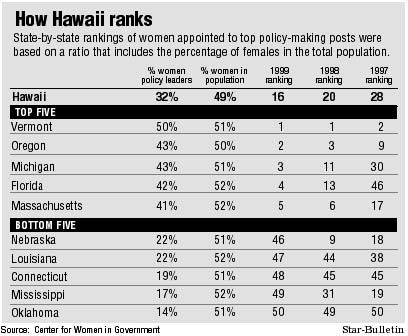 Although the survey found that women in Hawaii this year are increasing their roles in state government decision-making, they still account for only 32 percent of the appointed policy leader positions in the state.

According to the survey, Hawaii ranked 16th among the 50 states. In a survey done in 1998, Hawaii ranked 20th, and in 1997 it was 28th.

State Rep. Marilyn Lee, chairwoman of the Legislative Women's Caucus, said the state administration has made an effort to appoint women to positions of power, but it could do more.

"The state has some very capable women executives, Susan Chandler (Human Services director), and Kathryn Matayoshi's department (Commerce and Consumer Affairs) is almost completely run by women and it is one of the better run departments in the state," she said.

The report divides policy-setting and leadership roles into several different categories. Of the women appointed policy leaders, four are white and four are Asian Americans.

Linda Lingle, former Maui mayor, said the key to gender equity in government is to elect more women to office."In reality, women will know more women and those who are capable."

Women in Hawaii make up 49.2 percent of the population, but the survey shows that only 32 percent hold key positions in state government.

The survey was done with mailed survey sheets and follow-up phone calls between May and October of this year.

Policy leaders include department heads and advisers such as the governor's chief of staff, legal adviser and press secretary.

The survey was through the Rockefeller College of Public Affairs and Policy at the University of Albany.
E-mail to City Desk
---
---
© 1999 Honolulu Star-Bulletin
https://archives.starbulletin.com