---
Monday, December 13, 1999



A visitor finds the body at
the Kaloko-Honokohau
National Historic Park

By Rod Thompson
Star-Bulletin

KAILUA-KONA -- The Federal Bureau of Investigation is offering a $10,000 reward for information leading to the arrest and conviction of the person who fatally shot a national park ranger at Kaloko-Honokohau National Historic Park.

The suspect is Caucasian, possibly homeless, about 6 feet tall with curly blonde hair and a tan complexion and is frequently in the company of three dogs, according to FBI supervisory special agent John Gillies.

The man is considered armed and dangerous, Gillies added.

About 20 FBI agents were on the Big Island today investigating the death of Steve Makuakane-Jarrell, 47. Big Island police are assisting the FBI, which is the lead agency because the park is federal property.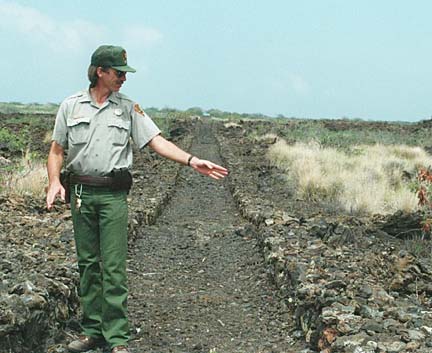 By Rod thompson, Star-Bulletin
In 1995, Steve Makuakane-Jarrell points out stone mounds along
a trail at Mamalahoa Trail at Kaloko-Honokohau
National Historic Park.
---
Makuakane-Jarrell was found in an area of brush near the park shoreline yesterday morning, and police were notified at 11:21 a.m.

Fire Department rescue personnel said Makuakane-Jarrell was found by a park visitor, who called 911.

Fire officials said the body was found at the tree line about 20 yards from the high-tide mark, about a quarter-mile north of the adjoining, state-run Honokohau small-boat harbor.

Park superintendent Geraldine Bell said she was at the scene assisting the FBI and then spent the afternoon with the victim's family.

None of the officials described a motive for the shooting.

Police asked anyone with knowledge of the case to call them at 326-4646, the Kona FBI office at 329-5106, or the Honolulu office at 521-1411.

Kaloko-Honokohau is a relatively undeveloped park three miles north of Kailua-Kona consisting mostly of jagged lava rock with a fertile strip of vegetation along the shore and brackish ponds inland.

The site of a former Hawaiian village, it was established to showcase past Hawaiian culture and to provide a location for present-day Hawaiian cultural activities.

It made news in the past because the beach there had been used for nude sunbathing for several decades.
E-mail to City Desk
---
---
© 1999 Honolulu Star-Bulletin
https://archives.starbulletin.com