Advertisement - Click to support our sponsors.

---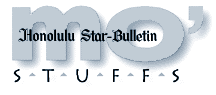 ---
Monday, December 13, 1999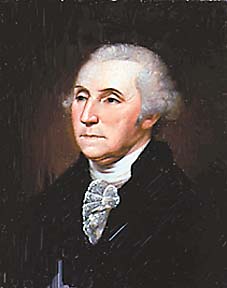 ---
Bells should be ringing
tomorrow, by George
Two hundred years ago today, George Washington went to bed with a tickle in his throat. He'd been out riding around the plantation in freezing weather. He took ill during the night, and despite being bled four times by doctors, gasped " 'Tis well!" to secretary Tobias Lear, and died.

Just in case you've forgotten that this is the bicentennial of Washington's passing, Congress hasn't.
Last year, in Senate Concurrent Resolution 83, legislators declared that Washington's death be commemorated tomorrow across the nation, with flags lowered to half-staff, bells rung at noon Central Standard Time (8 a.m. Hawaii time), exhibits and speechifying by historians and public officials, plus "notify the governments of all Nations with which the United States enjoys relations that our Nation continues to cherish the memory of George Washington with affection and gratitude by furnishing a copy of this resolution to those governments."
Suppose Congress passes a resolution and nobody came?
At least in Hawaii, no one who's supposed to know about this event does. The governor's office, although preparing its own Washington proclamation -- the Gov lives in Washington Place, after all -- was not informed of Congress' wish to lower flags to half-staff and other events.
We called lawmakers in Washington to find out what they knew, and Mike Slackman of Neil Abercrombie's office called right back. Nope, they didn't remember the resolution, but after a couple of minutes poking around in Congress' database he confirmed the details.
"A resolution doesn't have the force of law, sometimes it's just something Congress thinks is a good idea," mused Slackman. He also checked with the "Architect for Capitol Offices," the fellow in charge of flag-lowering in Washington, and he didn't know about the commemoration either.
So how do officials or the public find out about these things?
"Through the press," said Slackman. "The tribunes of the people spread the word throughout the land. It's a good thing we've still got newspapers."
---
By Burl Burlingame, Star-Bulletin
Curious about something you've seen? Ask us: WatDat?,
Honolulu Star-Bulletin, P.O. Box 3080, Honolulu, HI, fax at 523-7863 or
e-mail at features@starbulletin. com.
---
Da Kine

Rainbow special airs
The past turnaround season for the University of Hawaii football team is reviewed in a KGMB News special, "UHRainbows: Miracle in Manoa," at 7 p.m. Wednesday on KGMB.

The report will focus on first-year UH head football coach June Jones and how he took the last-place Western Athletic Conference team to first place in one season, reflecting on how this astonishing achievement has affected the team members, their fans, the university and the state.

"Miracle in Manoa" will be rebroadcast 1 p.m. Saturday.
Dancin' in the street
Hawaii Dance Alliance Inc. will be hitting the streets again in January, bringing jazz and hip-hop dance classes to youth communities from Waianae to Kaneohe.

There will be six eight-week sessions running throughout the year, with the first session running Jan. 10 through March 2. The registration deadline is Jan. 5.

Hourlong classes are as follows:

Kaneohe District Park: Mondays in the meeting room, 4 p.m. for keiki (ages 5 to 9); 5 p.m. for teens (10 and older).

Halawa District Park: Tuesdays in the upstairs game room, 5:30 p.m, keiki; 4:30 p.m., teens.

Makakilo Community Park: Tuesdays in the Recreation Room, 3:30 p.m., keiki; 4:30 p.m., teens.

Pu'unui Community Park: 3:30 p.m. Tuesdays for keiki.

Kailua District Park: Thursdays in the Multi-Purpose Room, 3 p.m., keiki; 4 p.m., teens.

Koko Head District Park: Thursdays in the arts & crafts room, 3:30 p.m., keiki; 4:30 p.m., teens.

Pilila'au Community Park: Thursdays across from Waianae Elementary, 4 p.m. for keiki; 5 p.m. for teens.
The cost is $40 prepaid per session; $30 per sibling on family plan. Proper dance wear is required.
Future sessions, subject to change, are as follows: March 6 to April 27; May 1 to June 22; June 26 to Aug. 17; Aug. 21 to Oct. 12; Oct. 16 to Dec. 7. Register at 484-0669.
Dance videos sought
The American Dance Festival is looking for entries for its 5th annual Dancing for the Camera International Festival of Film and Video Dance. The festival will take place July 7 through 9 at Duke University in Durham, N.C.

Categories are:

Choreography for the camera: Original work made specifically for the video/film medium or a staged work remade for camera.

Documentary: Productions must include interviews or other educational elements in addition to choreography.

Experimental/Digital Technologies: Work that extends the boundaries of the medium and can only exist in the realm of video, film or new technologies.
Applications : American Dance Festival, Dancing for the Camera, 1697 Broadway Room 900, New York, NY 10019 or visit the web site http://www.AmericanDanceFestival.org. Info: call Heidi Kinney at (212)-586-1925.
Regardless of original format, all entries must be submitted on VHS videotape. The deadline for entry is 6 p.m. Jan. 19. Works not chosen for public screening will be featured in a video salon for viewing during the festival.
---
Radio Log


KONG 570-AM / 93.5 FM: Adult contemporary rock with some Hawaiian music
KSSK 590-AM / 92.3-FM: Adult contemporary music
KHNR 650-AM: All news
KQMQ 93.1-FM: Contemporary hit radio
KQMQ 690-AM: Radio Disney
KGU 760-AM: Sports radio
KHVH 830-AM: News, talk, traffic, weather
KAIM 870-AM / 95.5-FM: Christian music and teaching
KJPN 940-AM: Japanese-language news, adult contemporary music and talk shows
KIKI 990-AM / 93.9-FM: Contemporary country AM; contemporary hits FM
KLHT 1040-AM: Christian radio
KWAI 1080-AM: Talk radio
KZOO 1210-AM: Japanese-language, broadcasts from Japan
KNDI 1270-AM: Live news and programs from the Philippines in 10 languages
KIFO 1380-AM: News, public affairs
KCCN 1420-AM / 100.3-FM: All talk / UH sports AM; contemporary island hits, FM
KUMU 1500-AM / 94.7-FM: Adult standards, AM; light favorites, FM
KHPR 88.1-FM: Classical, news, public affairs
KIPO 89.3-FM: Jazz, classical, news
KTUH 90.3-FM: Jazz, blues, Hawaiian, rock, countryand alternative
KKUA 90.7-FM: Classical, news and public affairs
KKCR 90.9 / 91.9-FM: Hawaiian music, midnight-3 p.m.; and rock, reggae, classical and new age
KRTR 96.3-FM: Adult contemporary music and news
KPOI 97.5-FM: Modern rock
KKLV 98.5-FM: Contemporary Hawaiian
KORL 99.5-FM: Adult contemporary
STAR 101.9-FM: Modern hits
KKHN 102.7-FM: Country
KXME 104.3-FM: Top 40
KINE 105.1-FM: Hawaiian
KGMZ 107.9-FM: Oldies





Click for online
calendars and events.
---
Send WatDat? questions, stories
or any other story ideas or comments to:
Features, Honolulu Star-Bulletin, P.O. Box 3080,
Honolulu, HI 96802 or send a fax to 523-8509
or E-mail to features@starbulletin.com.
Please include your phone number.
E-mail to Features Editor
---
---
© 1999 Honolulu Star-Bulletin
https://archives.starbulletin.com