Advertisement - Click to support our sponsors.

---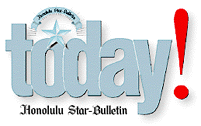 ---
Monday, December 13, 1999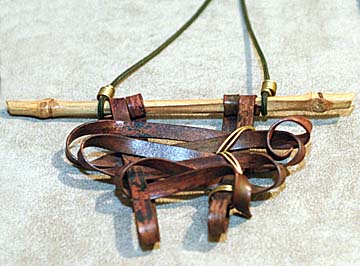 By Ken Sakamoto, Star-Bulletin
Wearable art by Maui designer McKenna Hallet.
---
Earth-conscious jewelry
gets glamorous light

Stephanie Kendrick
Assistant Features Editor
Star-Bulletin

MAUI jewelry designer McKenna Hallett is bringing an anti-consumption message to a potentially tough crowd, Neiman Marcus shoppers.

And early evidence suggests they may be interested.

Half of the initial line of Hallett items purchased by the luxury retailer have sold since they were introduced last week Tuesday, according to Boris Milgram, merchandising manager for Neiman Marcus in Hawaii.

Milgram brought Hallett's jewelry to the store after she sent him a catalog of her work, which incorporates found items into wearable art.

Hallett was looking for a way to support her music writing habit seven years ago when she mounted her first jewelry show. The five week mall sale was a runaway success. "Of course the music has sat in a drawer ever since," said Hallett.

Concern for the environment motivated Hallett to develop a livelihood that didn't task the planet. She creates necklaces from discarded aluminum flashing, driftwood and beach stones; earrings from parts of old car radiators and copper wire; and pendants from brass mesh and dryer lint. She uses no gas or electric power, no solder, no heat in the creation of her small sculptures.

Hallett decided to design jewelry rather than household items because she noticed unique necklaces and earings were more likely to generate conversation. And Hallett is and artist with a message -- reduce, reuse, recycle, rethink.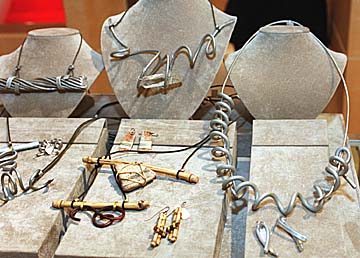 By Ken Sakamoto, Star-Bulletin
Some of McKenna Hallett's pieces have an industrial look.
---
While Milgram acknowledged Hallett's message, it is not what attracted him to her work.

He found her choice and use of materials innovative and complementary to Hawaii tastes and fashions.

"It's very environmentally friendly and very wardrobe friendly as well," said Milgram. "It looks like it belongs in a gallery."

Indeed, the artful nature of Hallett's work seems born out by the other retailers carrying her line, The Contemporary Museum on Oahu, Halemana on Kauai, Native Soles and Suzanne Marie on Maui, and Blue Ginger Gallery on the Big Island.

Her creativity comes out in describing the pieces, as well as designing them.

For example, the Menehune Container Series consists of purses made of brass mesh found in a junk yard. "I just loved these little squares of stuff," she said. The first purse contains beach glass, or "magic rainbow pieces." The second is called the "beach towel tote," it contains dryer lint. The third is the "lunch bag," filled with wiliwili seeds. And the fourth is the "coin purse," which contains shell fragments, -- not whole shells, because whole shells can be used by the friends of the menehune, hermit crabs.

"You can tell that my music writing is still somewhere at play with this," said Hallett, for whom the stories behind each piece are as important as the aesthetics of the object.

While the approaching Christmas season had Hallett working 16-hour days even before her launch at Neiman Marcus, she is happy to have the exposure the prestige retailer affords.

"I don't need more business, But I always need another opportunity to say to the public reduce, reuse, recycle, rethink," she said.

Hallett's jewelry can be found in Neiman Marcus' Designer Jewelry Collection at Ala Moana Center.






Click for online
calendars and events.
E-mail to Features Editor
---
---
© 1999 Honolulu Star-Bulletin
https://archives.starbulletin.com