---
Friday, December 10, 1999



W A H I N E _ V O L L E Y B A L L
---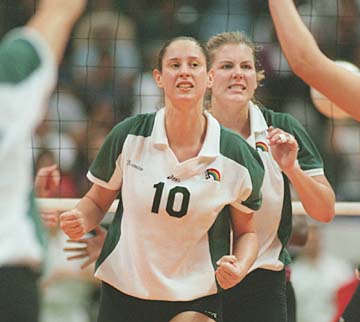 By Dennis Oda, Star-Bulletin
The strain showed on Veronica Lima, front, and Jennifer
Carey, even when they scored against the Aggies.
---
Pfffffffft


Texas A&M lets the air out of
Hawaii's Final Four hopes
with a 3-1 victory in the
regional semifinals

By Cindy Luis
Star-Bulletin

The Grinch wore maroon and white.

No. 13 Texas A&M came into the Stan Sheriff Center last night and stole Christmas from Hawaii. Instead of a much-anticipated regional final showdown with Long Beach State tonight, the Wahine suddenly find themselves with time on their hands during the holiday break.

Third-ranked Hawaii saw its final four hopes snuffed out by an Aggie team that outblocked the best blocking team in the country and reminded the Wahine how defense is played. Texas A&M stuffed Hawaii 18 times and had 105 digs in eliminating the Wahine from the NCAA Tournament, 15-9, 12-15, 15-9, 15-12.

"We ran into a great team tonight,'' said Hawaii coach Dave Shoji, whose team ended the season at 29-2. "It's not like we played poorly. They were the better team tonight and deserved to win.''

"They had smart, experienced hitters and they covered very, very well (on defense),'' added Wahine sophomore Veronica Lima, who had a career-high 15 kills to go with 15 digs. "Their defense was irritating because you couldn't get the ball down.''

Lima hinted that she might not return next season, for reasons unrelated to volleyball. Hawaii definitely will lose seniors Heather Bown, Jennifer Roberts, Heidi Ilustre and Shelly Kim.

"I don't think it's hit me yet that it's over,'' said Bown. "I'm proud of the season we had and proud of our team tonight. We didn't give up.

"They had an awesome team. We didn't have our best game of the year.''

Bown, sure to be named all-American next week for a second time, was slightly off her game. She had 16 kills but hit .196, well below her season average of .403; the nation's leading blocker was also in on just five last night.

The 1990s ended for Hawaii the same way the decade began - with a loss in the regional semifinal at home. Only this time, it wasn't Long Beach State that ousted the Wahine, as the 49ers have done in five previous postseasons.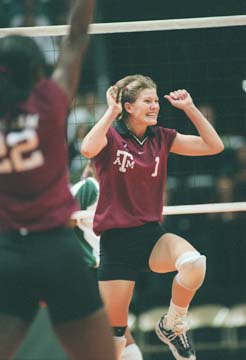 By Dennis Oda, Star-Bulletin
A&M hitter Celia Howes put down 14 kills, third-best on the team.
---
No. 6 Long Beach State was long gone by the time Texas A&M was celebrating the biggest win in the program's history. The 49ers left the building after Game 2 of the Wahine-Aggies match, having secured a spot in tonight's 7 p.m. final with a 15-5, 13-15, 15-13, 15-10 victory over No. 11 Colorado State in last night's first semifinal.

"Who would we prefer seeing?'' 49ers coach Brian Gimmillaro asked prior to the outcome of the second semifinal. "Florida A&M. But they aren't here.''

But The Beach will get another A&M, a team that found the Sheriff Center atmosphere very comfortable.

"We play in front of very loud crowds at home,'' said Aggie sophomore Michelle Cole, who finished with 14 kills and 27 digs. "G. Rollie White Coliseum is called 'Holler Hall' and the crowd is right on you. It doesn't get any louder than that.''

The Aggies took the partisan Wahine crowd of 6,005 out of it with a silencing run in Game 3 that was the turning point of the match. Down 4-8, Cole served for seven straight points to key an 11-1 run and swing the momentum back to the A&M side of the court.

"It was just a bad rotation that we couldn't get out of,'' said Shoji. "We tried everything and they had an answer for everything we did.''

Hawaii was poised to force a fifth game for the just the second time this season, leading 11-8 in Game 4. The Aggies chipped away, taking the lead for good at 13-11.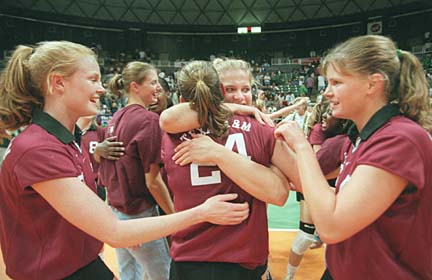 By Dennis Oda, Star-Bulletin
The Texas A&M Aggies rush onto the court to celebrate their win.
---
The Wahine closed to 13-12 but couldn't score. Cole put down her 14th kill and A&M put down its fourth attempt at game ball to end it after 2 hours and 21 minutes.

"I think we realized (in Game 4) that 'Oh my gosh, we win this and that's it,' '' said Aggie sophomore setter Jenna Jenna Moscovic. "All five of our losses have been on the road this year. This is a really big win for us. I think we're peaking at the right time.''

It was a very disappointing loss for Hawaii, seeking to become the first team since UCLA in 1991 to win the title at home. Shoji got his 700th career win this season but this was his last shot at hanging a championship banner from the 90s; he has one from the 70s and three from the 80s.

Lily Kahumoku led the Wahine attack with 17 kills and added 15 digs. Jessica Sudduth had 14 kills and 12 digs.

The Aggies had four players in double-kill figures, led by Summer Strickland's 18. Amber Woolsey had 16 kills to go along with a career-best 13 blocks.

A&M also had five players in double-dig figures in reaching the Elite Eight for the first time in the program's history.

"We stuck with our game plan and played our game,'' said Aggie coach Laurie Corbelli. "We played great defense, got our block going early and used all of our attackers.''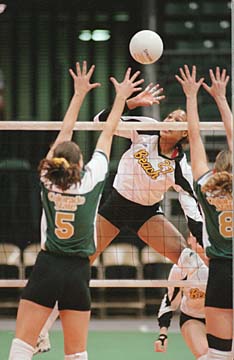 By Dennis Oda, Star-Bulletin
Cheryl Weaver of Long Beach State takes to the sky to spike
one against Colorado State Rams No. 5 Angela Knopf
and Krista Swartzendruber.
---
Long Beach St. 3, Colorado St. 1:

The 49ers reached the regional final for the third straight year, holding off the stubborn Rams. CSU finished its best season in school history via a 15-5, 13-15, 15-13, 15-10 win over No. 11 Colorado State in last night's first semifinal. The Rams (30-3), getting a career-high 27 kills from Courtney Cox, finish their best season in school history.

It was not a good night for a team wearing green despite the efforts of the Wahine crowd to cheer for the Rams.

"It felt good to have the fans behind us,'' said CSU's Summer Jennings, a University Lab product who had 10 kills and seven blocks last night.

Long Beach State got 21 kills from Cheryl Weaver and 15 more from Tayyiba Haneef.

Texas A&M def. Hawaii, 15-9, 12-15, 15-9, 15-12

Aggies (28-5)

		g	k	e	att	pct.	bs	ba	d
Howes		4	14	5	45	.200	0	4	17
Strickland	4	18	4	51	.275	0	3	18
Woolsey		4	16	4	40	.300	2	11	6
Leahy		4	8	0	21	.381	0	5	22
Cole		4	14	2	.35	.343	0	2	27
Moscovic	4	7	1	19	.316	0	7	12
Clark		2	0	0	0	.000	0	0	3
	Totals	4	77	16	211	.289	2	32	105

Rainbow Wahine (29-2)

		g	k	e	att	pct.	bs	ba	d
Carey		4	7	1	16	.375	0	2	9
Sudduth		4	14	9	48	.104	1	1	12
Bown		4	16	7	46	.196	0	4	9
Kahumoku	4	17	9	56	.143	0	3	15
Lima		4	15	2	34	.382	0	2	15
Ilustre		4	0	2	6	-.333	0	0	13
Vakasausau	4	0	0	0	.000	0	0	6
Nikolic		1	1	1	4	.000	0	0	7
Roberts		4	4	2	16	.125	0	2	2
Lee		4	0	0	0	.000	0	0	8
	Totals	4	74	33	226	.181	1	14	96

Key--g: games; k: kills; e: hitting errors; att: attempts; pct.: hitting percentage; bs: block solos; ba: block assists; d: digs.

Aces--TA&M (5): Cole 2. UH (5): Bown 2, Carey 1, Ilustre 1, Lima 1. Assists--TA&M (72): Moscovic 59, Strickland 6. UH (64): Carey 54, Sudduth 4, Ilustre 3, Nikolic 3.

A--6,650. T--2:21. Officials--Malta, Rolf

LBSU def. Colorado St., 15-5, 15-13, 13-15, 15-10

Rams (30-3)

		g	k	e	att	pct.	bs	ba	d
Vance		4	0	1	4	-.250	0	0	18
Cox		4	27	13	60	.233	0	3	12
Knopf		4	9	1	32	.250	2	4	10
Swartzendruber	4	2	2	15	.000	0	0	3
Vagneur		4	24	8	58	.276	0	1	10
Peckham		4	1	1	2	.000	0	5	20
Metschke	2	0	0	0	.000	0	0	0
Jennings	4	10	3	24	.292	2	5	1
Pettit		2	0	0	0	.000	0	0	0
	Totals	4	73	29	195	.226	4	18	74

49ers (30-3)

		g	k	e	att	pct.	bs	ba	d
Kierulff	4	0	3	6	-.500	0	0	13
Grabovac	4	10	4	23	.261	0	2	15
Nishimoto	4	3	2	12	.083	0	1	13
Barratt		4	15	3	38	.316	0	1	12
Ohta		4	0	0	1	.000	0	0	16
Weaver		4	21	7	59	.237	1	1	9
Walls		4	13	6	29	.241	0	5	1
Haneef		4	15	2	26	.500	1	6	1
	Totals	4	77	27	194	.258	2	16	80

Key--g: games; k: kills; e: hitting errors; att: attempts; pct.: hitting percentage; bs: block solos; ba: block assists; d: digs.

Aces--CSU (6): Cox 3. LBSU (7): Weaver 3. Assists--CSU (67): Peckham 58, Swartzendruber 7. LBSU (67): Nishimoto 62.

T--2:14. Officials--Klubnikin, Kinyon.

Pacific Region

UC-Santa Barbara 3, Nebraska 1
Stanford 3, Arizona 1

Central Region

Penn State 3, Minnesota 0
UCLA 3, Pepperdine 0

---




http://uhathletics.hawaii.edu
Ka Leo O Hawaii
E-mail to Sports Editor
---
---
© 1999 Honolulu Star-Bulletin
https://archives.starbulletin.com