---
Friday, December 10, 1999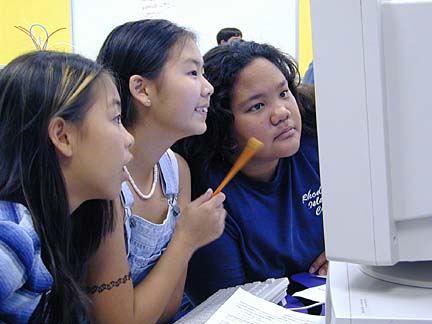 By Craig T. Kojima, Star-Bulletin
Kapolei Middle School students (left to right) Susie Shin,
Elaine Shimozono and Presca Spillner-Akau work on a
computer. The school, which is completing its first
semester, offers a fresh approach to learning, with
an emphasis on developing social as well
as academic skills.
---
Expanding the
limits of learning


The new middle school addresses
students' social and emotional
needs as well as their
academic performance

Bringing community back to campus

By Crystal Kua
Star-Bulletin

Two Kapolei Middle School students stopped by Principal Annette Nishikawa's office to talk story with her just as she was on the phone with a reporter.

When the reporter asked how things were going since the new school opened this summer, she turned to the visiting students and asked, "Are you guys happy in school?"

"Yeah," they replied.

Nishikawa is used to people popping in. When you're the principal of a new school with new approaches to learning, the visitors are not only from within but also from the outside.

"We're in the middle of the looking glass," she said. "We have lots of visitors and lots of public relations."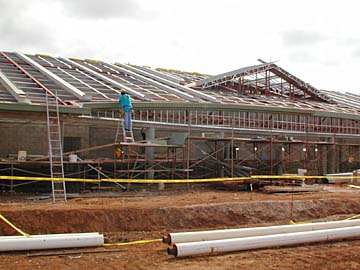 By Craig T. Kojima, Star-Bulletin
This will be the media center at Kapolei High School.
It will feature a cybercafe and video production center.
---
Just as its students are experiencing growing pains in their adolescent years, so is Kapolei Middle School as it completes its first semester.

Kapolei's philosophy is to pay attention to the whole student, developing programs that address the student's academic, social and emotional needs. It sometimes means stretching the traditional bounds of public education.

"I think the programs selected for the students have been working quite well. The kids seem to be excited about coming to school," Nishikawa said.

Being new has helped Kapolei overcome some of the traditional tribulations faced by middle schools.

"We're working on people relations," Nishikawa said. "That's a key issue in all middle schools. You've got the same type of programs, same adolescents and self-esteem. We're trying to build a climate here that is positive and supportive and respectful."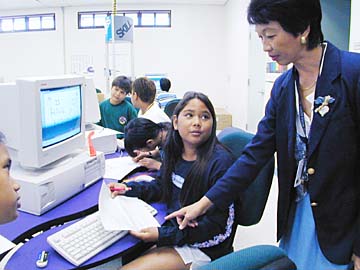 By Craig T. Kojima, Star-Bulletin
Kapolei Middle School student Chelsea Crespo shows
her work to Principal Annette Nishikawa. Technology
is a specialty at the school.
---
Key to achieving the mission is Kapolei's innovative design, with its classrooms conceptualized as houses and courtyards.

"I think the planners had a great vision of the community feeling in the school," Nishikawa said. "So the architecture and the layout of the plant itself kind of supported that community feeling. Because we are grouped in houses, because we've used the middle school philosophy, they have a sense of belonging."

The new school's air conditioning also helps students learn. "They're active all day long, they're alert all day long," she said. "Teachers have also told me that they feel the energy still going through at 3 p.m."

Academics are blossoming in the new environment. Nishikawa said that following the first quarter, 475 students -- nearly half the student body -- received honor-roll accolades for high grades.

While enrollment at the school was originally projected at a little more than 900, the student population is now more than 1,000 and growing. The school has a capacity of 1,200.

"More people did move into the area because of the publicity (surrounding the new school)," Nishikawa said.

She said the faculty and staff are coming together. She said she believes that a camaraderie was created back in January when she held planning sessions at her home.

The school is working out some kinks. Glitches need to be remedied in the MyCard program, which links food service, transportation, student information and library data to a universal card.

But the school's specialty subjects of culture and technology are in full swing. Computers and dance performances are part of campus life.

Nishikawa is still planning a formal dedication of the school in January or February.

---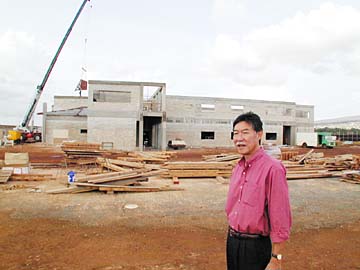 By Craig T. Kojima, Star-Bulletin
Principal Al Nagasako stands before the 9th-grade
"neighborhood" area being built at Kapolei High
School, where "pods" will replace classrooms.
---
Bringing community
back to campus

Once completed, the innovative
school will stress hands-on projects,
not lectures and textbooks

By Crystal Kua
Star-Bulletin

How students will learn in the "neighborhoods" of the new Kapolei High School would make even Mr. Rogers take notice.

Kapolei is the first Hawaii high school to use the innovative design recommendations of the National Association of Secondary School Principals in the 1996 report, "Breaking Ranks: Changing an American Institution."

Kapolei's learning environment will be far different from what students and parents have come to expect as teachers move away from lectures toward hands-on projects that engage students.

"This is the most exciting time in education," Principal Al Nagasako said. "It's a chance to pull together, to share the same beliefs in learning so that we can make a difference."

Construction of the school's first phase, which began earlier this year, is a month-and-a-half ahead of schedule.

Rooftops are already capping buildings. The school is scheduled to open at the end of July for 350 ninth-graders.

The school is designed for 1,800 students with an enrollment capacity of 2,400.

Before becoming Kapolei High School principal, Nagasako was Leeward District deputy superintendent.

In traditional high schools, Nagasako said, students find it unfulfilling to mainly read textbooks and listen to lectures. "They don't find it real," he said.

Kapolei will use new learning concepts that have worked elsewhere -- all tied to the campus design.

The four major buildings on campus are called "neighborhoods." In each will be specialty rooms for subjects such as biology, drafting, photography, physics, graphic arts, special education, chemistry and consumer sciences.

Family "pods" will replace traditional classrooms. Student learning takes place in "production areas" without walls, with small teams doing hands-on projects.

"Production areas have people making things," said Leeward district specialist Anthony Chun, a member of the Kapolei High School steering committee.

It will be rare to see teachers giving instruction to students sitting in a long line of desks.

"It's going to be very difficult to lecture," Chun said. "If they have to give a group lecture, they have to go to a resource room."

Vice principals and counselors will be close to the students instead of in an administration building.

"As kids come to school, the teachers are right there," Chun said. "What we're saying at Kapolei is that your vice principal and counselors are also there in the action."

Even lunch will be different.

In between the neighborhoods will be a food court with kiosks that will serve hot snacks delivered from the main kitchen. The area also contains an air conditioned stage.

The campus media center will feature not only a traditional library, but also a cybercafe, broadcast radio station and video production center. It also will house adult education.

Partnerships will be formed with the community, the University of Hawaii and with local businesses.
E-mail to City Desk
---
---
© 1999 Honolulu Star-Bulletin
https://archives.starbulletin.com