---
Thursday, December 9, 1999
FADING AWAY IN WAIPAHU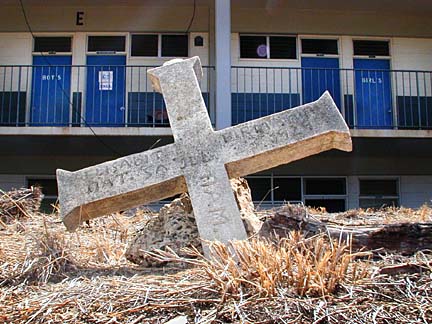 By Ken Ige, Star-Bulletin
Above, a cross with barely legible words, apparently etched
by hand, juts from the ground at a neglected cemetery on Waikele
Road in Waipahu, next to Waipahu Elementary School.
---
Neglect erodes
link to the past


Few remember who was buried
in the plantation workers' graves
early in the century

By Mary Adamski
Star-Bulletin

An old Catholic cemetery on Waikele Road offers a glimpse into Waipahu history in the midst of modern development. Portuguese and Filipino employees of Oahu Sugar Co. were buried in the graveyard early in this century.

Catholic diocese records show that the land was purchased in 1860 from a Hawaiian chief, and a small chapel was built there.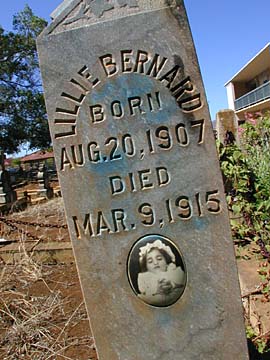 By Ken Ige, Star-Bulletin
Many grave markers include pictures of the deceased.
---
In 1902, a church was built at the site with the help of plantation manager August Ahrens, whose name graces a Waipahu public school.

In 1939, another sugar plantation manager, Hans L'Orange, whose name was given to an area park, proposed relocation of St. Joseph Church to its present location on Farrington Highway.

Waipahu historian Ernest Malterre said that outside the memories of survivors, there is no record of burials. Time and the elements have eroded information carved on the gravestones.

Malterre said there were no burials at the site after the new church was completed in 1941. In more recent years, apartments were built nearby on the site of the old plantation cemetery after the bodies were moved to Mililani Memorial Park.

Malterre, 83, said the cemetery has fallen into disrepair in recent years as people of his generation, who had connections with those buried there, have become too old to tend it. Adding to its neglected state is its proximity to Waipahu Elementary School.

The cemetery is used for parking and student pickup by families who dump trash there, Malterre said. Gravestones in the past have been defaced by spray-painted graffiti.

"There's a lot of stories there, but there aren't many living souls who remember them," said Malterre.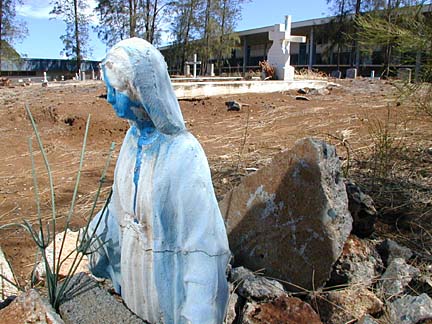 By Ken Ige, Star-Bulletin
This small, cracked statue rests on what might be an unofficial grave.
The small stone behind the statue bears the hand-etched message,
"Maxi I Love You." The blue paint on the grave indicates
it might have been vandalized.
---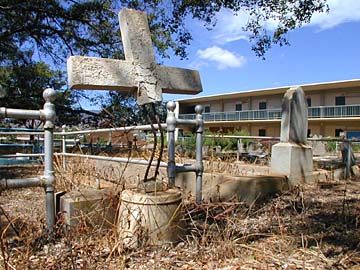 By Ken Ige, Star-Bulletin
A crumbling concrete cross is held up only by reinforcement bars.
---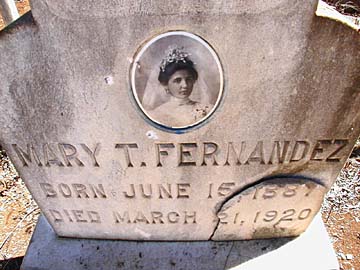 By Ken Ige, Star-Bulletin
A grave marker includes a picture of the deceased. "There's a
lot of stories there, but there aren't many living souls who
remember them," says Waipahu historian Ernest Malterre.
---
E-mail to City Desk
---
---
© 1999 Honolulu Star-Bulletin
https://archives.starbulletin.com