Advertisement - Click to support our sponsors.

---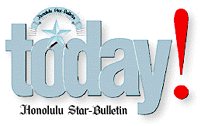 ---
Thursday, December 9, 1999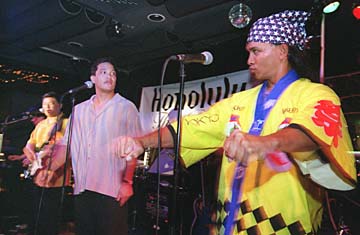 By George F. Lee, Star-Bulletin
Jonathan Kaina, right, gets dressed for Honolulu's
version of the song "Kung Fu Fighting."
---
Honolulu picks up pieces
for triumphant return

By John Berger
Special to the Star-Bulletin

It was a band leader's nightmare. Glenn Miyashiro and the members of Honolulu had been together for 10 years. The band was headlining a nightclub in one of Waikiki's most prestigious hotels, drawing a good mix of visitors and residents. There was talk of a record deal.

That's when the bomb dropped. Four guys quit. Then Miyashiro was informed that his band was out. A new band, Soul'd Out, was going to headline the room and four of its members were the guys who had just quit Honolulu.




ON STAGE

What: Honolulu performs
Where: Esprit Lounge, Sheraton Waikiki Hotel
When: 9 p.m. to 1:30 a.m. Saturdays; 8:30 to 12:30 a.m. Sundays through Tuesdays except Dec. 11 and 12
Admission: No cover, two-drink minimum
Call: 922-4422




Now Miyashiro, vocalist Jona- than Kaina and drummer Benja-min Juan, who had been full-time musicians, were back at square one, with no band and no job.

"I had no doubt that I wanted to continue playing," Miyashiro said.

Soul'd Out is no more, but Honolulu -- Miyashiro, Kaina, Juan, Rickie Trugillo (bass), John Ornellas (guitar) and Tony and Jeannette Trevias (keyboards) -- is back in Waikiki, headlining the Esprit Nightclub at the Sheraton Waikiki. The group holds crowds with a mix of Top 40 and pop music spanning the rock era.

Miyashiro and Kaina double as the horn section and occasionally don costumes; musical director Jeannette Trevias gives the band a strong female vocalist, something the band didn't have the first time around.

"I think we've come back stronger, but along the way we had, like 12 drummers and 9 bass players. Some of those guys would sub out the job to somebody else and not tell us, and the rhythm section has to be tight. When we locked in Rickie and Ben that did it for us, and John gives us another strong soloist."

The band breaks down into smaller units as necessary to play other venues. Miyashiro, Kaina, Ornellas and Trugillo perform as Dose Guys or HNL and have been filling Ala Moana Shopping Center's new Mai Tai Bar past capacity on Fridays (due to prior holiday commitments they won't return there until January.) Tony and Jeannette Trevias perform separately at the Hilton Hawaiian Village Shell Bar, and Juan is active behind the scenes managing and mentoring younger musicians.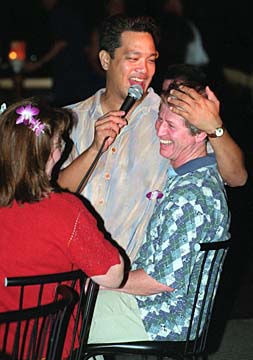 By George F. Lee, Star-Bulletin
Honolulu founder Glenn Miyashiro clowns with visitors
from Ohio, Lisa and Dobie Moser.
---
That flexibility is crucial, Miyashiro said. "It's the thing you gotta do here in the '90s. It's hard to just get by with one job, but it also helps us broaden our horizons and styles of music. We'll play more local contemporary music -- Fiji, Kapena, Kalapana, Cecilio & Kapono, more free-style laid back -- and ad lib more at Mai Tai and keep to the mainstream million sellers at Esprit."

"And we wear shorts and aloha shirts at Mai Tai. That's something we would probably never do here (at Esprit). We're more causal than we used to be -- it used to be tuxedos every night -- but we keep uniform with a look that's more for now. Comfortable but nice."

Miyashiro formed the original Honolulu out of two other groups, Nightlife and 6th Avenue. Trugillo and Tony and Jeannette Trevias all were members of Aura at one time or another.

After almost 20 years in the business, Miyashiro's perspectives and objectives have changed but he still loves the music. "When we started we were all young and single and just wanted to have fun. Now that we're all married and have families it's more about providing for the family.

"There are a lot of talented guys out there who have the talent to go but they just gave up because it wasn't worth their time or the jobs just weren't there.

"We count our blessings every time we get up on stage."






Click for online
calendars and events.
E-mail to Features Editor
---
---
© 1999 Honolulu Star-Bulletin
https://archives.starbulletin.com