---
Wednesday, December 8, 1999



W A H I N E _ V O L L E Y B A L L
---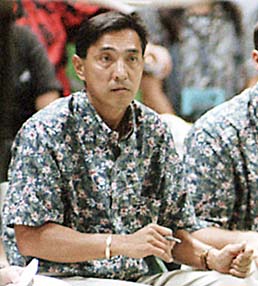 By Kathryn Bender, Star-Bulletin
---
'I didn't think we had a chance
to come back on Utah State. Even at
14-12, it was close enough for them
to come back and win it. I didn't
believe it until the ball
went down.'

Dave Shoji

The Breakthrough

Dave Shoji has coached the
University of Hawaii to four national
volleyball championships; the first
came 20 years ago today
By Cindy Luis
Star-Bulletin

This is the 15th, and final, in a series featuring the 1979 University of Hawaii women's volleyball team. The Wahine won the first of their four national titles 20 years ago today, Dec. 8, 1979.
---
HE turned 33 on Dec. 3 but the real celebration came five days later.
That's when Dave Shoji coached the University of Hawaii women's volleyball team to its first national championship.
Twenty years, 703 matches, 594 victories and three banners later, that win over Utah State at Carbondale, Ill., remains the sweetest.
"Winning your first national championship is the best,'' said Shoji, whose teams have added three NCAA trophies to the AIAW hardware of 1979. "The first is the most important because it's so hard to get.
"I think if you ask (Stanford coach) Don Shaw or Brian Gimmillaro (Long Beach State), they'll say the same thing. And Russ Rose (Penn State) and Mary Wise (Florida) ... they've built very successful programs but are still looking for their first championship.
"Winning that first one takes the pressure off.''
Twenty years later, the pressure is back on as Hawaii tries to become the fourth team -- and first since 1991 -- to win the title on its home court. The third-seeded Wahine (29-1) are two victories away from a final four appearance next week at the Stan Sheriff Center.
On Dec. 8, 1979, second-seeded Hawaii was two wins away from the title at Lingle Arena on the Southern Illinois campus. The Wahine had swept through pool play (best-of-three format) with 2-0 victories over Southwest Missouri State, New Mexico State, San Diego State and Washington.
The Wahine defeated Texas-Arlington in the quarterfinals, 3-1, to advance to the AIAW semfinals for the sixth consecutive year. Hawaii had three runner-up finishes and two thirds to show for its previous efforts.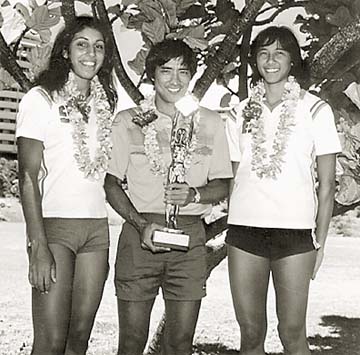 UH media guide
Rocky Elias, Dave Shoji and Terry Malterre, from left, graced
the cover of the 1980-81 women's athletics media guide with
the trophy the Wahine won the previous year at the
AIAW national championship.
---
Hawaii had defeated Texas-Arlington twice earlier in the season and Shoji was concerned his team would be looking past the Lady Mavericks.

"The only negative thing about playing them (UTA) is we may be looking ahead to playing Utah State,'' Shoji told Star-Bulletin reporter Randy Cadiente before the semifinal.

The Wahine stumbled, but didn't fall, topping the Lady Mavs, 15-12, 15-13, 13-15, 15-2. .

In the Saturday afternoon semifinal, Hawaii defeated Pacific, 15-5, 15-4, 5-15, 15-6. Five hours later, the Wahine were back on the SIU court, facing their nemesis: the Aggies of Utah State.

"The rivalry with them ... it's almost how people think of us and Long Beach State now,'' Shoji said this week. "They had an air about them, they felt they were above everyone else. They walked on the court, believing they were better than everyone.

"I don't know how to explain it now. We were fighting not just their players' skills but their philosophy, their aura. And they just did things that irritated people. So beating them was extra sweet.''

The match with the defending national champs didn't start that way. The taller Aggies played near-flawless ball in winning the first two games, 15-8, 15-7.

"I really don't remember any of the details of the game except that we were down, 2-0,'' Shoji said.

According to the Star-Bulletin account of the match, Shoji said: "We were playing hard and I told myself, 'They've got to come down to our level or otherwise we're in trouble.' And that's exactly what they did. They started making mistakes.''

Hawaii battled back with a 15-9 win in Game 3 as Shoji brought senior Bonnie Gouveia off the bench. The teams slugged it out in Game 4 with the Wahine prevailing, 16-14.

It was the third time that season the two teams would need a fifth game to decide the outcome. Both had won on their respective home courts, the Aggies in Logan in late October, the Wahine a week later in Manoa.

At 6-6, in Game 5, Hawaii went on an 8-2 run to gain match point at 14-8. Utah State didn't fold, closing to 14-12.

But Diane Sebastian put down a kill and, with Waynette Mitchell serving, Gouveia tooled the Utah State block. The ball hit the court but it took a while for it to hit Shoji that his team had won.

"I didn't think we had a chance to come back on Utah State,'' he said. "Even at 14-12, it was close enough for them to come back and win it. I didn't believe it until the ball went down.

"What I didn't count on was the seniors. They had the heart not to quit.''

And neither did Shoji, whose part-time job as Wahine coach was just one of several jobs he was holding down in 1979. He was also an assistant boys' coach at Punahou and an intramural basketball referee while attending graduate school.

Shoji was also a new father. Daughter Cobey was nine months old when her dad and the Wahine landed at Honolulu International Airport with the 1979 trophy, UH's first national championship in any sport.

"At that time, I had no clue where I'd be, even the next year,'' said Shoji, who has since remarried (Mary) with two sons (Kawika, 12, and Erik 10). "It was about that time I was seriously looking at other options.''

In January of 1981, a month after the Wahine finished third at the last AIAW national tournament, Shoji was hired as the first full-time women's coach in the UH athletic department -- and one of the first full-time women's volleyball coaches in the country. After nearly 25 seasons, Shoji is one of the best.

On Oct. 30, Shoji became just the seventh women's volleyball coach to win 700 matches (currently 710-136). He ranks third in overall winning percentage with 21 20-plus win seasons and 29 All-Americans.

The closest thing he's had to a losing record came in 1992 when the injury-riddled Wahine limped to a 15-12 record and failed to make the postseason tournament for the only time in their history.

Shoji was a three-sport athlete in high school in Upland, Calif., and named all-league in football, basketball and baseball. He didn't take up volleyball until his freshman year at UC Santa Barbara; by his senior season, he was an all-American setter.

Shoji envisioned that he'd become a high school coach and athletic director some day. Twenty years ago, he was a visionary.

"This proves we have the best program in the country,'' he told the Star-Bulletin after the victory over Utah State. "I think we're going to have a strong program as long as we get continued support. This is just the start.''

---

Editor's note: Team member Kyra Bjornsson
could not be located for this series.

---




http://uhathletics.hawaii.edu


Ka Leo O Hawaii
E-mail to Sports Editor
---
---
© 1999 Honolulu Star-Bulletin
https://archives.starbulletin.com