---
Wednesday, December 8, 1999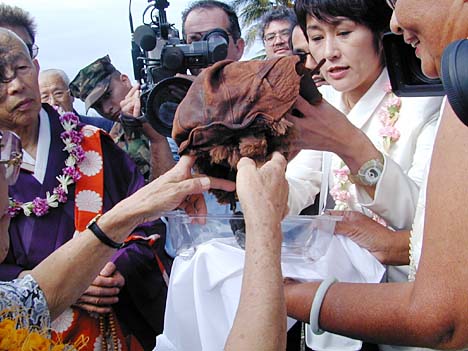 By Craig T. Kojima, Star-Bulletin
At Marine Corps Base Hawaii, Fusata Iida's leather helmet is
held by the hands of Kikuyo Iida (above at left). Fusata Iida
was killed as he led the attack on what was then Kaneohe Naval
Air Station on Dec. 7, 1941. Kikuyo Iida is married to a
cousin of Fusata Iida.
---
Pilot's helmet
going home


The helmet of a Japanese fighter
pilot who died on Dec. 7, 1941
is given to a relative

By Christine Donnelly
Star-Bulletin

Elfrieda Tsukayama does not speak Japanese. Kikuyo Iida does not speak English. But in the emotion of the moment, they understood each other perfectly.

"I don't like to show my feelings, but she was just so happy, and just kept saying 'thank you, thank you' over and over. It was such a relief that I got emotional too," said Tsukayama, recalling how yesterday she returned the leather helmet of a Japanese fighter pilot -- Iida's cousin by marriage, Fusata Iida -- who died attacking Hawaii Dec. 7, 1941. "All I could say was that I was sorry it took 58 years to return it to her, but I was so happy we finally made it to this day."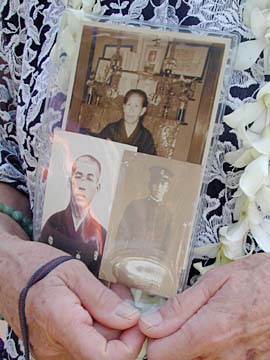 By Craig T. Kojima, Star-Bulletin
Kikuyo Iida holds photos of pilot Fusata
Iida (bottom right), his father, Konoshin Iida, and
his mother, Tsute Iida.
---
Fusata Iida was commander of the Japanese Imperial Navy's Third Patrol and led the attack on what was then Kaneohe Naval Air Station that began about 10 minutes before the destruction of Pearl Harbor. The Kaneohe raid killed 18 U.S. sailors and one civilian and destroyed 27 of the 36 U.S. seaplanes stationed there.

His own plane crippled by machine-gun fire, the 28-year-old pilot tried but failed to take out the base's primary hangar as he crashed. He is believed to be the highest-ranking Japanese officer killed that day and the crash site is marked by a plaque.

Tsukayama, born and raised on the Windward side, was an 11-year-old helping her grandfather make poi for a luau on that fateful day. "All of the sudden we hear these bullets zinging through our banana patch, and then we started to hear 'boom, boom' and there were black clouds." The emergency radio broadcast summoned all civilian defense workers to work, including Tsukayama's father, Sam Chun.

Tsukayama said her father came home from work that night with the helmet and told how he had pulled the pilot's body from the crashed plane. It was clear he considered it more than a keepsake and "always wanted to return it to the family somehow," she said. He died in 1967.

Tsukayama took up the search "off and on" after that, as she worked for Bishop Estate as an accountant and raised five sons. Now 69, widowed for 13 years and retired from work, the search took on greater intensity as she aged.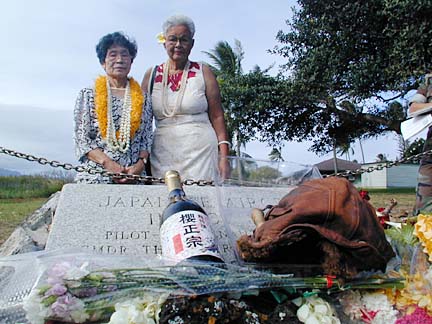 By Craig T. Kojima, Star-Bulletin
At Marine Corps Base Hawaii, Kikuyo Iida, cousin of pilot
Fusata Iida, stands with Elfrieda Tsukayama, the woman who
gave her the pilot's leather helmet. Tsukayama's father, Sam
Chun, pulled Iida's body out of his plane on Dec. 7, 1941.
Chun kept Iida's helmet in hopes of returning
it to the family someday.
---
"Every day, I'd say, I wonder if the Lord is going to give me another day to do this. I'm so happy he did," she said, adding that media attention in Hawaii and Japan helped connect the families. "I've accomplished one mission in my life."

A collector offered to buy the helmet last year, but Tsukayama refused without hearing a price.

"I just said he had a lot of nerve to ask me that. It was never for sale," she said.

Kikuyo Iida said the family would donate the helmet to a Japanese museum that has an exhibit on Fusata Iida, considered a war hero in Japan. "Finally the helmet came back and in such good condition. There is much appreciation," she said through a translator.

Kikuyo Iida was 12 when Fusata Iida's died. Fascinated by the news reports on his part in the raid, she contacted his mother. "The mother really liked her and introduced her to other members of the family and 13 years later she married Lt. Iida's cousin," said translator Mihoko Maier, who is also spokeswoman for the Japanese Religious Committee for World Federation in the 21st Century. That group arranged yesterday's prayerful ceremony at Marine Corps Base Hawaii in Kaneohe.

After all these years, Tsukayama thinks of Fusato Iida not as an enemy who had been trying to kill Hawaii residents -- even her father had he been in the plane's path -- but as young man trained and willing to die for his country.

"If I was on the other end, I would want someone to return it," she said. "(They) can remember him by that."
E-mail to City Desk
---
---
© 1999 Honolulu Star-Bulletin
https://archives.starbulletin.com