---
Monday, December 6, 1999



R A I N B O W _ F O O T B A L L
---
McMackin finalist
for Nevada job


The Rainbows' defensive
coordinator wants to be a
Division I head coach

By Paul Arnett
Star-Bulletin

Hawaii defensive coordinator Greg McMackin will be completing a recruiting trip when Nevada announces its new head coach this week.

Nevada athletic director Chris Alt interviewed McMackin for the position last week, something the UH defensive coordinator confirmed Nov. 27 after the loss to Washington State.

"I owe it to my family and to my career to hear what they have to say," McMackin said. "That's not to say I'm leaving, but anytime somebody calls you for a head coaching job, you need to look into it.

"This has been a magical season for me and my family. We both love it here. But being a head coach at a Division I program is something I've wanted to do."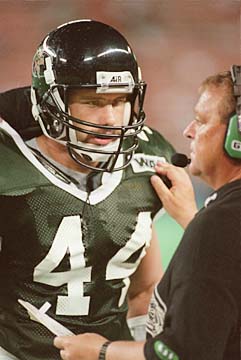 By Dennis Oda, Star-Bulletin
Hawaii defensive coach Greg McMackin talks with
linebacker Jeff Ulbrich on the sidelines.
---
McMackin may be a finalist, but he has some company. Idaho head coach Chris Tormey has reportedly been contacted, but told the Spokesman-Review newspaper in Spokane, Wash., that he wasn't interested in making a lateral move.

Alt is also said to be interested in meeting with New York Giants special teams coach Larry McDuff, who served as defensive coordinator for Dick Tomey at Arizona and as an assistant under Tomey in Hawaii before that. An announcement could come as soon as Thursday.

"I've been with Greg for 33 years and only once did I tell him no," said McMackin's wife, Heather. "I can honestly say this is the most fun year we've ever had. We've been to a lot of places, but I haven't been any place like here."

McMackin's only head coaching experience was at Oregon Tech from 1986-90. He and June Jones first coached together at the Denver Gold in 1985-86. Jones is hopeful McMackin will remain here.

---




http://uhathletics.hawaii.edu
Ka Leo O Hawaii
E-mail to Sports Editor
---
---
© 1999 Honolulu Star-Bulletin
https://archives.starbulletin.com