Advertisement - Click to support our sponsors.

---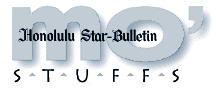 ---
Monday, December 6, 1999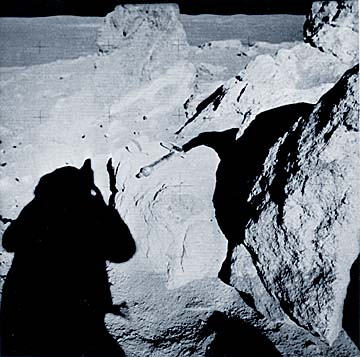 File Photo
---
...One giant step for mankind
Voyaging is something that mankind does particularly well, giving in to the desire to roam, and excusing the urge of curiosity. Premature retreat is also something that separates humans from the beasts.

Both extremes were displayed by the amazing achievement of traveling to the moon and back, not once, but several times in the 1970s, and then, even more amazingly, dropping the whole thing. Been there. Done that. Yawn.
Thousands of science-fiction stories were written about mankind's first foot-to-soil encounter with another world. As Neil Armstrong and Buzz Aldrin hopped down on Tranquility Base, the world watched, united by hope and excitement and awe and wonder. Then changed the channel.
None of the science-fiction stories ever predicted that the landing would be televised, enabling us to vicariously look over the astronauts' shoulders.
This last week has been the 30th anniversary of Apollo 12's return to earth and germ-proof incarceration in Hawaii -- for the sci-fi stories HAD predicted alien microbes!
This image of a rock hammer on the moon is so pedestrian it includes the astronaut's shadow, an amateur photographer's goof.
---
Burl Burlingame, Star-Bulletin
"Everyday Life" is a photo feature that examines the 20th Century. Send suggestions and reactions to EVERYDAY LIFE, Honolulu Star-Bulletin, P.O. Box 3080, Honolulu HI 96813, or features@starbulletin.com.
---
Radio Log


KONG 570-AM / 93.5 FM: Adult contemporary rock with some Hawaiian music
KSSK 590-AM / 92.3-FM: Adult contemporary music
KHNR 650-AM: All news
KQMQ 93.1-FM: Contemporary hit radio
KQMQ 690-AM: Radio Disney
KGU 760-AM: Sports radio
KHVH 830-AM: News, talk, traffic, weather
KAIM 870-AM / 95.5-FM: Christian music and teaching
KJPN 940-AM: Japanese-language news, adult contemporary music and talk shows
KIKI 990-AM / 93.9-FM: Contemporary country AM; contemporary hits FM
KLHT 1040-AM: Christian radio
KWAI 1080-AM: Talk radio
KZOO 1210-AM: Japanese-language, broadcasts from Japan
KNDI 1270-AM: Live news and programs from the Philippines, in 10 languages
KIFO 1380-AM: News, public affairs
KCCN 1420-AM / 100.3-FM: All talk / UH sports AM; contemporary island hits, FM
KUMU 1500-AM / 94.7-FM: Adult standards, AM; light favorites, FM
KHPR 88.1-FM: Classical, news, public affairs
KIPO 89.3-FM: Jazz, classical, news
KTUH 90.3-FM: Jazz, blues, Hawaiian, rock, country and alternative
KKUA 90.7-FM: Classical, news and public affairs
KKCR 90.9 / 91.9-FM: Hawaiian music, midnight-3 p.m.; and rock, reggae, classical and new age
KRTR 96.3-FM: Adult contemporary music and news
KPOI 97.5-FM: Modern rock
KKLV 98.5-FM: Contemporary Hawaiian
KORL 99.5-FM: Adult contemporary
STAR 101.9-FM: Modern hits
KKHN 102.7-FM: Country
KXME 104.3-FM: Top 40
KINE 105.1-FM: Hawaiian
KGMZ 107.9-FM: Oldies






Click for online
calendars and events.
---
Send WatDat? questions, stories
or any other story ideas or comments to:
Features, Honolulu Star-Bulletin, P.O. Box 3080,
Honolulu, HI 96802 or send a fax to 523-8509
or E-mail to features@starbulletin.com.
Please include your phone number.
E-mail to Features Editor
---
---
© 1999 Honolulu Star-Bulletin
https://archives.starbulletin.com