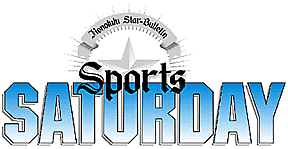 ---
Saturday, December 4, 1999



H A W A I I _P R E P _ S P O R T S
---



10:30 p.m. HST


Final score: St. Louis 19, Kahuku 0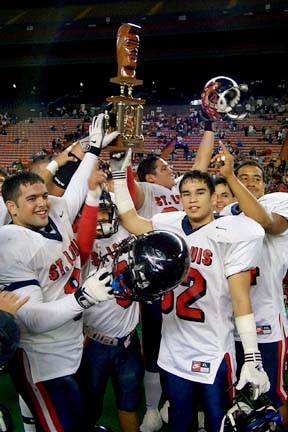 By Barry Markowitz, special to the Star-Bulletin
St. Louis teammates hoist the first state football
championship trophy. St. Louis won the first state
prep championship over Kahuku by a score of 19-0.
---
The numbers
favored St. Louis
to win state title


The Saints outscored their
opponents 516-110 this season

By Randy Cadiente
Star-Bulletin

Even before the players hit the field, the numbers definitely favored St. Louis over Kahuku in tonight's Chevron State Football Championship game at Aloha Stadium.

And we're not talking about the odds, either.

The Crusaders, ranked No. 15 in FoxSports Net Fab 50, led the Interscholastic League of Honolulu in offense (510.8 yards per game) and defense (177.4 ppg). They also had the league's top rusher (Pesefea Fiaseu, 1,135 yards), passer (Timmy Chang, 2,693 yards) and scorer (Fiaseu, 18 touchdowns).

Surprisingly, the only category the Saints didn't finish at the top was receiving, where Britt Komine of Pac-Five was the No. 1 pass catcher.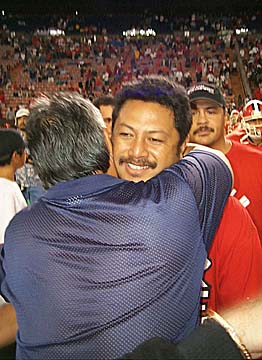 By Barry Markowitz, special to the Star-Bulletin
Coach Cal Lee, foreground, hugs Kahuku
coach Siuaki Livai following the game.
---
If that's not enough, the Saints outscored their opponents, 516-110, this season.

"There's no secret in St. Louis' attack," said Kahuku coach Siuaki Livai.

Livai, of course, was talking about the Saints' run-and-shoot offense.

Chang, named Hawaii's Gatorade Player of the Year yesterday, is the director of the Saints' marching machine. The 6-foot-2, 185-pound senior set ILH records for passing (2,693 yards) and touchdowns (38).

And Chang is no stranger to the Red Raiders.

In last season's Prep Bowl, Chang completed 15 of 27 passes for 253 yards and two TDs to lead the Saints over Kahuku, 28-20.

"We're going to play him straight up in the beginning and see what happens," Livai said before the game. "We just hope we can contain him."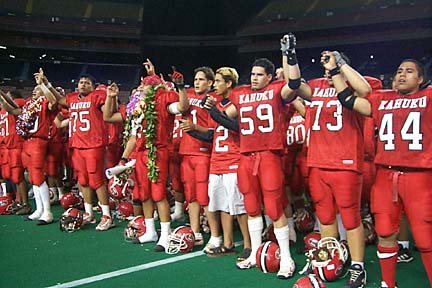 By Barry Markowitz, special to the Star-Bulletin
Kahuku gathers on field to sing their alma mater with
great emotion after losing to St. Louis.
---
Seniors Gerald Welch and Isaac Rodrigues have been Chang's favorite targets this season.

Welch was on the receiving end of 62 passes for 898 yards and 14 scores. Rodrigues has caught 46 balls for 1,016 yards and 12 TDs.

If the Saints don't beat you through the air, they'll do it on the ground with the help of Fiaseu, a 5-10, 195-pound junior.

Kahuku had numbers of its own.

In their run to the state championships, the Red Raiders beat Big Island Interscholastic Federation champion Konawaena, 47-14, and Maui Interscholastic League champ Baldwin, 27-12. In the Oahu Interscholastic Association playoffs, Kahuku has outscored its opponents, 71-14. And during the regular season, the Red Raiders recorded three shutouts on the way to a 7-1 record.

By Barry Markowitz, special to the Star-Bulletin
Timmy Chang, St. Louis No 14 quarterback celebrates.
---
"We're going to be doing what we've been doing," Livai said. "Nothing different.

"We're trying to improve our defense," he added. "We played five teams that used the run-and-shoot and they didn't score (a lot) on us.

"But St. Louis is a different story," added Livai.

"We just hope they have an off-night and hope we have our best night."




State Football Championship

Who: St. Louis vs Kahuku.
When: Today, 7:30 p.m.
Where: Aloha Stadium.
Tickets: $7 adults, $5 students. Information: 486-9300.
Radio: KGU (760-AM).
TV: Oceanic Cable pay-for-view (channel 71) $12.95. Information: 625-8112.




---

ILH principals consider
mercy rule for football

They look for a way to
deal with an imbalance of
power in the league

By Pat Bigold
Star-Bulletin

A "mercy rule" in football is being considered by members of the task force set up to solve the problem of disparity in the Interscholastic League of Honolulu.

Principals said that the imbalance of power has had a demoralizing effect on ILH football athletes, and is probably one of the reasons the league's junior varsity program folded.

Iolani School headmaster Val Iwashita, who heads the task force, acknowledged that St. Louis' 89-7 rout of Pac-Five and 82-0 shutout of Damien were brought up at a specially called meeting of league principals on Thursday.

"That was used as an example of the type of situation that needs to be improved, and could be improved by the mercy rule," said Iwashita.

But Iwashita insisted the ILH's disparities are not limited to football.

St. Louis, which faces Kahuku in the first state football championship game tonight at Aloha Stadium, has outscored opponents, 516-110, this season.

St. Louis was ranked as high as No. 13 in USA Today's "Super 25" this season but fell out of the rankings after suffering a loss to Kamehameha. The Crusaders remain in the FoxSports Net Fab 50 at No. 15.

The Oahu Interscholastic Association used a mercy rule during the 1999 season, and football coordinator Richard Townsend said coaches were pleased with it.

Under the rule, when a team develops a 35-point lead on its opponent, the clock is allowed to run. It stops only for timeouts, between quarters and for injuries.

Beyond the mercy rule proposal, Iwashita said it was premature to discuss other potential solutions to the disparity problem. He doesn't think regulating size of rosters would help.

Iwashita and other ILH principals have been trying to avoid direct references to the St. Louis program in public comments about the task force.

"It is not a St. Louis issue," said Iwashita. "Obviously St. Louis is part of the reason why we're talking -- the lack of parity in the league.

"But I want to go at it from a much broader perspective of how we can improve the situation for all concerned."

Brother Greg O'Donnell, principal and CEO of Damien, strongly favors the mercy rule. He also acknowledged his program's participants were deeply discouraged by the 80-point margin of defeat they absorbed this season.

He called the mercy rule a "nuts and bolts" solution, and insisted much more is needed to deal with the current imbalance.

"I hope we will be more into policy-setting," said O'Donnell. "If something doesn't pass the litmus test of sportsmanship, don't do it."

Iwashita said the ILH task force might not get its work done by next month.

"It will probably take us the better part of February but I'm confident we can come up with some solutions that will help all of us," said Iwashita.

"We want to find out how can we make our programs more meaningful, more attractive, more educationally sound than they currently are."
E-mail to Sports Editor
---
---
© 1999 Honolulu Star-Bulletin
https://archives.starbulletin.com