---
Monday, November 29, 1999
Wailuku booming
with new business


Old-town charm also attracts
investors planning Main Street
developments, while the county
pursues $1.6 million to spruce
up the greenery and parking

By Gary T. Kubota
Maui correspondent

WAILUKU -- Sig Zane Designs partner Punawai Rice says he's heard stories about how businesses die in Wailuku town, but he's not persuaded by them since opening in August.

"We picked Wailuku because the majority of our customers is local people," said Rice, whose company started and has an outlet in Hilo. "It's been busier here."

The number of new businesses in Wailuku has increased dramatically in recent months, as major investors prepare for growth.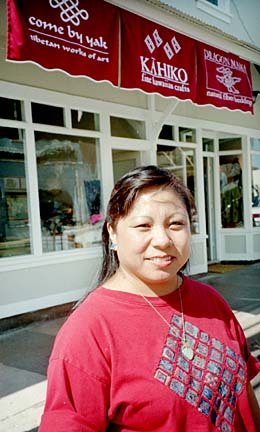 By Gary Kubota Star-Bulletin
Store manager Lolita S. Eugenio says many visitors
prefer specialty shops to malls. Her Kahiko offers
hand-made quilts with natural fibers.
---
Two investors are planning to develop major parcels along Main Street.

Maui resident Robert H. Joslin is purchasing the Valley Isle Motors building with more than 70,000 square feet of space.

Joslin plans to turn it into a retail promenade, including a two-lane cobblestone road through his property that would connect Main Street to the municipal parking lot..

Hana resident Jonathan Starr has bought the building at 1980 Main Street, currently occupied by Campos Autobody, and also purchased the old Hanada Service Station property.

Starr said he bought the parcels after seeing an increase in the number of businesses.

"It was the quickening pulse of 'Wailuku," he said.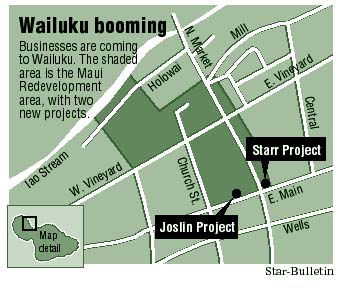 The administration of Maui County Mayor James "Kimo" Apana is also seeking $1.6 million in federal grants for town improvements.

The administration wants to improve the landscaping along Market Street and develop some 40 parking stalls in the back of Iao Theatre.

With its quaint narrow streets and buildings, some reminiscent of the early 1900s, Wailuku is attracting merchants who want the old-town atmosphere and ready-to-occupy commercial space.

The population is also growing as more people move into new subdivisions at Iao Parkside and buy homes at Kehalani.

Along Market and Main streets, several businesses that have opened within the last few months say that they're pleased with the location.

They include Da Kitchen, serving island food; Come By Yak, selling Tibetan crafts; anything computers.com, specializing in wholesale portable computers; and Good Fortune Trading Co., selling consignment antiques, furnishings and accessories.

"We've done extremely well," said Good Fortune Trading partner Katherine Acker.

Lolita Eugenio, manager of a new shop called Kahiko, which offers hand-made quilts with natural fibers, said many visitors don't want to go into a shopping center.

"They want to find specialty shops. That's the trend," said Eusebio.
E-mail to Business Editor
---
---
© 1999 Honolulu Star-Bulletin
https://archives.starbulletin.com