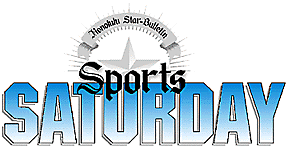 ---
Saturday, November 27, 1999
11:15 p.m., HST



R A I N B O W _ F O O T B A L L
---
Gesser returns
triumphant

Washington Cougars top
Hawaii's Rainbows 22-14

Hawaii seniors recognized

By Pat Bigold
Star-Bulletin

Adam Hawkins made Jason Gesser's first career start at quarterback and homecoming a success as he rushed for two second half touchdowns and gave Washington State a 22-14 victory over Hawaii before 44,374 fans at Aloha Stadium tonight.

The season-ending loss left the Oahu Bowl-bound Rainbows at 8-4 and prevented Hawaii from breaking the NCAA record for most improved season.

The Cougars improved at 3-9.

Hawkins, a junior running back from Pendleton, Oregon, scored his first touchdown on a 30-yard run with 3:08 left in the third quarter. Washington State had gotten the ball back on Marcus Trufant's interception of a Dan Robinson pass at the Washington State 8 and return to the 46. Dion Burnett rushed for one yard on the give from Gesser and then a face mask penalty cost Hawaii another 15 yards to set up Hawkins' run. He scored his second and decisive touchdown on a six-yard run with 1:25 left in the game. It culminated a four-play, 20-yard drive that took only 1:25, and began after Robinson couldn't convert on fourth down to keep the ball.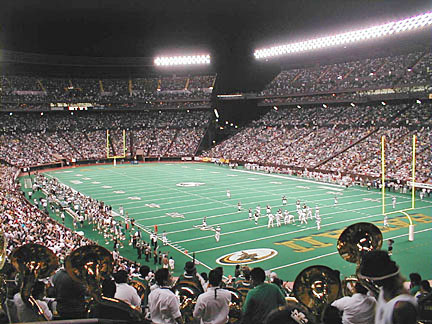 By Blaine Fergerstrom, Webmaster
Aloha Stadium was rocking to the tune of 44,374 fans,
with a large group cheering for Washington.
---
Hawaii got the ball back with 50 seconds remaning and ran off five pass plays -- the last a Hail Mary with three receivers in the corner of the end zone -- before time expired. Gesser, who started three season for St. Louis School in Honolulu and led the team to two Oahu Prep Bowl championships, completed 19 of 33 passes for 141 yards. The redshirt freshman was intercepted once by Quincy LeJay and sacked four times for 20 yards.

"(Defensive backs coach Rich) Miano told me he was going to tell the coach to blitz me every play," said Gesser. He said that went out with Hawaii receiver Craig Stutzmann, a former St. Louis teammate, four days during the week, and had a chance to talk with Miano, who is also an old friend.

But Gesser said being able to return and win in front of an Aloha Stadium crowd was overwhelming.

"There is no better than this right now," he said. "Even though they booed me at first."

Gesser said he found out Friday night that he would start in place of the injured Steve Birnbaum. "I was nervous," said Gesser. "It was my first game back from my (thumb) injury."

He has only played in six Washington State games.

For the season, Gesser has 445 passing yards and has completed 48 of 95 attempts. He has been intercepted three times.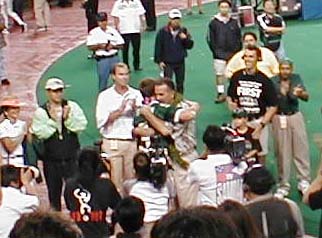 By Blaine Fergerstrom, Webmaster
UH quarterback Dan Robinson gets a hug from head coach
June Jones as he takes his "senior walk" after the game.
---
Cougars head coach Mike Price said Gesser fits into his plans for the next century.

"Jason has a great future," said Price. "He has a chance to lead this team in the next milennium. He was hurt (twisted left knee in second half) but still played. If we had a game next week, he wouldn't be able to play."

Tony Tuioti got to Gesser twice while Nate Jackson and Jeff Ulbrich dropped him once each.

Ulbrich led Hawaii in tackles with 18.

Tuioti also had one of three Hawaii fumble recoveries.

Robinson, who passed for 530 yards in a victory over Navy and set 11 school offense records last week, completed 19 of 51 passes for 254 yards and was picked off three times. He was sacked once.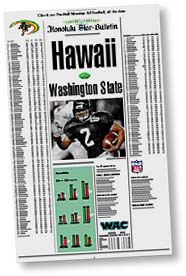 HAWAII VS. WASHINGTON STATE

When: 6:05 p.m., today
Where: Aloha Stadium
TV: 9 p.m. on KFVE (delay)
Radio: Live on KCCN (1420-AM)
RealAudio: Click here

JEEP OAHU BOWL

Who: Hawaii vs. Oregon State
When: Dec. 25
Where: Aloha Stadium
Tickets: $45 sideline-orange end zone, $30 and $20 end zone. Tickets also good for Jeep Aloha Bowl (teams to be announced). Call 947-4141, 486-9300 or at http://www.alohagames.com for tickets.
Parking: Lot opens at 7:30 a.m.




He extended his school record for consecutive 200-yard passing games to 11.

"It looked like we played good enough defense," said hawaii head coach June Jones, whose team last week set an NCAA record for most improved record after a winless season.

"We made errors of judgment on special teams. We made some errors on offense, the turnovers really hurt us. We just didn't make plays when we had to."

Gesser opened the second half with a 14-play, 80-yard drive that resulted in Rian Lindell's 36-yard field goal to give the Cougars a 6-0 lead with 9:51 left in the third quarter.

Gesser made the big play of the drive, running 13 yards to the 22 on 2nd-and-7 when he found his receivers all covered.

Robinson passed to Dwight Carter on 2nd-and-10 for a 75-yard touchdown play with 7:32 left in the third quarter.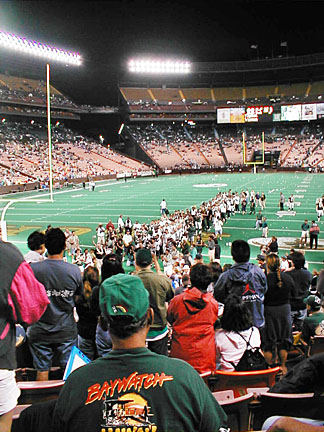 By Blaine Fergerstrom, Webmaster
The UH football team formed a gauntlet to congratulate
senior players as they emerged from the locker room.
---
On the play, Carter caught the ball near midfield as Trufant dove at him and nearly caused him to lose his balance. Carter managed to keep his legs moving and maintain his balance as he galloped for the sidelines. Craig Stutzmann threw a key block downfield for Carter on right corner back Lamont Thompson.

Hawaii's only other touchdown came on a 38-yard return by Anthony Smith of Nian Taylor's fumbled reception on a sideline pass from Gesser with 32 seconds left in the third quarter.

Rob Meier's recovery at the Hawaii 21 of Jamal Garland's fumble of a punt about four minutes into the second quarter gave the Cougars' their best field position for a touchdown drive in the first half.

But Gessser's first pass went off the outstretched hand of a receiver and Quincy LeJay made his seventh interception of the season with a diving grab at the 12.

Lindell kicked a 41-yard field goal with 13:59 left in the first quarter to give the Cougars a 3-0 lead and the game's only points in the first half.

Gesser took some big hits from the Hawaii defense in the first half, most notably from former Waianae High standout Nate Jackson's full-stride stop that sent the ex-Crusader crashing into the Hawaii bench with 9:11 left in the first quarter.

Washington State had more total offense (125 yards) than Hawaii (118) in the first half on the same number of plays from scrimmage (37). The teams were even in first downs (seven).

WSU	3  0  9 10 -- 22 
UH	0  0  14  0 -- 14

SCORING SUMMARY

WSU: Rian Lindell 41 FG
WSU: Lindell 36 FG
UH: Dwight Carter 75 pass from Dan Robinson (Eric Hannum kick)
WSU: Adam Hawkins 30 run (Run failed)
UH: Anthony Smith 38 return of fumble (Hannum kick)
WSU: Lindell 24 FG
WSU: Hawkins 6 run (Lindell kick)

INDIVIDUAL STATISTICS

RUSHING

WSU: Hawkins 13-103, Burnett 26-97, Gesser 10-22.
UH: Weaver 14-80, Thompson 3-7, Robinson 2-(-4).

PASSING

WSU: Gesser 33-19-1 for 141 yards, Mencke 1-0-0 for 0 yards.
UH: Robinson 51-19-3 for 254 yards.

RECEIVING

WSU: Zubedi 5-50, Mencke 4-35, Taylor 4-27, Burnett 3-10, Henderson 2-15, Scott 1-4.
UH: Stutzmann 5-53, Carter 4-104, Lelie 4-64, Harris 3-35, Weaver 3-(-2).

---




http://uhathletics.hawaii.edu
Ka Leo O Hawaii
E-mail to Sports Editor
---
---
© 1999 Honolulu Star-Bulletin
https://archives.starbulletin.com