---
Friday, November 26, 1999
Model home


A residence near Punchbowl was
a drug house not long ago, but now
it shelters women and children thanks
to nine months of dedicated affection
from more than 200 volunteers

By Jaymes K. Song
Star-Bulletin

The name of the cat that Laree Wartena holds is Purity. It used to be called White China, after a type of heroin. That was when the 10-bedroom residence at 1060 Spencer St. in Makiki was a dreary drug house, and the cat was given drugs, and would claw at anyone who tried to pet it.

Nine months later, and the drug house is now the Ruth House on Spencer Hill, a shelter for homeless women and children. The cat has undergone a parallel transformation, symbolic of the shelter's goals. It retains an odd twitch from its drug days, but now likes to be held and petted.

All it took, Wartena says, was some affection, food and a place to call home.

"That's the secret of it all," she said with a smile.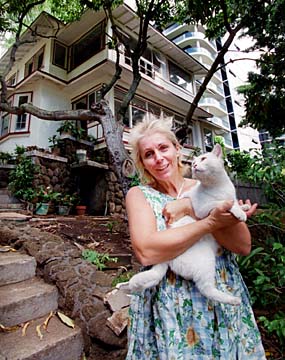 By Ken Sakamoto, Star-Bulletin
Laree Wartena, holding her cat, Purity, is the executive
director of the Ruth House on Spencer Hill, a shelter
for homeless women and children.
---
Wartena, the shelter's executive director and self-proclaimed "maid and toilet scrubber," opened the Ruth House's doors last week after an exhaustive clean-up that began in March.

More than 200 volunteers from the military, the Oahu Correctional Community Center and various community-service groups joined together to carry away heaps of junk.

"It was gross," said Joe Bruey, who helped clean and rebuild the home. "It was terrible. It was buried with garbage."

Deteriorating refrigerators, ancient air-conditioning units, a hundred plastic bags of dirty clothes, 34 toilets and swarms of giant rats were removed from the property. Fourteen 40-foot containers were crammed with junk and hauled away.

Neighbors, not surprisingly, have welcomed the improvements.

"It was a total, total mess," said Tony Talaney, who lives across the street from the home. "(Junk) was all over the property, dumped in the yard and street." He described the previous tenants as "rough-looking characters" who he avoided.

The Ruth House -- on a half-acre of land and in the shadow of towering trees and high-rise condominiums just Diamond Head of Punchbowl -- offers temporary housing and assistance for women and children who have just become homeless or have nowhere to go. It is named for the biblical figure, who symbolized friendship.

Wartena, 47, will assist about one to five families at a time. She said they will stay anywhere from three days to a month while being assisted into a job and permanent housing. She wanted to open the home before the holiday season because that's when people need help the most, she said.

"I don't claim to be a social worker or a psychologist," she said. "I'm just a friend."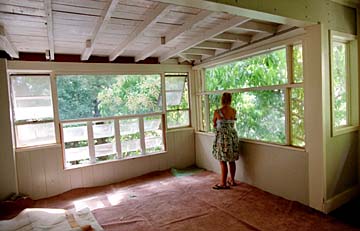 By Ken Sakamoto, Star-Bulletin
Hundreds of volunteers helped convert a filthy former
crack house on Spencer Street into the Ruth House, a
clean, sunny shelter for homeless women and children.
The shelter is funded through donations and grants.
---
Women are homeless for a variety of reasons, said Wartena, who operated two shelters on the Leeward Coast. They become widowed, seriously ill, lose their jobs, are abandoned by their spouses or simply can't afford housing. They are "educated, good mothers, hard workers," who had a rough break at sometime in their lives.

The majority of Hawaii's homeless are women, the state says. According to a 1999 study done for the state by Market Trends Pacific, there are 3,171 homeless people in the islands at last count, with 1,803 of those on Oahu.

Women make up 54 percent of the homeless statewide and 57 percent on Oahu, said Russell Nanod of the Housing and Community Development Corp. of Hawaii.

The Ruth House, located in a structure built in 1910, was offered to Wartena in March. It once was a halfway house, before becoming a haven for heroin users and pushers. Wartena bought the house and land for $1 million and is raising funds to pay the mortgage.

The shelter falls under a program that Wartena founded in 1993, Hawaii Homeless Women and Children. It is funded through donations and grants, she said, and receives no state or federal funding.

Dozens of Oahu businesses already have contributed to the shelter, donating everything from beds to doors. But she still is in need of dressers, bedsheets, pillows, toiletries, food and quilts.

Wartena knows from personal experience what the women seeking her help are going through. She was homeless 10 years ago, and lived in a shelter for almost three weeks. She remembers lying on a mat on the floor with hundreds of other people -- a dark memory that prompted her to help the homeless.

At Ruth House, she tried to create a "home" atmosphere with beds, furniture and even a playground in the back yard. "She's very dedicated to her cause," said Bruey. "She'll do anything for it."

Neighbors have minor concerns, such as the possibility of increased traffic congestion, but generally seem to be in favor of the shelter.

"Somebody's got to help out, and their concern sounds great," Talaney said. "Lots of families need help. And it can be a pretty rough situation to get on your feet to find a place and job."

Wartena's payoff comes from the children, which she calls "victims of circumstance."

"I love the kids," she said, her eyes filling with tears. "In many situations, I'm the dad they don't have."

Her philosophy is basic, but has been found to be very effective in preventing permanent homelessness. She takes burdens off of families by supplying their immediate physical needs. But she goes further, and prays, gives them time to heal and lends a sympathetic ear to those who often are ignored.

"If I don't listen," she said, "who will?"
E-mail to City Desk
---
---
© 1999 Honolulu Star-Bulletin
https://archives.starbulletin.com