Advertisement - Click to support our sponsors.

---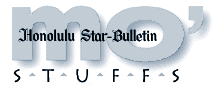 ---
Friday, November 26, 1999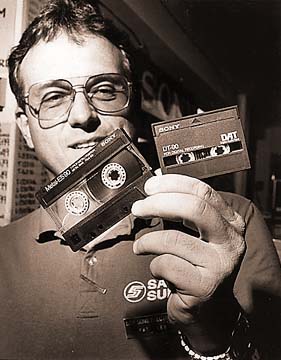 Star-Bulletin file photo
Whether by video or camera, images are translated
from dots to reproduce what we see.
---
We connect dots
for the big picture

Take a close look at the picture reproduced here, a real close look. What appears to be smooth shades of gray or color is actually, upon detailed examination, a kind of pointillist map made up of dots.

There, in a nutshell, is one of the primary technological upheavals of the 20th century, one that affects every facet of life, one that accelerates daily.

The story of civilization is one of data recordation. Unlike most processes, which start out simple and grow complex and unwieldy, data recordation has grown simpler and more foolproof. From hand-lettered hieroglyphics to the alphabet and movable type, from one-of-a-kind works of art to poster printing, data became more democratic. But it relied on analog values; essentially, making facsimile reproductions.

At the turn of the century though, flawless transmission of such information required that the data be deconstructed, broken down to its bare essentials, its molecules of being. The shift came with the realization that data could be reduced to a simple on-off proposition, yes and no, zero and one, black and white, like the dots of a half-tone image.

This "digital" view of the universe builds up from the tiniest of elements, rather than reducing reality. It's not holistic, it's fragmented, but for the first time in history, the manner in which knowledge is stored can't be reduced any further.
---
By Burl Burlingame
---
"Everyday Life" is a photo feature that examines the 20th Century. Send suggestions and reactions to EVERYDAY LIFE, Honolulu Star-Bulletin, P.O. Box 3080, Honolulu HI 96813, or features@starbulletin.com.
---
Glass beads shaped
before your eyes
A pair of glass bead artists, Calvin Orr and Brenda Yonamine, will demonstrate their craft from 10 a.m. to 3 p.m. tomorrow at Nohea Gallery in Ward Warehouse.

Orr's beads are like miniature lei, tiny glass flowers 1/16-inch across wrapped around dichroic glass. Yonamine makes whimsical fish and duck-shaped glass beads, but is particularly known for her line of glass angel pins that celebrate her successful battle with breast cancer.

The glass-blowing and beadmaking demonstrations are free.

Food and music
Cecilio and Kapono, Na Leo Pilimehana, Fiji and O'Brian Eselu headline the third-annual "Maika'i Night of Music" at the Waikiki Shell Dec. 4.

The holiday concert is sponsored by Foodland and Sack N Save stores and tickets may be earned by redeeming Maika'i Holiday Certificates at the stores.

Earn a certificate by purchasing $40 in groceries in a single visit, including one product from KRAFT, American Greetings, Coca-Cola or Nabisco.

Two certificates may be redeemed for a free grass ticket; three may be redeemed for a reserved ticket.

This is the only way to get tickets to the show.

The concert will begin at 6:30 p.m.

For information call Foodland at 732-0791.

Tour of the Tigres
The norteno band Los Tigres Del Norte will perform twice in Hawaii as part of the band's Pacific tour.

Concerts will be Dec. 11 at the Kona Surf Resort Convention Center and Dec. 12 at the Hilton Hawaiian Village Coral Ballroom.

The appearances are the first in Hawaii for Los Tigres, which won a Grammy Award in 1988 for the album "Gracias America sin Fronteras."

The Mexican band is touring in support of a two-disc album, "Herenia de Familia," which features the hit single "Lagrimas."

Tickets for both concerts are on sale for $35 general admission. A $100 VIP ticket includes a post-concert reception.

Concert details:

Kona: Concert time is 9 p.m., with opening act DJ El Mano Ramirez performing at 7 p.m. Doors open at 6 p.m. Buy tickets at Ruben's Mexican Restaurants in Kona and Hilo and Mele-Kai Music. Call (808) 325-6416.

Oahu: Concert time is 7 p.m., with opening act Manuel Y Su Groupo Illusions performing at 5 p.m. Doors open at 4 p.m. Tickets are available at the Hilton and at tour offices on military bases and at Los Garcia, Toritos and Mercado de la Raza. For information call 947-7816.


Click for online
calendars and events.
---
Send WatDat? questions, stories
or any other story ideas or comments to:
Features, Honolulu Star-Bulletin, P.O. Box 3080,
Honolulu, HI 96802 or send a fax to 523-8509
or E-mail to features@starbulletin.com.
Please include your phone number.
E-mail to Features Editor
---
---
© 1999 Honolulu Star-Bulletin
https://archives.starbulletin.com