---
Thursday, November 25, 1999
SCIENCE ACCOMMODATES RELIGION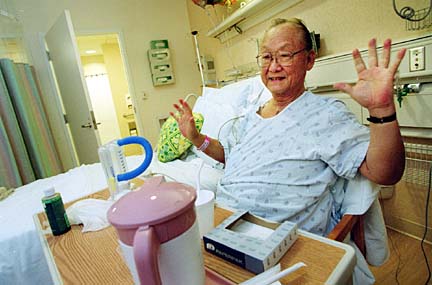 By George F. Lee, Star-Bulletin
Cardiac patient and Jehovah's Witness Henry Song rested comfortably
on Wednesday following his triple bypass surgery using
a new low-blood-loss technique.
---
Heart surgery
available to
Jehovah's Witnesses


A new technique allows doctors
to work on the heart without
requiring the trans-
fusion of blood

By Mary Adamski
Star-Bulletin

LIKE so many people who have undergone open heart surgery, Henry Song likes to recount all the details of his Nov. 18 triple-bypass operation at St. Francis Medical Center.

But Song's tale is unique because, in performing their modern medical miracle, his doctors worked within the special limits of his religious belief.

Song, 74, is the first member of the Jehovah's Witnesses in Hawaii to undergo "bloodless" heart surgery.

The religion and medical science have clashed in emergency rooms and courtrooms on the subject of blood transfusions, but thanks to new technology, Song's surgery went smoothly.

"We trusted in God and did the right thing," said Song who was to be released from the hospital today. "God commanded us that we must not take blood." The retired insurance salesman, a Korean War veteran, conducts weekly lessons for his church's Waialae congregation.

Song and his son, Christopher, were among the Jehovah's Witnesses who were invited a year ago to hear St. Francis surgeons describe the bloodless surgery. Combined with the use of "pneum-evac" machinery which drains patient's blood that leaks during surgery and continuously recycles it back into the body, it makes heart bypass surgery available to Witnesses.

Song isn't the first to experience the new open-heart surgery technique by Dr. Collin Dang. Dang heads a team that last year introduced the Off-Pump Coronary Artery Bypass process here. It changes the 30-year-old procedure which involves stopping the heart and pumping the blood through a heart-lung machine while blood vessels from the patient's leg are sewn onto the heart to bypass clogged arteries.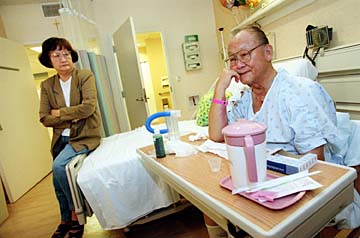 By George F. Lee, Star-Bulletin
Song and his wife, Betsy, looked forward to his going home today.
---
A patient's blood loss, and the need for transfusion, is halved by a less invasive process in which the surgeon stills only the area of the heart he is working on.

The process, in use at more than 70 mainland surgical centers, also reduces the potential complications of kidney damage and stroke because the blood is not damaged in the rapid pumping.

The process began with drug therapy. Song took epogen, which stimulates the blood to create new red cells.

Song and his wife, Betsy, and son, Chris, last night praised the surgeons and the hospital for their commitment to respect Song's beliefs. He wore a traditional plastic identification bracelet but it was bright pink, designed to alert medical personnel that his is a "no blood" case.

The patient confessed: "I was scared." The symptoms of his clogged arteries meant "I could have had a stroke or a heart attack."

Song said his church believes transfusions are forbidden by God as told in the Bible. The Scriptures say Jesus said to "abstain from blood" in Acts of the Apostles, 15:28,29 and God admonished the Israelites against consuming blood in Leviticus, 7:26, 27.

"Blood is sacred to God ... he doesn't want us to use it frivolously," said Betsy Song.

"Don't mistake us for faith healers," said Chris Song. We want the best medicine." He quoted another church member's comparison of forced transfusions to rape.

The patriarch of the Song family would normally be cooking a turkey today.

His return home today will put the feast on hold until tomorrow, and he will be assuming an advisory role this year.

"We give thanks every day of our lives," said Betsy Song.
E-mail to City Desk
---
---
© 1999 Honolulu Star-Bulletin
https://archives.starbulletin.com