---
Wednesday, November 24, 1999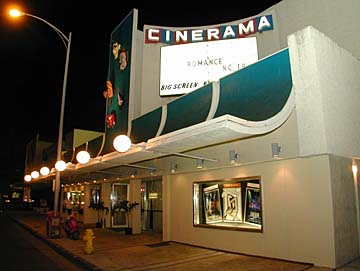 By Craig T. Kojima, Star-Bulletin
The Cinerama Theater has been in operation since 1962. The
space will be taken over by a retail operation, says owner
Consolidated Amusement Co.
---
Landmark
Cinerama Theater
is closing


Sunday will see last movie
shown at 'the last of the
old-time theaters'

By Harold Morse
Star-Bulletin

It's the final curtain for Cinerama Theater, the venerable wide-screen showplace at 1550 S. King St.

"This Sunday will be its last day," said Glenn Yim, director of operations for Consolidated Amusement Co. Ltd.

"We have a tenant who is going into the theater, and they're going to be doing an alternate use of the theater."

Asked how it will be used, Yim said it is retailing but declined details.

"We've been marketing that theater property for some time," Yim said. "Now that a user came, that's why we moved pretty fast. All of our (Cinerama) employees are being transferred to other theaters."

When it opened as a "Super-Cinerama" theater Dec. 12, 1962, actor Henry Fonda personally appeared. The first Cinerama movie was "The Wonderful World of the Brothers Grimm," and Fonda starred in the second which screened some days later, "How the West Was Won."

The film "Romance" had its final performance last night, and "The Insider," starring Al Pacino, runs today through Sunday.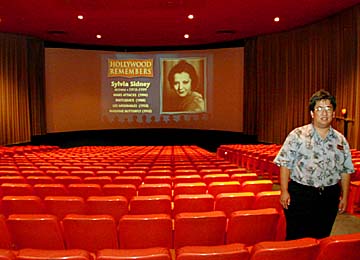 By Craig T. Kojima, Star-Bulletin
Cinerama Theatre manager Gary Young and all other Cinerama
employees will be transferred to other theaters
owned by Consolidated Amusement.
---
A first for Hawaii occurred in 1967 when "Gone with the Wind" was shown there in 70 mm wide-screen format with full stereophonic sound.

Cinerama, on the site of the old Pawaa Theater, became a precedent-setter for Consolidated.

The 1962 announcement that Pawaa Theater would close to be renovated and renamed Cinerama was reported in the Star-Bulletin.

"And that new name tells the story, for the theater will become the exclusive Hawaii outlet for the new 'story line' Super-Cinerama features," the story said.

"The Pawaa, which was opened in 1929, will get ... a new floor, new seats, new ceiling, new walls, a new screen 66 feet wide and 22 feet deep (and) latest type Super-Cinerama projection equipment."

Gary Young, theater manager, said all employees will be on hand for videotaping when the doors close Sunday night.

Moviegoer Ed Kuramoto of Kaimuki was surprised to hear of the planned closing.

"It's the last of the old-time theaters," he said. "It's one more link with the past, leaving."

Kay Asato of Aiea agreed. "We're going to miss the old theater," she said. "I guess it's kind of sad."
E-mail to City Desk
---
---
© 1999 Honolulu Star-Bulletin
https://archives.starbulletin.com