[News]
[Business]
[Features]
[Sports]
[Editorial]
[Do It!]
[Info]
[Home]


OBITUARIES and
WEATHER in the
news section daily.
[Classified Ads]




Calendars & Events







Most recent columns



To March 18, 1996
PAST WEEK:
| M | T | W | T | F | S |






Aloha Worldwide

Join SETI team

1998 Election

Legislature

SAT Scores

Pet Quarantine







Phone numbers, e-mail addresses, subscription info



E-mail notifier




---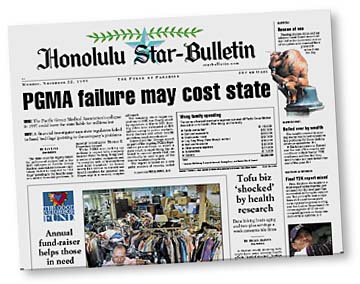 Sign up for our e-mail news notifier



Celebration 2000 - Your guide to the party of the century

---
Starbulletin.com publishes online editions Monday through Saturday.
Starbulletin.com publishes articles written by our staff and
selected articles of particular interest to our readers.
Entire contents of this Web site © copyright 1999 by
Honolulu Star-Bulletin. All rights reserved.

---
Featured on:




PGMA failure may cost state millions; Good Neighbor Fund starts; Theft hits Pop Warner; Tofu study reaction; Youth camp chief gone; Ditching survivors' condition 'amazing'; Prosecutors seek long term; KCC travel firm; Streetwise; Newswatch; Corky's Hawaii; Weather; Obituaries




ABCs at home; Hawaii Music Award winners; Riveting 'mice'; Hawaiian Life in the Universe; Stuffs; Hawaii; Honolulu Lite



'Bows 'enjoy the ride'; Arizona holds off Wahine; Hoops 'Bows bowled over; Hayes wins G-Shock; Love is Stewart's alternate; Murrell rushes for 72 yards; Sports Watch; Hawaii Sumotori; Sports Notebook; Hawaii Beat; Scoreboard; Hawaii Sports Broadcasts




American Air starting daily San Jose flights; Few feel need for Y2K stash; Business Briefs; Neighborhoods; Hawaii Stocks; Live Stock Quotes; Closing Market Report; Dilbert!




Huge budget surplus may be an illusion; Labor opposes China; Changing Hawaii; Corky; Letters to the Editor