---
Island Images



Saturday, November 20, 1999

Wild for Elton
Photography by Ken Sakamoto, Star-Bulletin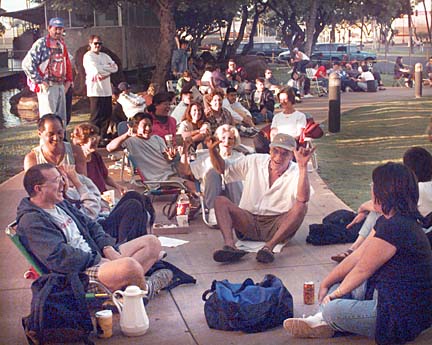 From 5:45 p.m. yesterday, these people were first in line at
Blaisdell Center for Elton John concert tickets. By 7:30 a.m. today
the line curved along the Ward Avenue sidewalk to King Street.
The solo concerts by the singer-songwriter are
Jan. 7 and 8 at Blaisdell Arena.
Phones shut down
A flood of calls for the tickets shut down phone service for hundreds
of residents in the downtown and nearby areas this morning. Thousands
of calls to Tickets Plus, which started at 9 a.m., occupied 98 percent of
GTE's computer capacity, GTE spokesman Keith Kamisugi said.
He said 17 telephone prefixes -- all starting with the number 5 --
were affected. The problem was fixed by 10:30 a.m., Kamisugi said.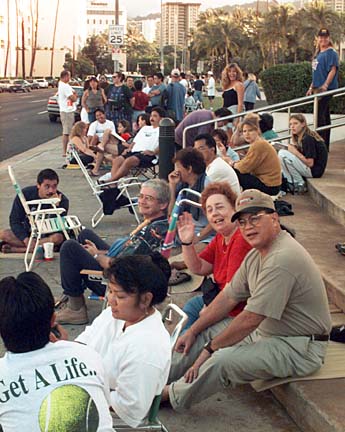 E-mail to City Desk
---
---
© 1999 Honolulu Star-Bulletin
https://archives.starbulletin.com