---
Saturday, November 20, 1999

But St. Louis must move on
The ousted head of the Catholic
boys school looks to the future
with no trace of rancor
By Mary Adamski
Star-Bulletin
FOR the Rev. Mario Pariante, "life is bigger than a job."

Speaking out two days after the St. Louis School board of trustees fired him as president of the Catholic boys school, Pariante in an interview last night admitted to disappointment with the trustees' decision and confessed to his own managerial flaws, but took the high road away from the termination.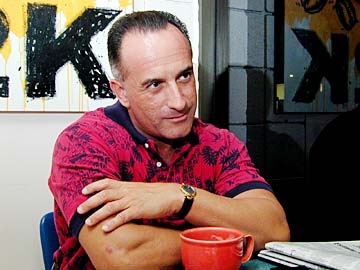 By Craig T. Kojima, Star-Bulletin
Rev. Mario Pariante
---
He refused to respond to reports and speculation about conflict with the trustees and athletic director and football coach Cal Lee, whose success in producing championship teams has brought the internal workings of the private school into the public spotlight.

"It is an unfortunate exaggeration and oversimplification to reduce the issues to a personality conflict," Pariante said. "I believe that the entire St. Louis family, along with me, Cal Lee and all the faculty, want to see the school continue to move forward and believe deeply in the mission of the school."

Pariante, 45, said he did not anticipate the board decision to release him seven months before his contract expired, calling the move a "surprise," but adding, "There was certainly some understanding of (the board's) disappointment."

"It wouldn't be advantageous to talk about the process, the reviews -- those are questions of the past," he said. "The decision has been made. I certainly accept the decision. I think it is important for the school to move on and for me to move on."

THE interview in a Kaimuki coffeehouse was frequently interrupted by people offering him sympathy and support, and that has been the theme of telephone calls, letters and e-mail messages all week, he said.

"I am disappointed. I accept the good intentions of the trustees, and I support them in their authority and their role," he told a well-wisher attempting to engage in a dissection of the board's motives.

To a St. Louis teacher who greeted him with a hug, Pariante said, "I have no intention of disappearing." He said he will continue to live in the Marianist residence on the Kaimuki campus and to preside at Sunday Mass in the Mystical Rose Chapel there.

"Father Mario is not angry. Father Mario is very much at peace. Father Mario is very happy," he said in laughing mockery of queries. "While Father Mario disagreed with the decision, it's both my personality and my conviction as a person of faith that life is bigger than a job.

"Life is about relationships, about integrity, about the courage to stand up for what you believe and about seeing a project through to the end."

Pariante described himself as "a person of faith, and I'd rather say that than being a priest, because I think it is the faith perspective that enables one to pass through such a situation with a very optimistic attitude toward life in the future."

"It is not essential that Father Mario is president of St. Louis School," he said. "It is only essential that the school continue to progress in its Christian, Marianist academic mission.

"The furor I would like to see die down, and instead I would like to see it move into a constructive movement that would work with the leaders of St. Louis School to forward the goals of the last three years."

Students' good is paramount

He told the woman teacher that he got tearful for the first time yesterday in response to the tears of a student who was upset about his dismissal.

"During the last few days, it was clearly my intention to maintain a low profile to give the school the opportunity to heal and to move on. Despite disagreements in the past, I think there is a fairly united feeling among people at St. Louis, myself, the trustees, that it is the good of the boys at the school that is paramount. Therefore, rehashing old issues doesn't help the school to continue."

In response to a question about his alleged failure to collaborate on decisions, Pariante said: "I think there are areas of my own administrative style that need improvement. I've always admitted that. On the other hand, I think there were many initiatives and efforts that involved people of all levels at the school," pointing as an example to establishment of an Internet computer system which the faculty worked hard to integrate into the curriculum.

Pariante deflected another question about whether he failed to understand the internal politics of the board of trustees, two-thirds of which are St. Louis alumni, saying he didn't "think it would be productive to comment on whether there is an old-boys network or not."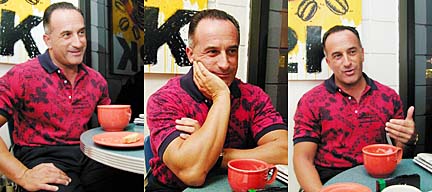 'The furor, I would like to see
die down and instead I would like
to see it move into a constructive
movement that would work with
the leaders of St. Louis School.'
By Craig T. Kojima, Star-Bulletin
Rev. Mario Pariante
---
"I had been in Hawaii for six years before I became president of St. Louis School, so I am familiar with Hawaii politics and reasonably familiar with the culture," he said. "I came into the position with my eyes open. I believe St. Louis School was able to move forward quite significantly in a short period of time. And if I confronted issues, I always did so with the intention of helping the school improve."

"If I want to help leave any legacy to the school, it would be to assist the school to continue the academic reforms and the re-centering of its Catholic, Marianist mission."

In the tradition of Catholic religious orders, this year is a jubilee year for Pariante -- the 25th anniversary of his taking vows as a Marianist. He taught mathematics, American history and theology in Marianist schools in New York and California as a religious brother before being ordained a priest in 1990. A New York native and son of Italian immigrants, he has master's degrees from Columbia University and the University of Toronto.

His years in Catholic schools were background for one of his most visible effects on St. Louis, one that was not universally applauded by island parents and boys.

"One of the accomplishments I am most proud of is bringing a sense of discipline and moral values to the students," he said. "That included the changed dress code and discipline code. Under my reign we established a 3-inch hair rule, no facial hair, no ponytails, no earrings, dress slacks instead of jeans, Thursday as shirt-and-tie day ... and greater consistency to the enforcement of rules to all students."

Discipline leads to freedom

Pariante's history at St. Louis will forever be told in terms of the "discipline" he meted out in the fall of 1998 to football players who damaged a Las Vegas hotel room in a drinking party and their coach-chaperones who failed to monitor them. He suspended some players, forfeited a game with Kamehameha Schools and docked the pay of some coaches.

"In the broader sense the word 'discipline' means the ability of any individual to structure their life to gain a skill or a talent that frees them in the future to be able to perform a task or seek a job or career," said the teacher-priest. "For example, discipline is sitting down and playing a piano, the scales, every day, so that in five years you are able to improvise. There is a freedom that comes from discipline.

"Young people often seem to want freedom and liberty to do whatever they want, but deep inside they often realize that discipline, at first imposed and later accepted, gives them the freedom to improvise and create because of the skills that discipline provides."

Complete faith in letting go

Pariante said he will take the rest of the year off to rest and relax, including some golf -- he hopes "to take five points off my game." He said he intends to remain in Hawaii at least into next summer while seeking employment here or on the mainland. He directed the Chaminade University campus ministry for six years before being named president, and said he is willing to help in similar pastoral work while he is here. "I've never lacked for employment, so I am not worried about the future."

"St. Louis School was my child for 2 years, and you work very hard to bring that child along with the help of so many people," he said.

"At times it's very painful to let go of a child, but that is exactly what a good parent and good person does. This is my time to pass it along with the complete faith and hope that as the child stumbles along and moves ahead, it is going to grow up even better without you. I have that faith."
E-mail to City Desk
---
---
© 1999 Honolulu Star-Bulletin
https://archives.starbulletin.com