---
Wednesday, November 17, 1999
St. Louis'
Pariante has started
'innovative programs'


The high school's trustee
board may decide to
let go of Pariante

By Mary Adamski
Star-Bulletin

A crowd of thousands is expected at Aloha Stadium Friday when St. Louis School's champion football team faces Waianae High School in the first Hawaii High School Athletic Association state football tournament.

A couple hundred people will be in the audience of Mamiya Theatre Saturday for a presentation of Moliere's romantic comedy "Scapino" by St. Louis students from drama and choral classes that were started last year.

The expanded performance arts program is one of the initiatives by the Rev. Mario Pariante, who is in his third year as president of the 153-year-old Catholic boys school.

Pariante's performance as president is under scrutiny by the school's board of trustees, which was to meet at 4 p.m. today. Board Chairman Walter Kirimitsu could not be reached for comment on whether the Marianist priest's job is in jeopardy. Other trustees confirmed that Pariante did not fare well in a survey of some parents and alumni which the board commissioned earlier this year.

Friends and foes of the outspoken teacher say they see the issue as a struggle for power between Pariante and Athletic Director and football coach Cal Lee, who has brought the school to national ranking during 14 seasons as Interscholastic League of Honolulu football champs.

Drama, chorus, collegiate acceleration

Pariante, 45, who entered the Marianist religious order and began teaching in New York 23 years ago, refused to discuss the matter this week with the Star-Bulletin.

In an interview earlier this year, the priest said he is proud that "the school is so well known for its phenomenal athletic program. Sports is a strong theme in our culture," he said, acknowledging that a winning team could attract financial support when the school launches a planned campaign for construction of new athletics facilities and classrooms.

He pointed out that it is the Marianist religious order's goal to offer education to boys with a variety of abilities. "Although we are not an elite school, we have some of the most innovative programs," he said, citing three initiatives that target talents other than the athletic.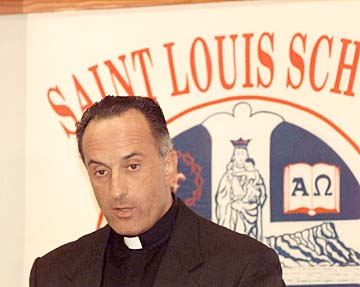 The Rev. Mario Pariante
Did not fare well in parent, alumni survey
"The kids have been waiting for it for a long time," said instructor Patrick Fujioka, an actor and director in local theater, who teaches the boys backstage skills as well as acting. "We have had art and band. ... Drama and chorus tap into something that the others don't. Just the fact that we have the (Mamiya) theater offers so much."

Another project started last year offers St. Louis scholars a head start on college credits. This year, 32 juniors and seniors take mathematics, literature, foreign language and science classes at Chaminade University, which shares the hillside campus.

The students get a financial boost with the college charging a substantially lower evening class tuition and the high school matching funds, said Charles Alexander, coordinator of the collegiate acceleration program. That translates to the student paying only $132 for a three-credit course that could cost a college student $1,000.

Some 96 percent of St. Louis students go on to college after graduation, Alexander said.

Experience as teacher, principal

Pariante described a third initiative that began this year. About 30 students signed up for the laptop pilot program that takes them beyond the routine computer lab. They bring their computers to take class notes, do research in cyberspace -- within some boundaries -- and hand in assignments and communicate with teacher Roy Matsuo through e-mail.

"For the brighter kids it's a tremendous tool," Pariante said in the June interview.

Pariante had been the director of campus ministry at Chaminade University for six years when he was selected by the St. Louis trustees to succeed the Rev. Jack Russi on July 1, 1997. The board tasked him with direction of the school's business and public relations, while Principal Burton Tomita is charged with managing daily educational matters for the 900-member student body.

Before coming to Hawaii in 1991, Pariante was principal for four years at Chaminade College Preparatory, a Marianist school near Los Angeles, and taught at high schools in New York and California.

---

Star-Bulletin reporter Gregg K. Kakesako contributed to this story.
E-mail to City Desk
---
---
© 1999 Honolulu Star-Bulletin
https://archives.starbulletin.com