---
Saturday, November 13, 1999
Stolen bonsai recovered

Some might die if unclaimed

Star-Bulletin staff

Honolulu police are concerned that bonsai trees recovered as part of a burglary investigation could die if their owners are not located soon.

Burglary and theft detectives served a search warrant Tuesday on a Wela Street home in Kapahulu after learning that stolen property taken during burglaries in East Honolulu was in the home.

Police found 12 bonsai trees and three stone lanterns. A bonsai specialist told police that the plants were not of "show quality."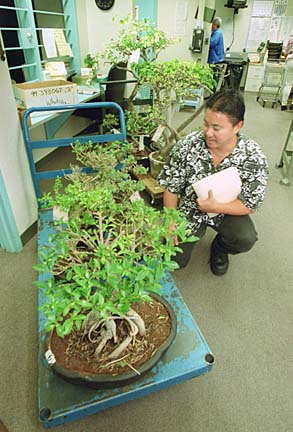 By Dennis Oda, Star-Bulletin
Detective Glen Muramoto surveys some
of the recovered bonsai.
---
The plants, which are being kept in a dark holding area within the Police Department, will die if they are not claimed soon, police said.

A previous police report or a photo matching the plant and holder will be required in order to prove ownership of the plants.

For more information, call Detective Glen Muramoto at 529-3863.
E-mail to City Desk
---
---
© 1999 Honolulu Star-Bulletin
https://archives.starbulletin.com