---
Friday, November 12, 1999



H A W A I I _P R E P _ S P O R T S
---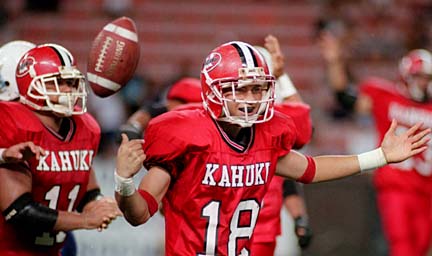 By Dennis Oda, Star-Bulletin
Kahuku's Jason Malufau tosses the ball after
recovering a Kailua fumble.
---
Kahuku repeats
as OIA champ


One touchdown proves to be
enough for the Red Raiders
to repeat as league champions

By Aaron Custodio
Special to the Star-Bulletin

Community pride was at stake in the Oahu Interscholastic Association championship game last night at Aloha Stadium.

In the battle for league football supremacy, Kahuku won its second straight OIA football title over Windward rival Kailua, 7-0, before a crowd of 6,678.

"This is a sweet win," Kahuku coach Siuaki Livai said. "There are a lot of Kahuku people in Kailua - coaches and players - and it splits our community up.

"That's why everybody is talking about 'For Life.' We search for people who are for life, who are for real, Kahuku all the way."

After a first half of futility, Kahuku took advantage of its first opportunity of the second half.

Jacob Malufau recovered his second fumble on a punt after the ball bounced off Kailua's Keahu Mau. Three plays later, the Raiders scored on quarterback Orlando Wong's 19 yard touchdown run.

"It was a dog-fight until the end," Wong said. "Everybody stuck together, pulled through, and we came out with the win."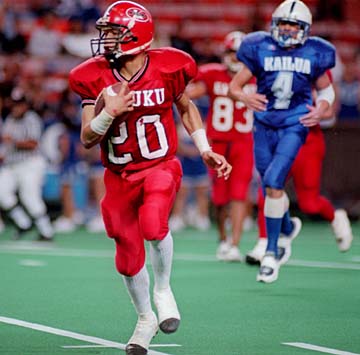 By Dennis Oda, Star-Bulletin
Kahuku's Orlando Wong finds an opening in the Kailua
defense and scampers in for the game's only touchdown
as the Red Raiders beat the Surfriders in the OIA
championship game.
---
Kahuku's swarming defense and running back Kala Latuselu controlled the momentum and the rest of the game.

Kailua had mounted a drive from its own 33-yard line behind running back Rocky Alo, who led all rushers with 121 yards. However, the Surfriders failed to score on second, third, and fourth down inside Kahuku's 2-yard line.

Kailua coach Darren Johnson made it clear when he said, "We didn't play well."

Latuselu carried the ball for 24 times for 100 yards.

"Kala was very important - he chewed up a lot of time and yards," Livai said.

The first half was marred with penalties and missed opportunities. At halftime, the teams had combined for 16 penalties (Kahuku 11, Kailua 5).

The Raiders failed to score in the second quarter after Malufau recovered the ball on the Kailua 13-yard line after the Surfriders' Keone Brown fumbled the ball on the punt return.

"I wasn't too happy with the first half," Wong said. "(Kailua) was quick off the ball - they were ready for us."

Kailua quarterback Taleki Mailau and the Surfriders' offense struggled with their passing game all night. Mailau was intercepted three times and completed only five of 18 passes for 21 yards.

Kahuku and Kailua have already secured berths for the first state football tournament from Nov. 19 to Dec. 20. Waianae and Farrington will also represent the OIA.

Kailua	0 0 0 0 - 0
Kahuku	0 0 7 0 - 7

Kah - Orlando Wong 19 run (Simon Lee kick)

Rushing - Kailua: Taleki Mailau 4-(-2), Rocky Alo 18-121, Billy Winchester 4-5. Kahuku: Kala Latuselu 24-100, Douglas Nawahine 8-41, Marcus Salanoa 3-18, Wong 16-30, Leonard Peters 1-6, Destin Le'i 1-1.

Passing - Kailua: Mailau 5-18-3 for 21 yards. Kahuku: Wong 2-12-0 for 35 yards, Latuselu 0-1-0.

Receiving - Kailua: John Kepa 3-0, Ryan Exstrom 1-16, Justin Kaihenui 1-5. Kahuku: Fakaloloma Olevao 2-35.
E-mail to Sports Editor
---
---
© 1999 Honolulu Star-Bulletin
https://archives.starbulletin.com