---
Friday, November 12, 1999
Jimmy's Travel
owner ordered to
repay $785,694


James Lee must also serve
six months in prison and apologize
to 1,300 people cheated
out of Vegas trips

By Susan Kreifels
Star-Bulletin

James K.S. Lee, owner of Jimmy's Travel, was sentenced today to serve six months in prison and ordered to pay $1,000 a month restitution until he pays off the $785,694 he owes customers who were cheated out of travel packages to Las Vegas.

Circuit Judge Victoria Marks also ordered Lee to hand-write letters of apology to each of the 1,300 customers who lost money while his travel agency was open from January to June 1998.

Payments will start two months after his release. Lee will go behind bars Nov. 19.

Deputy Prosecuting Attorney Chris Young estimated it would take 65 years to pay off the total restitution. The state had asked for 10 years in prison, while the defense had asked for probation only.

Marks noted that Lee did not have a previous criminal record. But she said she had to balance that against the needs of citizens who were cheated and protect the public. She also sentenced him to five years' probation.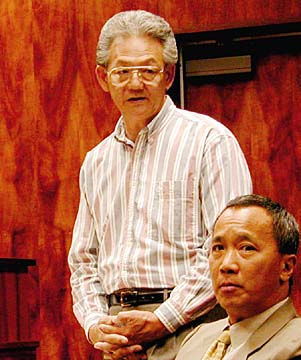 By Craig T. Kojima, Star-Bulletin
James Lee stands in court today apologizing to former customers.
---
Those six months the travel agency was open showed "a life that went horribly awry," Marks said.

Lee apologized in the courtroom to victims and said his actions were "ignorant" and "stupid," but Young said Lee never admitted he was wrong.

"He still believes he didn't commit a crime," Young said.

The courtroom was full of people who had been cheated. After the sentencing, several said Lee should have known what he was doing before he opened the business.

Lucy Kim paid Lee $1,138 for travel the day before he shut down his travel agency. She believes he should have received more prison time.

She's also upset that Marks is allowing Lee to move to Las Vegas after he is released from prison.

"Who will control him there?" Kim, of Aiea, asked. And she's worried Lee will never be able to pay back what he owes. "If there's no business, how will he make restitution?"

Marks said all victims would be paid portions of the debt at the same time. She also said some victims had to be added to the list for restitution, and that issue will be heard Jan. 31.

Lee, who pleaded guilty to the theft, had earlier said he used clients' money paid for future charter trips to Las Vegas to offset losses of $80-$90 per person on the discounted charters.
E-mail to City Desk
---
---
© 1999 Honolulu Star-Bulletin
https://archives.starbulletin.com