Advertisement - Click to support our sponsors.

---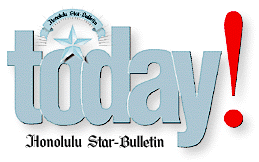 ---
Thursday, November 11, 1999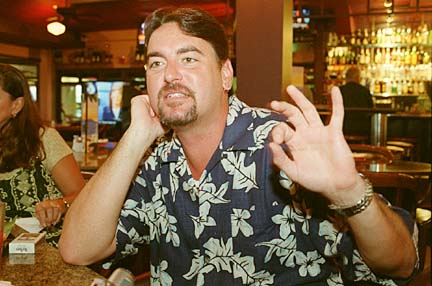 By George F. Lee, Star-Bulletin
"We actually all speak English fluently," Manu Boyd said facetiously.
---
By John Berger
Special to the Star-Bulletin

MANU BOYD'S FRIENDS CALL HIM A "Renaissance Man" with good reason. Never mind the fact that he is the leader of Ho'okena, a prominent figure in the Hawaiian cultural renaissance. Boyd, 37, juggles several other careers simultaneously.

Start with his primary "day job" as publications editor with the Office of Hawaiian Affairs, which includes producing radio spots, writing advertising copy, designing print ads and co-editing the OHA newspaper, Ka Wai Ola O OHA.




ON STAGE

What: "Na Lani 'Eha"-- Na Pualei O Likolehua 3rd annual fund-raising concert featuring Ho'okena, Kekuhi Kanahele, Robert Cazimero and Friends, Akoni and Da Palapalai Patch, and more.
When: 5 p.m. Sunday; doors open at 4:30 p.m.
Where: Hawaii Theatre Center
Cost: $23.50 and $18.50
Call: 676-0056 through Saturday for tickets, which will also be available at the door




Boyd also is an active kumu hula who was trained and graduated by kumu hula Robert Cazimero. Boyd's career with Ho'okena adds recording artist, record label executive and businessman since he and other members of the group have their own Ho'omau Inc. record label.

Ho'okena performs frequently. This Sunday the group will join several other performers in a fund-raiser concert for Na Pualei O Likolehua. On top of all this, Boyd is an immediate past president of Aloha Festivals.

How does he do it? Boyd says he learned about time management, responsibility and the rewards of running a business from working a Star-Bulletin paper route in elementary school.

Boyd said the "work ethic" he learned as a paper boy ("To be honest and productive, and always concerned about the customer"), has carried over to his work with Ho'okena. He describes the group's decision to record more English songs as an example of responding to audience requests.

"We actually all speak English fluently," he said facetiously over pau hana drinks and pupu at Ryan's recently.

"When you record an album, you're limited to 12 or 13 cuts, but when we go to parties, or go to Japan or America to perform, we sing English songs all the time. We did a wedding last month for a good friend and we were asked to do '(I Love You) For Sentimental Reasons' and it was beautiful.

You don't just record a song because it's popular or trendy, but although we're Hawaiian supporters we're also fluent in English so maybe at some point we'll do more English songs while still maintaining the Hawaiian."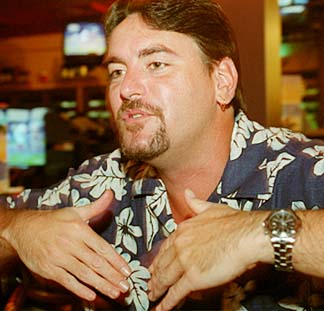 By George F. Lee, Star-Bulletin
Manu Boyd takes the preservation of Hawaiian culture very seriously.
---
Boyd is frank about his nationalist perspective. He'd be watching the Rice vs. Cayetano case closely even if he wasn't an OHA employee. He sees the case from several perspectives but feels the case will ultimately strengthen the cause for sovereignty, whatever the outcome in Washington.

"My family has deep, deep, deep history in Hawaii even on the haole side and I'm very proud to say that I'm a graduate of Kamehameha and the University of Hawai'i Hawaiian Studies program. What that did for me was enable me to do what I do better, culturally and in every respect."

Boyd takes the preservation of the Hawaiian language and culture seriously but disagrees with the bashers who condemn Waikiki and visitor-industry entertainment sight-unseen. He says working together can do more to preserve the language and culture, increase the authenticity of the Hawaiiana seen in Waikiki and elsewhere, and to educate visitors about Hawaiian concerns, as he did by working with Aloha Festivals.

"I was asked to serve as vice-president and then become president in 1998," he said. "It was going to be the anniversary year of annexation so my theme (as president) was Ola Ka 'Oiwi -- The Natives Endure.

"My thinking was that against all odds our people are bigger in numbers, they're speaking their language. We're singing and chanting, we're doing everything, and I wanted them to be acknowledged on that anniversary.

"Aloha Festivals has been very good fostering Hawaiian culture over the years, and I do love Aloha Festivals. Many big cultural names in our hula genealogies have been involved in it. We're still talking about our colonial overlaying government -- which is America -- overseeing everything that Hawaiians do, but someone saying they won't play music in Waikiki or won't participate in Aloha Festivals isn't going to change that or educate anybody."

---

Strong voices and acoustics
in 'Ho'okena 5'

"Ho'okena 5"
By Ho'okena (Ho'omau Inc. HICD-1005)

By John Berger
Special to the Star-Bulletin

THE arrangements evoke memories of the Brothers Cazimero but the distinctive voices definitely belong to Ho'okena as the Hoku Award-winning group returns with its fifth album.

Fans will note a change in the lineup with Chris Kamaka (acoustic bass) joining Manu Boyd, Ama Aarona, Glen H.K. Smith and Horace K. Didoit III. Some may recall Kamaka as a member of the group prior to the recording of the triple Hoku-winning debut album, "Thirst Quencher!" in 1990.

As with the previous albums, the primary sound is acoustic. The group plays acoustic bass, guitars and ukulele. The voices of individual singers are complimented by group harmonies. Most of the songs are sung in Hawaiian.

Ho'okena continues as strong and engaging proponents of traditional Hawaiian music but "Ho'okena 5" finds them also reaching out to the mainstream English-speaking audience with five English-language songs.

Extensive annotation shares the significance of every selection and includes the lyrics and English translations of the four new Hawaiian songs. This is important not only to people who don't speak fluent Hawaiian, but to hula dancers as well.

The most notable song certainly is "E Ku Kanaka" which affirms Ho'okena's support of Hawaiian sovereignty in both languages. It echoes Boyd's 1998 Aloha Festivals theme "Ola Ka 'Oiwi" -- The Natives Endure, and is a political anthem for the new millennium.

"Hawaiian Soul" is a political song from another time. It honors Hawaiian nationalist George Helm without saying his name.

Boyd makes astute use of guest artists to enhance a song or two, rather than misrepresent the group's own strengths. Robert Cazimero leads a choir of Ho'okena ohana in introducing "Aloha Honaunau" in glorious style. Keali'i Reichel returns to public view as he takes the lead on "From A Dancer." Both guests enhance without overpowering.

Ho'omau Inc., P.O. Box 31221, Honolulu, HI 96820
Aaron Kaizawa, Pa Leo LCC, Sumner Street, Honolulu, HI 96817
Phone (808) 585-8884, Fax (808) 585-8882






Click for online
calendars and events.
E-mail to Features Editor
---
---
© 1999 Honolulu Star-Bulletin
https://archives.starbulletin.com