---
Tuesday, November 9, 1999
XEROX SHOOTINGS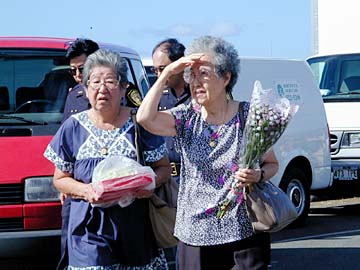 By Craig T. Kojima, Star-Bulletin
Mourners carrying flowers for Peter Mark, 46, arrive at a service
for him at Maunalua Bay this morning. Mark was one of the victims
in last week's Xerox shootings. His ashes were to be scattered in
the ocean today. The family held private services Sunday.
---
Mourners gather for
slain Xerox employee

By Lori Tighe
Star-Bulletin

Peter Mark's family today was to commit his ashes to the ocean, a place he cherished, at Maunalua Bay Beach Park in Hawaii Kai.

"He lived in Hawaii Kai and he loved the ocean," said his great aunt, Esther Tyau, 91.

Private services for Mark's family were held Sunday night, said Mark's cousin, Sylvia Mann.

Several hundred people attended today's service held under fair skies and with cool tradewinds blowing.

"The stories are coming out about how much people loved him," said Susan Jong, related to Mark's sister through marriage. "I wish we could tell him how much he will be missed.

"I feel so bad. I see the grief on his wife's face."

His uncle, Ronald Mark, said Peter, 46, will be remembered as a dedicated father to his children, a friendly person who was easy to get along with and never spoke badly of others.

The uncle helped raise his nephew, who grew up in his house.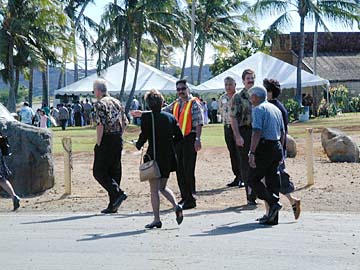 By Craig T. Kojima, Star-Bulletin
An overflow crowd of several hundred people filled Maunalua
Bay Beach Park in Hawaii Kai this morning at a service for
Peter Mark, 46, one of the victims of Nov. 2's Xerox shootings.
---
"He always cared about his children and wanted to give them the right guidance and direction in life," Mark said. "He really looked forward to coming home after work."

Harry Sylva knew Mark for the 8 years that he serviced Xerox equipment where Sylva worked. He knew six of the seven victims of the Xerox shooting.

"He was a great guy," Sylva said. "They were all great guys."

On the day of the shooting no one contacted Peter Mark's wife, Karen, to tell her he was killed, Mark said.

She called one of the other technicians wives who went to the Eagle Cafe across from the Xerox building to get information.

"There was too much confusion," he said. "I guess she's holding up pretty good now, but it's hard to say. When you're by yourself and the memories come, you don't know how they're doing."

As much as the Mark family is grieving, the uncle said he felt sorry for the father and brother of the gunman, Byran Uyesugi.

"They are innocent. They have to be subjected to public scrutiny and shame. As a parent, I feel sorry for the father and the anguish he's going through," Mark said.

Mark is survived by his wife Karen; two children; sisters Tammy Yee, Holly Mulvaney, Tatiana Harris on and Laurie Provost; brothers Mark and David Monroe; mother Marion Monroe; stepfather Don Monroe; and numerous nieces and nephews.




MEMORIAL SERVICES

Meanwhile, services have been scheduled for all of the victims of last week's shooting.

Jason C. Balatico, 7 p.m. tomorrow at Nuuanu Mortuary. Call after 6 p.m. Mass will be at 9:30 a.m. Friday at Our Lady of the Mount Church. Call after 8 a.m. Burial will be at Valley of the Temples.

Ron Kataoka, 6:30 p.m. Saturday at Mililani Mauka Mortuary. Call after 5 p.m.

Ford K. Kanehira, 6:30 p.m. Sunday at Central Union Church. Call after 4:30 p.m.

Ronald K. Kawamae, 6:30 p.m. Nov. 19 at Diamond Head Mortuary. Call after 5:30 p.m.

John Sakamoto, 9 a.m. Nov. 20 at Central Union Church.

Services for Melvin W.T. Lee, 58, were held on Sunday.

Xerox Corp. will hold a special memorial at 6 p.m. Nov. 22 at Central Union Church.



E-mail to City Desk
---
---
© 1999 Honolulu Star-Bulletin
https://archives.starbulletin.com