---
Tuesday, November 9, 1999
POKÉMON PROMOTION PULLS PLENTY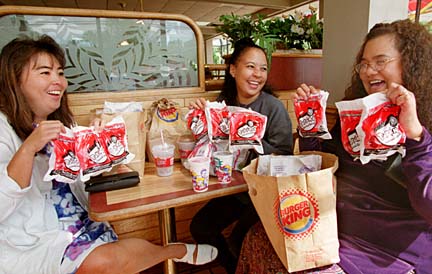 By Dennis Oda, Star-Bulletin
Denise Akutagawa, Amanda Randolph and Fale Tuisalo'o show
the Pokemon toys they got in their kids meals at the Burger
King on Beretania Street in Makiki.
---
Customers gobble
Pokémon toys

Burger King's big promotion
turns out to be a whopper of a success,
creating long lines and heavy
demand at Oahu outlets
By Crystal Kua
Star-Bulletin
THE Pokemon phenomenon is having its way with Burger King. On the first day of an eight-week national promotion, the fast-food restaurant's Oahu outlets yesterday reported long lines and heavy demand for Burger King's kids meals that include toys and trading cards derived from the popular Nintendo computer game characters.

Sales were "very brisk," said Frank Chun, assistant manager at the Hawaii Kai Burger King.

"We're selling triple what we projected for," said Makiki manager Jessyca Ramones. "I don't think (supplies) will last until the end."

By 4:30 p.m., the Makiki outlet was on the last of 12 cases it had rationed for the week, Ramones said. Each case contains 200 toys.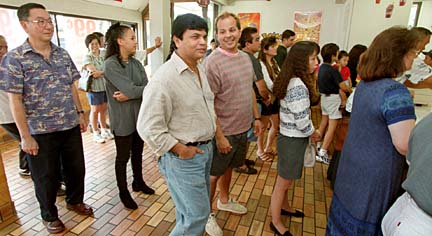 By Dennis Oda, Star-Bulletin
Some people waited more than 30 minutes for kids meals
on the first day the Pokemon toys were offered.
---
Robert Holley, 36, of Manoa went to Burger King at the request of his 13-year-old daughter and 7-year-old son. "They said, 'Daddy, the Pokemon starts today. Can you stop and pick up?' "

Holley said he waited in line for 20 minutes for his three meals. Others reported waits of 30 minutes or more.

Roy Yamane, managing director for the franchise that owns 26 Burger King restaurants across Hawaii, said the goal is to move the lines as quickly as possible. "We'll staff to demand," he said.

Holley said the guy in front of him in line purchased about $39 worth of kids meals.

Ramones said one customer ordered 200 meals. "He said he's Santa Claus."

Some outlets, including the one in Hawaii Kai, have set a five-meal limit per purchase. Chun said that's to ensure that the toys are distributed evenly among children in the community.

"People have been buying up to the limit and then some," Chun said. "Some have been waiting in line twice."

Customers won't know which toy they get
until they open the unmarked package, and
some were disappointed that they had
more than one of the same thing.

Pokemon spawned a television show, a movie scheduled to open this week and other merchandise. Nintendo says more than 7 million Pokemon-related computer games have been sold to date.

There are 57 different Pokemon toys, grouped into seven categories such as squirters and key chains. One toy packed into a Poke Ball plus one of 151 different trading cards are included in all Burger King kids meals, which start in price at $1.99.

Customers won't know which toy they receive until they open the unmarked package. "We don't know what they'll get. They will have a one-in-57 chance at the characters," Yamane said.

Holley said he was a little disappointed when he opened his toys to find three of the same toy -- three tops.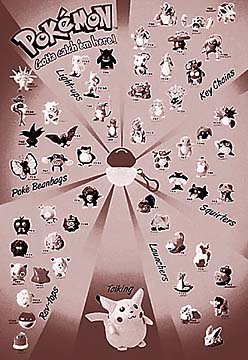 Associated Press
There are 57 different Pokemon toys offered by Burger King,
but when you buy a kids meal, you won't know which toy is
in it. The toys also come with one of 151 trading cards .
Some customers complained yesterday they got the
same toy when they bought several meals.
---
He said a woman seated near to him also found that her toys were all the same -- all key chains.

"The lady was grumbling so I offered a trade." By the end of the meal, he ended up with three different toys.

Burger King will hold "trading nights" on four consecutive Tuesdays so that customers can trade toys and cards.

From Nov. 15 to Dec. 26, Burger King will be selling 24 karat gold plated registered trading cards for $1.99 with meals.

The toy promotion ends Jan. 2 or until supplies run out, Yamane said.

Holley will probably be eating a lot hamburgers in coming weeks as he's trying to collect as many different toys as he can for his children. "We'll be back," he chuckled.
E-mail to City Desk
---
---
© 1999 Honolulu Star-Bulletin
https://archives.starbulletin.com