Advertisement - Click to support our sponsors.

---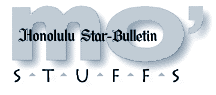 ---
Tuesday, November 9, 1999

---
Write time to
take pen in hand
Learn how to write fiction and nonfiction and how to be self-published in three consecutive workshops 1 to 4 p.m. Sunday at the Japanese Cultural Center, 2454 S. Beretania St.

The fiction workshop will be taught by Ian MacMillan, past winner of the Hawaii Award for Literature and author of "Squid Eye," "The Red Wind," "Village of a Million Spirits" and many more short stories.

The nonfiction workshop will be taught by Karin Ireland, author of 14 books, including "The Job Survival Instruction Book," "150 Ways to Help Your Child Succeed" and "How to have All the Answers When the Questions Keep Changing."

The self-publishing workshop will be taught by consultant and author Rich Budnick.

The cost for all three workshops is $40. Register in advance by calling 395-1161 or sign up at the door.

Fashion tips for the full-figured
Liberty House will present free fashion seminars for full-figured women Saturday and Sunday.

There will be informal modeling of plus-size collections by Carol Little, Elizabeth, John Paul Richards, Style & Company, and Fern Bratten, presented with tips for selecting casual, career and holiday styles that flatter.

Saturday's seminar starts at 1 p.m. on the third floor of the Ala Moana store, with modeling from 1:30 to 3 p.m.

The event repeats at the same times Sunday on the second floor at the Pearlridge store.

For information, call 941-2345.

Good looks for the guys
Neiman Marcus is hosting a men's formalwear trunk show Thursday through Sunday in the Men's Clothing Department, Level Three.

The "Fall 2000 Men's Formal Caravan" will feature everything from dinner jackets and velvet slippers to tuxedos and top hats.

For information, call 948-7544.

Also at the store's Designer Jewelry Department, there will be a Jordan Schlanger trunk show of designer jewelry , from 11 a.m. to 5 p.m. Friday and Saturday.

For information, call 948-7352.
---
Preview
Coming to the big screen

Two movies begin their Oahu run tomorrow:

ANYWHERE BUT HERE
Rated PG-13
Susan Sarandon stars in this adaptation of Mona Simpson's powerful story of the dark side of having a colorful, eccentric, irresponsible mom. Sarandon plays the middle-aged adult trying to hold on to her youth; Natalie Portman fulfills her promise as the teen-ager forced to abandon her childhood.

POKEMON: THE FIRST MOVIE
Rated G
Wannabe Pokemon Master Ash Ketchum continues his quest to become the greatest trainer in the world. But when the bio-engineered Pokemon Mew Two creates a strain of Super-Pokemon, will Ash, Misty and Pikachu be able to defeat them? With the voice talents of Veronica Taylor, Racheal Lillis, Eric Stuart and Ikue Otani.

Two other movies open on Friday

DOGMA
Rated R
Chris Rock, Ben Affleck and Matt Damon star in a satirical passion play on faith in our time. The movie is a wild and intricate theological debate, a Sunday-school catechism session turned into a snap-crackle-and-pop thrill sermon for the mind.

THE MESSENGER: JOAN OF ARC
Rated R
Milla Jovovich, John Malkovich, Faye Dunaway and Dustin Hoffman star. In the 15th century, against a backdrop of fear and religious persecution, France and England waged the bloody Hundred Years War. Joan (Jovovich), a French peasant girl, is called by God and joins the French army fighting against England. Her determination and spirit rally France to some important victories over England, which leads to her eventual capture and burning at the stake for heresy.


Click for online
calendars and events.
---
Send WatDat? questions, stories
or any other story ideas or comments to:
Features, Honolulu Star-Bulletin, P.O. Box 3080,
Honolulu, HI 96802 or send a fax to 523-8509
or E-mail to features@starbulletin.com.
Please include your phone number.
E-mail to Features Editor
---
---
© 1999 Honolulu Star-Bulletin
https://archives.starbulletin.com