Advertisement - Click to support our sponsors.

---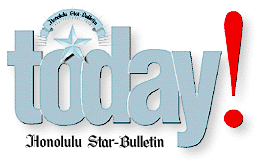 ---
Tuesday, November 9, 1999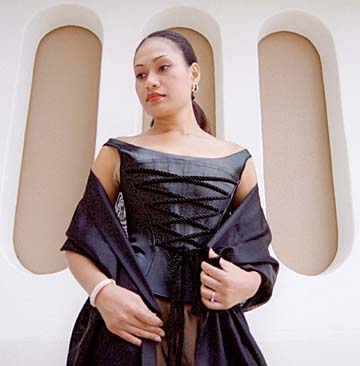 By Ken Ige, Star-Bulletin
Doreen Souza shows off the "Shakespeare in Love"
look, exemplified by this black corset worn over a
bronze-colored skirt, the top criss-crossed in cords.
The shawl has a hidden loop to secure the garment,
leaving the hands free. By Jessica McClintock at Cache.
---
Two easy pieces


Formal attire comes in
matched sets for the special
affairs of the holidays

By Cynthia Oi
Star-Bulletin

Few women have swirled around in formal gowns since the high school prom.

Well, now is the time. With all the pre-millennium fuss, parties are taking on a ritzier air this holiday season and a survey of fashions at Ala Moana Center stores indicates the trend is romantic and feminine and the look comprises two pieces or a single piece disguised as a duo or paired with a coverup.

Skirts are long -- either full with sheer or satiny fabrics over yards of crisp crinolines, bell shapes, or bias-cut and flowing. Tops tease or reveal, whichever you dare, and are always, always covered by shawls, shrugs or fitted little sweaters.

At Cache, the Jessica McClintock line shows influences of the film "Shakespeare in Love." Skirts with double inverted pleats or full gathers (about $105-$130) are paired with discreet sequined T-shirts (about $120) or more audacious bustiers. A halter top of black velvet ($188) is trimmed with a row of silver mesh that is soft to the touch.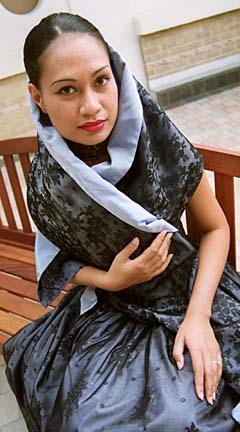 By Ken Ige, Star-Bulletin
A shawl of black lace over pale blue taffeta complements
a gown of the same fabric. By Jessica McClintock, at Cache.
---
A strapless ball gown of floral-patterned black lace over pale blue taffeta whispers romance. A matching shawl adds the finishing touch.

A full-skirted combination ($345) brings visions of Gwyneth Paltrow to mind. The off-shoulder corset features cords laced across the bodice, ending in gold bead tassels accented with rhinestones. With a muted dark bronze skirt, the outfit is at once sexy and elegant.

A confection of draped skirt ($128) and matching spaghetti-strapped top ($118) offers a creamy ivory alternative to black.

And an alternative to the long skirt is a pair of flowing, wide-legged black pants ($78) with multiple knotted belts for impact.

Contrasting and matching shawls and cuddly sweater shrugs can be paired with any of the outfits to ward off the chill.

New store Arden B.'s contribution to the season includes a two-piece ensemble ($198) of a long velvet skirt with a black-beaded triangle top, both in a deep wine.

Also in wine and in blue: a bare-shouldered velvet tube over a long skirt in matted acetate ($178).

A white, stretch poplin wrap shirt with three-quarter length sleeves tops a bandless, black taffeta belled skirt ($224), reminiscent of the look Calista Flockhart flashed at the Emmy awards ceremony earlier this year.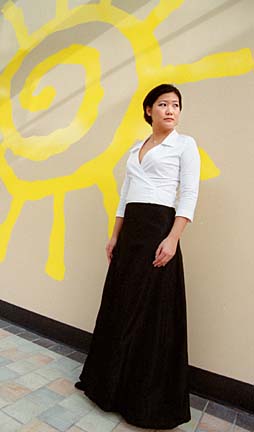 By Ken Ige, Star-Bulletin
Jennifer Char models a Calista Flockhart-inspired
skirt-and-top combination. The top is white poplin,
worn over a black taffeta skirt.By Arden B.
---
Bebe shows off sequined knit handkerchief tops ($59) to tie across the bosom, paired with crinkled skirts in black and navy ($128).

A black mesh top with sprays of velvet flowers and rhinestones ($69) has the designer look without the designer price.

Finishing touches include a black marabou cape ($128), a wrap in pale satiny green ($59) with matching skirt, $128), and a silver-gray bugle-beaded knit shawl ($89).

Neiman Marcus displays a wealthy -- in numbers and cost -- assortment of evening wear.

Among the notable is a Chetta B full skirt of gilded bronze with floral and embroidered applique over a burnt apricot layer, with stiff crinoline under all ($400). It is paired with a brown velvet sleeveless blouse ($130) with draped neckline.

In basic black is a ball gown skirt, also from Chetta B, with passementerie trim ($350), and a silk and cashmere sweater, spiced with a faux fur removable collar with rhinestone buttons ($280).

Cattira turns the season's red and green to burgundy and olive in an embroidered and beaded dress with a full skirt ($800). A shawl completes the luxury.

Nanette Lepore colors a sweater pale lavender ($185) to fling over a matching spaghetti-strapped dress with ruffled hem ($240).

A gun-metal-gray sweater under a beaded shrug ($300) tops a gray skirt made full with double inverted pleats ($165).

At JC Penney, a Randi May steel gray poly-satin gown also tucks inverted pleats into the waist, and a black shrug covers the shoulders ($128).

Gray again tints a Scott McClintock sparkling mesh T-shirt with a full-length poly-satin skirt ($128).

Ethel's shows off a red and black one-piece with a two-piece look in an LA Glow flocked, floral-patterned bodice with Chinese frogs at the sides and a soft net layer over a poly-satin skirt ($164).

Cover-ups provide comfort
while completing your evening look

The shrug and the shawl will pull your evening look together and keep you warm.

But they can create problems, says Marci Matich of Image Workshop.

A shrug is your choice only if you're thin and small breasted, Matich says. On a larger woman, a shrug looks too much like a too-small sweater. If you have large breasts, a shrug won't fall right in front.

Shawls, Matich says, are much more forgiving. If you're thin, wrap the shawl twice around your shoulders. If you are larger, make sure the shawl is long enough to drape comfortably in front.

While dining, remove the shawl and place it beside you on your chair, or drape it on the chair back.

"Don't mess with them at dinner. Shawls are like coats -- you take them off when you're eating," Matich says.

If you're cold -- a problem more to do with rampant air conditioning than island weather -- tie the shawl loosely and shift the tie to the back, she suggests.

"Don't let your clothes control you," she says. "Be a master of what you wear."

Dressing the part

No matter what your plans for a New Year's celebration -- formal party, night on the town or back-yard barbeque -- clothes have to fit the bill.

We culled the high-end items from a list of millennium formal "must haves" by Neiman Marcus to come up with these suggestions:

Formal affairs

A fur wrap
A beaded or embellished mule
Vintage-inspired beaded handbag
A cashmere twinset with a ball skirt
Real jewelry

Club scene

A satin wrap or a crocheted shawl your mom saved from the '60s
Strappy sandals from Ross Dress for Less or Payless Shoe Stores
Vintage bag from Savers or an arty mini-bag from a craft fair
A fringed cocktail-length skirt or wide-legged pants with a bandanna or halter top
Austrian crystal or vintage glass dangling earrings.

Backyard bash

Hooded sweatshirt, anorak or denim jacket
Platform zories, sueded slides or rubber slippers
Messenger bag or mini backpack
Ribbon-trimmed jeans and beaded peasant blouse or favorite tiny T-shirt
Silver hibiscus earrings, dangling bead earrings or a flower in your hair






Click for online
calendars and events.
E-mail to Features Editor
---
---
© 1999 Honolulu Star-Bulletin
https://archives.starbulletin.com