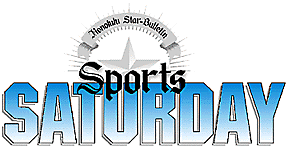 ---
Saturday, November 6, 1999



R A I N B O W _ F O O T B A L L
---



'Bows brawl with
San Jose State


Hawaii beats San Jose State 62-41,
to continue perfection
on the road

Associated Press

SAN JOSE, Calif. (AP) -- Dan Robinson set a school passing record while throwing for four touchdowns and running for one as Hawaii defeated San Jose State 62-41 in a Western Athletic Conference game today.

Robinson, the WAC's leading passer, threw for 371 yards and set a school record with 2,801 passing yard, breaking the season record of 2,752 by Garrett Gabriel in 1990.

Hawaii (6-3, 4-2) won its third straight road game and assured itself at least a .500 record a year after going 0-12 last season. Hawaii had lost 24 consecutive WAC games on the road before this season.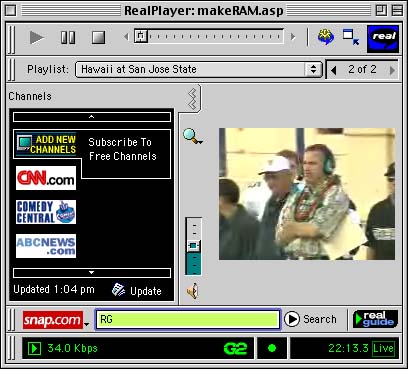 Today's game was viewable worldwide via the Internet.
Here, coach June Jones, decked in lei, surveys the sideline.
Click here to see the archived broadcast.
---
Chris Kasteler threw for four touchdowns and Marshall Blount scored on a 29-yard fumble return, but the Spartans (3-6, 1-4) lost their fourth straight.

San Jose State has allowed at least 42 points in each of the losses and gave up 63 points in a loss to Colorado earlier in the season.

Robinson threw touchdown passes of 42 yards to Channon Harris, 18 yards to Ashley Lelie, and two 26-yarders to Craig Stutzmann.

The Rainbows scored 2:12 into the game after marching 57 yards in four plays following the opening kickoff, with Harris going the final 42 yards on a pass from Robinson.

Eric Hannum kicked a 23-yard field goal late in the first quarter for a 9-0 lead. After Blount scored for the Spartans, Hawaii scored 33 unanswered points, including Lelie's first career touchdown reception five minutes into the second quarter.

San Jose State's gained just 25 yards in the first half, including minus-28 on the ground, and three first downs.

San Jose State's seven turnovers (four fumbles, three interceptions) were a season high. The Spartans have 28 turnovers on the year. San Jose State running back Deonce Whitaker, third in the WAC in rushing, was limited to 22 yards on 10 carries.

---




http://uhathletics.hawaii.edu
Ka Leo O Hawaii
E-mail to Sports Editor
---
---
© 1999 Honolulu Star-Bulletin
https://archives.starbulletin.com