---
Saturday, November 6, 1999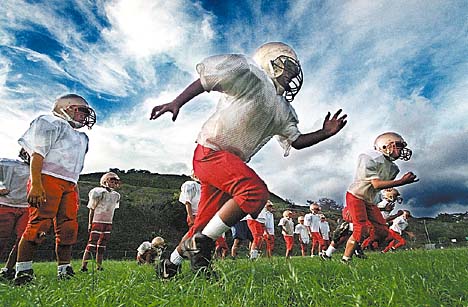 By Dennis Oda, Star-Bulletin
Tough practices at Stevenson Intermediate School were part
of the fun for the Puowaina Young Riders, a first-year
Pop Warner football team.
---
Pee Wee football
heroes stand tall

The first-year Puowaina
Young Riders win the hearts
of a community
By Rod Ohira
Star-Bulletin
Eight-year-old wide receiver Maka Koki didn't catch a pass this season.

Not even in practice.

"I think (about) what it's going to be like to catch a ball," he said.

Nonetheless, when asked about playing Pop Warner football for the first time, Maka was enthusiastic.

"Football is fun," he said. "To me, the best part is halftime."

Maka's refreshing view of competitive youth sports is a reflection of what the fledgling Puowaina Young Riders Pop Warner football program accomplished in its first year.

"It's not about winning or losing," coach Derek Makaula said last Saturday after his Young Riders, among them Maka, lost 18-7 to the Kaimuki Eagles at Kahala Park. "Our goal was to have fun."

For the record, Makaula's Junior Pee Wee team -- composed of youngsters 8-11 years old and weighing between 65 and 95 pounds -- lost all eight of its games this year.

But there was Makaula standing at midfield, surrounded by 29 happy players and assistant coaches, all of whom were celebrating as if they had won a championship.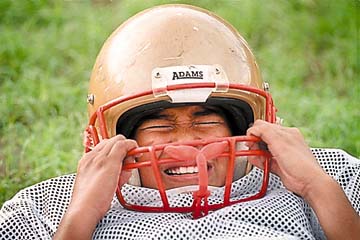 By Dennis Oda, Star-Bulletin
Gavin Soberano strains while doing leg lifts in practice. The
Young Riders rode a wave of community support this season,
and parents noticed that some players improved
their grades in school.
---
Supporters clad in T-shirts sporting Puowaina's red and gold team colors welcomed their Saturday heroes coming off the field with leis and pats on the back.

"It was worth it," said Kim Lacayanga Koki, vice president of the Puowaina Pop Warner Association, who also served as cheerleading coach. "Going into this project, we thought, 'OK, one football season and all pau.'

"But we saw a big improvement in the schoolwork of players and great community support for the program."

Roland Koki, Kim's father-in-law, began thinking about organizing a Pop Warner team in August 1998 to fill a void left when the Punchbowl Aliis folded.

Koki, whose two sons played for Punchbowl, has five grandsons, one of them Maka, and wanted them to play for a team near their home.

"We wanted something in our community to keep kids together and out of trouble," Koki said. "But it takes a lot of money to start a program."

Oahu Pop Warner accepted Koki's application in January and Puowaina had until May to raise $17,000 for fees and equipment.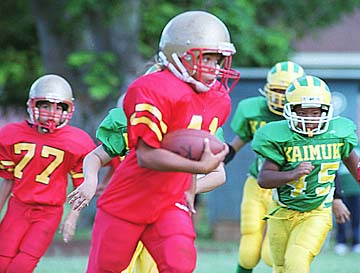 By Dennis Oda, Star-Bulletin
Puowaina quarterback Tiare Kaaihue-Kekoa, 10 years old and
the only girl on the team, carries the ball for a
big gain against Kaimuki last week.
---
"We had a big fund-raiser at Restaurant Row that raised $5,500 and did car washes," said Kim Koki. "We also got donations from the community.

"Most of our kids live in the homestead, so we tried to keep our registration fee at the base minimum of $175. The Pee Wees had a hard time getting players. We had 16 players and half of them didn't have the money to register.

"We were able to raise half of the $17,000. The other half came from officers and coaches, some of whom took out personal loans. The whole Pee Wee coaching staff and three of the eight Junior Pee Wee coaches don't even have kids playing in the program and they gave."

Makaula, who works at Ala Wai Golf Course, donated to the program $1,000 from a recent pay raise. John Johnson, an Aiea resident who has been coaching Pop Warner football with Makaula for more than 12 years, also contributed.

And both volunteered about 15-20 hours a week to coach.

Puowaina is looking to add a Midget team next year to bridge the age gap between the Pee Wee and high school junior varsity levels.

"What we taught was scratch basics," Makaula said. "It took nearly the whole season for some of our kids to learn the three-point stance. We had a young team so I don't want to lose any of them. I think they had fun playing this year."

The kids did.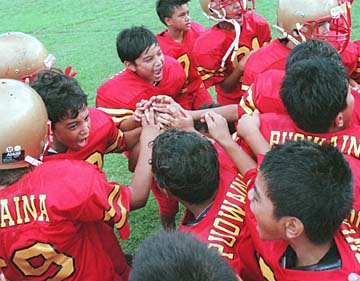 By Dennis Oda, Star-Bulletin
The Puowaina Young Riders huddle for a team cheer before
taking the field against the Kaimuki Eagles. The Young Riders
lost the game and finished their first season 0-8, but they
had fun and won the hearts of their fans.
---
"I had fun playing with my friends and want to play some more," enthused Young Riders quarterback Daryl Noeau Keawe-Aiko, 11, who accounted for all of his team's scoring on Saturday.

Bronson Helekahi, 9, also is looking forward to next season.

"Having fun is more important than winning," he said. "We goin' practice harder next year and get better to have fun and be undefeated."

Regina Silva of Liliha credited the program with the overall improvement in the outlook of her 9-year-old son, Brandon.

"He does a lot better in school because he's more driven," Silva said. "He knows if he doesn't do well in school, he can't play.

"The coaches have taught him how to be a team player and how to have fun playing the game, that it's not all about winning and losing."

Johnson considered it a personally fulfilling season.

"It was rewarding just to see that these kids had big hearts and didn't give up," he said. "This is something they can apply in their lives.

"You don't always count your blessings in the won-loss column. Most of these kids had never played football before and when you look back to Day One, they came a long way."
E-mail to City Desk
---
---
© 1999 Honolulu Star-Bulletin
https://archives.starbulletin.com