Advertisement - Click to support our sponsors.

---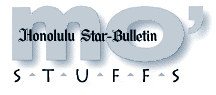 ---
Tuesday, November 2, 1999




"It Came From Outer Space" will be screened
in 3-D splendor Thursday.
---
Straight from the vaults
Movie gems from the past, hand-picked "from the vault," will be screened as part of Rick Kraemer's seven session class being offered at the Academy Art Center at Linekona beginning Thursday.

The classes will run 6:30 to 9:30 p.m. Thursdays through Dec. 16.

Screening Thursday will be two sci-fi classics in their original versions, "Rocketship X-M" and "It Came From Outer Space."

The first film stars John Emery and Lloyd Bridges in a 1950 tale of inter-planetary travel. The latter film, made in 1953, was based on a Ray Bradbury story and was the first sci-fi film of the period to deal with the subject of alien "possession," a plot device often used for its Cold War implications.

Other themes include "Rare British Thrillers" (Nov. 11) and "Unique Melodramas" (Nov. 18).

The cost of the session is $70. To register, call the center at 532-8741.
---
Preview
Coming to the big screen

Four films are scheduled to open on Oahu this Friday:
THE BACHELOR
Rated PG-13
New version of Buster Keaton's "Seven Chances," about a single guy (Chris O'Donnell), who must find a bride in 24 hours to collect an inheritance.
BEING JOHN MALKOVICH
Rated R
This bizarre comedy stars John Cusack, Cameron Diaz and Catherine Keener. They invade the brain of the famous actor, who stars as himself.
THE BONE COLLECTOR
Rated R
Denzel Washington plays a paralyzed forensics expert whose spirit is revived when he comes across a difficult and dangerous case.
THE INSIDER
Rated R
Michael Mann's fact-based drama about the fate of tobacco-industry whistle-blower Jeffrey Wigand (Russell Crowe). Co-stars Al Pacino.


Click for online
calendars and events.
---
Send WatDat? questions, stories
or any other story ideas or comments to:
Features, Honolulu Star-Bulletin, P.O. Box 3080,
Honolulu, HI 96802 or send a fax to 523-8509
or E-mail to features@starbulletin.com.
Please include your phone number.
E-mail to Features Editor
---
---
© 1999 Honolulu Star-Bulletin
https://archives.starbulletin.com