---
Tuesday, November 2, 1999
Isle auto sales
revved up 16%
in 3rd quarter


Despite the increase, a
Cutter executive called business
at his dealerships 'flat'

By Russ Lynch
Star-Bulletin

Hawaii's automobile dealers had strong sales in the third quarter, selling 16 percent more new cars and trucks than the same period last year.

That brought retail sales for the first nine months of the year up 8.1 percent from the equivalent period of 1998, according to auto registration information compiled by Nissan Motor Corp. in Hawaii for the Hawaii Automobile Dealers Association.

Not all dealers had the same results, however.

"It is not our experience," said Herman Jones, chief financial officer of the Cutter Automotive Team. The various Cutter dealerships represent all of the major domestic and import brands and their third-quarter sales were up only about 3 percent, Jones said.

"To us, the market is pretty flat," he said.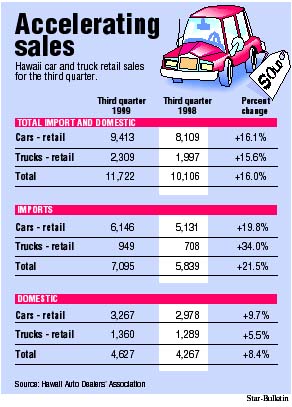 On the whole, however, island dealers did well in the latest quarter. A total of 11,722 vehicles were sold at retail in the three months ending Sept. 30, consisting of 9,413 cars and 2,309 trucks.

In the comparable period last year, 8,109 cars and 1,997 trucks were sold, for a total of 10,106 vehicles.

Dealers have reported strong interest in new cars throughout this year and by mid-year they were convinced the Hawaii economy had bottomed out and sales would improve for the rest of the year.

So far, that has turned out to be true, with the third quarter sales pace showing a marked increase from the rest of the year.

In the first nine months of this year, the HADA numbers show, 26,537 new cars were sold, up 6.9 percent from 24,831 in the 1998 period, and 6,548 trucks were sold, up 13.5 percent from 5,799. That brought the nine-months total to 33,121 this year, up 8.1 percent from 30,630 last year.

Imports had 58.8 percent of the Hawaii new-car market share in the first nine months of this year, following what has become a pattern in recent years of U.S. models lagging behind the imports in island sales.
E-mail to Business Editor
---
---
© 1999 Honolulu Star-Bulletin
https://archives.starbulletin.com