---
Saturday, October 30, 1999
Ah Quon McElrath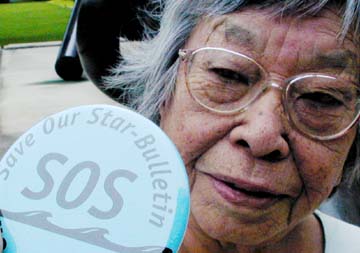 Star-Bulletin file photo
Ah Quon McElrath is synonymous with the
labor movement and other causes in Hawaii.
---
Social activist
not slowing down

By Gordon Y.K. Pang
Star-Bulletin

EVEN at 83, lifelong underdog Ah Quon McElrath continues to find new issues to tackle and enemies to vanquish.

Her career as a social activist began while she was still attending the University of Hawaii. She joined the liberal Interprofessional Association and met Jack Hall, head of the International Longshore and Warehouse Union.

McElrath was closely associated with the union during its early years in the 1940s and volunteered to sign up dockworkers. She also was married to ILWU official Bob McElrath, who died in 1995. But it wasn't until 1954 that she became a paid union social worker, a post she held until retirement in 1981.

It was through her work at ILWU that she became, along with the likes of Tommy Trask, Harry Bridges and Art Rutledge, a name synonymous with the labor movement in Hawaii.

McElrath is credited with impressing upon the male-dominated union leaders the need to look beyond salary issues and to go after standard-of-living improvements like occupational safety, ethnic equality, health care and education.

With cuts in state and federal welfare assistance beginning in the 1970s, McElrath took on the role of advocate for Hawaii's poor when she joined with the Committee on Social Welfare.

"There are still people who are poor," McElrath said recently. "There are still people who need health care, there are still people who cannot join unions, there are still people who don't eat. That's what keeps me going."

Most recently, she joined up as one of the principals of Save Our Star-Bulletin, an effort to stop the newspaper's closure.

---

Gen. Eric "Ric" Shinseki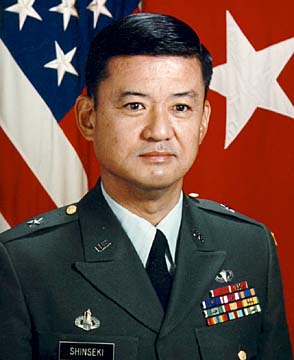 Star-Bulletin file photo
Gen. Eric "Ric" Shinseki, the son of Japanese
laborers, is the Army's chief of staff.
---
Asian American
commands Army

By Gregg K. Kakesako
Star-Bulletin

HE came from the quiet, largely rural island of Kauai.

But Eric "Ric" Shinseki's name is now part of a list that includes such historic figures as Washington, Grant, Pershing, MacArthur, Marshall, Eisenhower, Bradley and Abrams.

Shinseki -- the grandson of Japanese laborers and the first Asian American to reach the rank of four-star general -- became the Army's 34th chief of staff in June, an achievement that at one time might have seemed improbable.

In urging Senate confirmation of the appointment, U.S. Sen. Daniel Inouye, a decorated World War II veteran, noted that when Shinseki was born a few months after the 1941 Japanese attack on Pearl Harbor, Inouye and other Japanese Americans were classified as "enemy aliens."

Shinseki himself acknowledged second-generation Japanese Americans who served in World War II, saying their actions "purchased future opportunities for all Americans."

Born in Lihue, Shinseki, 56, graduated from Kauai High School in 1960 and West Point five years later. He received a master's degree from Duke University.

He was wounded twice in the Vietnam War, where he lost part of a leg. His awards include the Distinguished Service Medal, Legion of Merit, Bronze Star, Purple Heart and Meritorious Service Medal.

Shinseki was promoted to his current four-star rank and given the job of commanding general of Army forces in Europe in June 1997. For 14 months, he oversaw peacekeeping operations in Bosnia-Herzegovina.
E-mail to City Desk
---
---
© 1999 Honolulu Star-Bulletin
https://archives.starbulletin.com