Advertisement - Click to support our sponsors.

---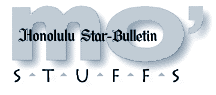 ---
Tuesday, October 26, 1999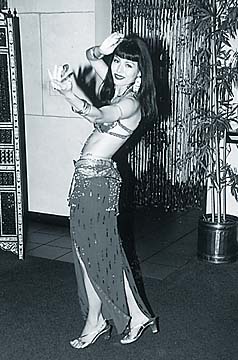 Photo courtesy Willow Chang
Willow Chang and other Hawaii belly dancers will
demonstrate their art in two dinner shows Thursday.
---
Belly up to Mid-Eastern
feasting and fun
It's hip, it's swingin', it's swingin' hips.

The Pyramids restaurant on Kapahulu Avenue will host a night of belly dancing and Middle Eastern cuisine Thursday as a benefit for Middle Eastern Dance Artists of Hawaii, or MEDAH.

The nonprofit group aims to promote awareness and appreciation of oriental dance.

Dinner shows at 6 p.m. and 8:15 p.m. will feature local belly dancers.

Tickets are $30 and include a meal of chicken, beef and lamb shwerma with Greek salad; or a vegetarian choice with Greek salad, hummus, falafel and spanakopita. A soft drink and dessert are also included.

Call 584-7139 for information and reservations.

NEW MANAGERS AT KIKU
A new management team has been organized for KIKU TV, Honolulu's full-time Japanese language broadcast station.

Joanne Ninomiya, former KIKU general manager, has been appointed to the new position of station president. The new general manager is Gregg Mueller, former sales manager at KGMB. KFVE general manager Donna Kam is Kiku's new station manager.
---
Preview
Coming to the big screen

Oahu theater's expect the following movies to open on Friday.
THE HOUSE ON HAUNTED HILL
Rated R
Jeffrey Combs, Geoffrey Rush, Taye Diggs, Peter Gallagher and Elizabeth Hurley star in a remake of the 1958 classic with Vincent Price. A wealthy eccentric (Rush) invites a diverse gathering of individuals to a party at his creepy mansion. He offers the bait: They will receive $1 million if they spend the night in the house. Thinking they can dash with the cash, the guests receive a rather rude awakening when mysterious events begin to transpire and rumors about the house's grisly past appear to be true.
MINUS MAN
Rated R
With Owen Wilson, Brian Cox, Sheryl Crow, Mercedes Ruehl. A serial killer (Wilson) who travels across North America, killing people who complain about their lives.
MUSIC OF THE HEART
Rated PG-13
Based on "Small Wonders," the 1995 Oscar-nominated documentary about East Harlem violin instructor Roberta Guaspari, Meryl Streep stars as the inspirational violinist/instructor. Angela Bassett is a school principal, and singer-cum-actress Gloria Estefan, an elementary school teacher. The cast also includes Aidan Quinn, Cloris Leachman and Jane Leeves .


Click for online
calendars and events.
---
Send WatDat? questions, stories
or any other story ideas or comments to:
Features, Honolulu Star-Bulletin, P.O. Box 3080,
Honolulu, HI 96802 or send a fax to 523-8509
or E-mail to features@starbulletin.com.
Please include your phone number.
E-mail to Features Editor
---
---
© 1999 Honolulu Star-Bulletin
https://archives.starbulletin.com