Advertisement - Click to support our sponsors.

---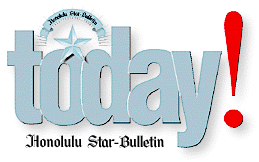 ---
Tuesday, October 26, 1999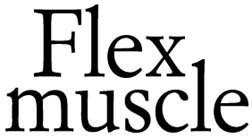 Working moms find ways
to beat the clock
Case studies
By Stephanie Kendrick
Photo Illustration By Bryant Fukutomi And Craig T. Kojima
Star-Bulletin
COMPRESSED WORK WEEK (30 Hrs. from 35)

Angela Reeves is an administrative assistant for the Ontario Nurses Association in Canada.

Four months ago she proposed a flextime arrangement wherein she works three days a week instead of five and puts in 30 hours, down from the Canadian norm of 35.

It was the birth of her second child that led Reeves to research alternative work arrangements. She discovered Pat Katepoo's WorkOptions Web site that helps people design flexible work schedules.

"When I found it I thought, 'Wow this is exactly what I need'," said Reeves.

Her goal was to spend more time with 1-year-old son Jordan, and daughter Charlotte, 3-1/2.

The most important byproduct of having Monday and Friday off to spend with her family is peace of mind. "The guilt is gone," she said.

Going back to work five days a week after Charlotte was born left her with one house cleaning day and one family day. Now she is more productive at work and doesn't feel any guilt for the three days she puts her children in day care, said Reeves.

"It's amazing how much more you can get done when you are coming in fresh," she said.

And what she has lost in pay by working five fewer hours each week, she has made up in savings on daycare expenses. "In fact, I think I'm even ahead," she said. Reeves is paying $900 for three days of daycare each week; it would cost her $1,700 to get care five days a week.

As she is part of a work team, Reeves had to get the approval of her fellow team members. At three months, the team reviewed the arrangement and she was given the OK to continue.

No one else has followed her lead, but Reeves knows she's being watched. "I'm sure they're thinking about it," she said.

JOB SHARING (Part-time, five full days every two weeks)

Allison Donnahoe is a sales account executive at the Houston Chronicle. Since the end of June, she and job share partner Lisa Osterhaus have split one list of accounts where they used to manage a list apiece.

They each work five full days every two weeks selling newspaper advertising to new and existing customers.

Donnahoe and Osterhaus had worked together for more than six years when they started talking about the possibility of job sharing.

Finding the right partner has been key, according to Donnahoe. "I don't think I could have done it with just anybody," she said.

In December, both women approached their spouses about the idea of cutting back to part-time and what that would mean to the household budget. With their support they began working on a proposal. They used Katepoo's site to put their idea on paper.

Both were motivated by a desire to spend more time with their children.

Osterhaus has a 5-year-old son and her daughter was just 4 months old when they started to discuss job sharing.

Donnahoe's son was 9 months old when she started thinking about cutting back on her hours. "It was just breaking my heart to have to leave him so much," she said.

The Donnahoes' prepared carefully for the change in their finances. They paid down a lot of debt before she cut her hours and prepared a conservative budget.

But Donnahoe also has found savings in smart shopping, as well as in lower daycare, dry cleaning and gas expenses.

"I'm able to make more educated purchases than when I was so busy I'd just run to the nearest place to get whatever I needed," she said.

She is happy with her schedule and the time it gives her with her son. The only downside is she feels she and Osterhaus are not taken as seriously professionally.

"I can see where it's going to be a battle just to make sure we are held in the same esteem as a full-time account executive," she said.

And that bothers Donnahoe because she likes her job, wants to move up eventually and feels this schedule allows her to both meet the needs of her family and keep up with industry changes.

The Houston Chronicle will be reviewing the job-sharing arrangement in another four months both to evaluate their situation and to see whether it wants to offer the same arrangement to other employees.

Donnahoe is hoping for positive results from the review. "It's not just a plus for us, it's a plus for the company and makes them look good," said Donnahoe.

TELECOMMUTING

When AT&T restructured Dallas employee Laurie Kraemer's job so she reported directly to the Seattle office, Kraemer decided to propose telecommuting five days a week.

She went out on the Internet looking for resources. "I wanted to put this in writing and I was looking for some dos and don'ts," she said.

Many of Kraemer's colleagues began working at home one or two days a week following the restructuring, but the divided schedule didn't appeal to her. Kraemer, who creates point of sale materials for AT&T's wireless division, was afraid of creating a situation in which the material she needed to work on wound up in one place with her in another. Telecommuting full-time has allowed her to set up a home office equipped with everything she needs.

"I think that's the advantage of working from home full-time as opposed to one or two days a week," she said.

Kraemer's goals for the telecommuting arrangement were two-fold: To eliminate a commute of 45 minutes to an hour each way, and to spend more time with her two teenage sons.

"It's going very well," she said. "When it's 6 o'clock and quitting time, I'm already home."

And when her 16-year-old son's car broke down recently on his way to his part-time job, she was able to help him get his car to the shop and get to work. "If I'd been an hour away at my office, I wouldn't have been able to help him," she said.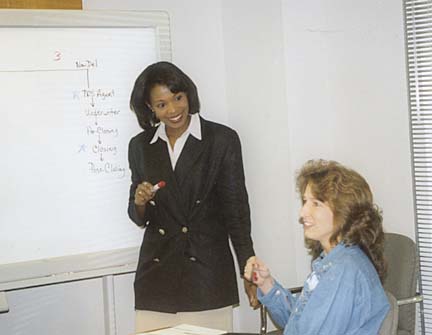 Taylor photo
Tammy Taylor of Florida holds a planning meeting.
---
While she's only about half-way through her three month trial period, Kraemer said the only downside is lost camaraderie, but she added she thinks she's more productive without that interaction.

Melissa Dickerson, AT&T marketing communications manager and Kraemer's supervisor, also works from home, but just one day a week. "I feel really productive at home, but I get really lonely," she said.

But she is pleased with Kraemer's performance under the new system.

"I think she's very happy with the situation, which makes her more productive," she said. "Because of the technology right now, it seems seamless."

Given that Dickerson is in Seattle and Kraemer is in Dallas, the fact that Kraemer is working from her home and not a traditional office is "invisible to me," said Dickerson.

The AT&T marketing team, which also has members in New Jersey, Florida, Minnesota, and California, gets together about once a quarter for some face to face contact.

PART-TIME WORK ARRANGEMENT

Sharon Dellafera, a quality assurance engineer at fiberoptic manufacturer Epitaxx, reduced her hours from 40 to 24 to spend more time at home in Elizabeth, N.J., with her 18-month-old daughter.

"My days are totally filled, I don't have a moment to breath when I'm at work," said Dellafera.

In addition to the frantic pace of work, the move cost her most of her benefits and meant a substantial pay cut, but she wants to stick with it.

"I have more family time," she said.

She and her husband live just 45 minutes from both their families and their daughter is the first grandchild on both sides. So weekends were filled with seeing family and didn't leave much time for just the three of them.

Dellafera is the first employee under Steve Bell's supervision to create a nontraditional work schedule.

He has been pleased with her performance and would entertain similar proposals from other employees.

"In today's environment where we have a shortage of skilled workers and in this case someone like Sharon with her many skills would be sadly lost and very difficult to replace, so accommodating her needs is important," said Bell.

Working with Dellafera under the new schedule has taught Bell any employee trusted with a situation like this needs to be committed to the job and flexible, he said.

COMPRESSED WORK WEEK (30 hours)

Tammy Taylor already had a flexible schedule that included some telecommuting when she found WorkOptions.com during an Internet search, but was looking to reduce her work hours.

As a consultant for the Virginia Housing Development Authority in Richmond, Va., her job includes development and administrative responsibilities. Her duties have not changed, but she now takes care of them in 30 hours a week.

Taylor had two primary goals in mind when she decided to reduce the number of hours she spent at work: attending graduate school and being more involved in the care of her two children, ages 7 and 2.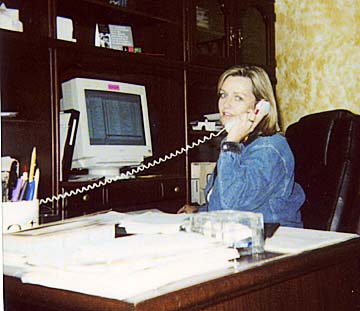 Kraemer photo
Laurie Kraemer says she misses the comraderie of the
workplace but adds that telecommuting from home
makes her a more productive employee.
---
Taylor hopes to make a decision on a graduate program by the end of November and begin classes in January. And the payoff for her family has been significant. "My husband, kids and friends have noticed the change. My eldest child (a girl) is the most appreciative because I spend much more time with her," she said.

The success of Taylor's schedule led the company to ask her to head a team that put in place an alternative work program for the entire organization.

Don Ritenour, director of the Single Family Division of the Virginia Housing Development Authority and Taylor's supervisor, said setting criteria for alternative work arrangements was important to him as a supervisor.

"You have to go in to it with certain standards," said Ritenour. That way you know the work of the organization will not be compromised and employees know what to expect. "It also helps to be fair to everyone," he said.

Overall, he sees flextime as both positive for companies and unavoidable. "It is a retention issue these days," said Ritenour. "You are going to have to start looking at flex schedules when you can to retain your better employees."

He is happy with Taylor's performance under her new schedule. "Tammy is a very motivated individual who will get 8 hours of work done in 4 hours if necessary," he said.

But Taylor counts that level of performance among a short list of negatives about flextime.

"My work load has not really decreased even though I'm paid less, receive less leave accrual and benefits. When I put in more than 30 hours, and I frequently do, I still take a loss in leave accrual and benefits," she said.

Also, because she has to be more focused at work, she doesn't have time for workplace bonding and thinks that may be causing some bad blood.

"Some people may perceive me as being anti-social, receiving special treatment and not really working when working off-site. Sometimes, I get funny looks and hear comments when I leave early," she said.

But she remains committed to her schedule. Her advice to people considering a similar change included: be clear about your goals, prepare for any financial changes, test your idea with someone you trust at work, and use FlexSuccess or a similar resource to craft a thorough proposal.






Click for online
calendars and events.
E-mail to Features Editor
---
---
© 1999 Honolulu Star-Bulletin
https://archives.starbulletin.com