---
Closing Market Report

Star-Bulletin news services
Tuesday, October 26, 1999

Dow down 47.8

Associated Press

NEW YORK - Stocks closed mixed today as investors failed to shake their nervousness about inflation and interest rates.

But some big stocks, including Microsoft and Intel, got a boost from joining the Dow Jones industrial average.

The Dow closed down 47.80 at 10,302.13, having surrendered an earlier 59-point gain. The blue chips fell 120 points yesterday amid uneasiness over higher rates.

The Standard & Poor's 500 fell 11.72 to 1,281.91, and the Nasdaq composite index dropped 4.48 to 2,811.47.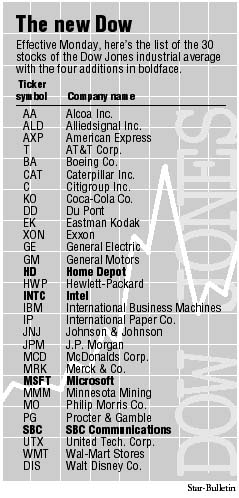 Decliners beat advancers by a 8-to-5 margin on the New York Stock Exchange, with 1,877 stocks falling, 1,157 rising and 488 unchanged. NYSE volume came to 878.15 million shares vs. 772.20 million shares yesterday.

The NYSE composite index fell 6.07 to 591.24; the American Stock Exchange composite slipped 1.33 to 789.89; and the Russell 2000 index fell 1.97 to 415.79.

The price of the 30-year Treasury bond fell 3/8, or $3.75 per $1,000 face value; its yield rose 3 basis points to 6.38 percent. Prices and yields move in opposite directions.

Investors focused on continuing concerns about the signs of inflation in the economy, especially as the Federal Reserve's next policy-setting meeting approaches on Nov. 16.

The jitters caused investors to look past better-than-expected earnings reports. Early reassurance from a Conference Board report of a drop in consumer confidence during October helped the stock market only briefly, as did Lucent Technologies' report of strong third-quarter earnings.
E-mail to Business Editor
---
---
© 1999 Honolulu Star-Bulletin
https://archives.starbulletin.com