---
Thursday, October 21, 1999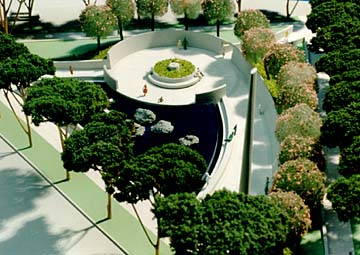 National Japanese American Memorial Foundation
This model shows what the National Japanese American Memorial
will look like. It is set to open next fall, a couple of blocks north
of the U.S. Capitol.
---
Hawaii donations
play big role
in creation of
memorial park


Groundbreaking for
the AJA park will be held
tomorrow in Washington, D.C.

Time Line
Where they went By Gregg K. Kakesako
Star-Bulletin

NEARLY 2,000 island residents have chipped in $690,000 toward building a memorial honoring the contributions of Americans of Japanese ancestry during World War II although nearly 120,000 AJAs were sent to detention camps.

Los Angeles, the state of Washington and seven Midwestern states have donated more money, said Cherry Tsutsumida, executive director of the National Japanese American Memorial Foundation, however, "Hawaii sent in more envelopes and the response was greater."

"We were amazed how many people from Hawaii gave," she said. "The story is not the amount of money raised, but the number of people who donated."

Of the 15,000 donors to the memorial park, 13 percent came from Hawaii, Tsutsumida said.

Groundbreaking ceremonies of the $10.8 million National Japanese American Memorial -- which will sit on one-third acre of National Park Service land in Washington, D.C., a couple of blocks north of the U.S. Capitol -- will be held at 1 p.m. tomorrow.

Completion of the triangular-shaped park with its granite memorial is expected in June with dedication scheduled for the fall of next year.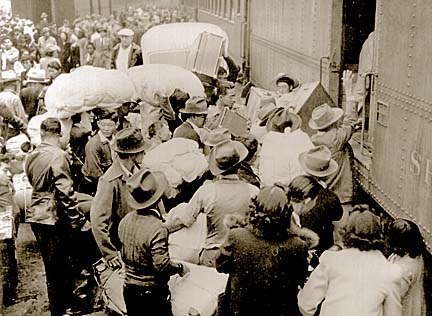 Photo courtesy of the National Archives
Hundreds of Japanese Americans, only with belongings
they can carry, are forced onto trains bound for camps.
---
Once completed, it will feature a pool, a sculpture and cylindrical memorial bell by Paul Matisse. The centerpiece will be a 15-foot bronze statue by Nina Akamu featuring two cranes entrapped in barbed wire to symbolize the loss of freedom by Japanese Americans in World War II.

After a three-year fund-raising campaign, Tsutsumida said the park needs only $800,000 to meet its goal before the drive ends next year.

The largest donation came from Los Angeles where 3,561 people gave $2.3 million. That was followed by $1.8 million from 1,187 donors in Illinois, Ohio, Wisconsin, Michigan, Minnesota and Indiana, she said.

U.S. Sen. Daniel Inouye, being considered for a Medal of Honor for his wartime exploits as a member of the 442nd Regimental Combat Team, said, "The memorial will serve as a place for learning and meditation.

"It will stand as a testament to the patriotism and honor of the Japanese Americans who fought to preserve freedom, despite being personally denied their own civil liberties. Furthermore, the memorial will remind us of our duty and responsibility to protect the constitutional rights of all American citizens."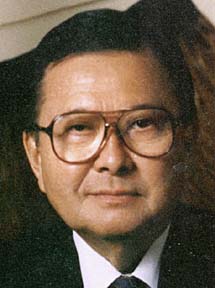 Sen. Daniel Inouye: 'It will stand as a
testament to the patriotism and honor of
the Japanese Americans who fought to
preserve freedom, despite being personally
denied their own civil liberties.'
---
Margaret Oda, retired Honolulu school district superintendent, said the memorial not only "honors the loyalty and patriotism of Japanese Americans in World War II, especially the 120,000 who were interned ... it also honors the country for its admission of its errors."

"These are the things you want to bring out in an educational program which will be part of the memorial," said Oda, educational chairwoman for the foundation.

She is helping to write brochures and educational booklets and develop curriculum resource kits to help teachers explain when the U.S. government deprived a large number of AJAs their civil rights. These educational tools will be distributed by the Japanese American National Museum in Los Angeles.

Curved marble walls will tell the story of the Japanese-American World War II experience. Two panels will carry the names of the more than 800 Japanese Americans who were killed in combat serving with the 100th Battalion, the 442nd Regimental Combat Team, and the Military Intelligence Service.

Chiseled into the tops of six panels will be the names of the 10 detention camps spread throughout seven Western states where 120,000 Japanese Americans were imprisoned behind barbed wire and armed guard towers.

At tomorrow's ceremony will be Inouye, Gen. Eric "Ric" Shinseki, chief of staff of the Army and a former Kauai native, and a color guard representing the Pacific Army Reserve's 100th Battalion/442nd Infantry.

Former U.S. Rep. Norman Mineta, a California Democrat who was interned as a child, will also attend. He and Inouye shepherded approval of the park through Congress in 1992.

Time line

Key events that led to internment of Japanese Americans and the formation of the 100th Battalion and 442nd Regimental Combat Team.

Dec. 7, 1941: Japanese attack Pearl Harbor.
Feb. 19, 1942: President Roosevelt signs Executive Order 9066 ordering evacuation and internment of all Japanese from any war-sensitive area.
March 21, 1942: First group of Japanese Americans from Los Angeles sent to Manzanar relocation camp.
June 12, 1942: The 100th Battalion was born, and 1,300 second-generation Japanese Americans or nisei soldiers were shipped to Oakland and trucked to Camp McCoy, Wis., for training and later Camp Shelby, Miss., for training.
Feb 1, 1943: The 442nd Regimental Combat Team was activated, and its ranks were filled with more than 2,500 Japanese Americans from Hawaii and 1,300 from mainland internment camps.
Jan. 2, 1945: War Department allows Japanese Americans to return to the West Coast.
Aug. 10, 1988: President Reagan signs into law Civil Liberties Act to discourage future occurrences of what happened to Japanese Americans.




Where they went

The following is a list of Japanese-American internment camps from 1942-1946. About 120,000 American citizens and permanent resident aliens of Japanese ancestry were moved to the facilities.

State	      Camp	   Population
Arizona	    	Poston		17,814
	     	Gila River	13,348
Arkansas	Rohwer		 8,475
	     	Jerome		 8,497
California	Manzanar	10,046
	     	Tule Lake	18,789
Colorado	Granada		 7,318
Idaho	    	Minidoka	 9,397
Utah	    	Topaz		 8,130
Wyoming	     	Heart Mountain	10,767



E-mail to City Desk
---
---
© 1999 Honolulu Star-Bulletin
https://archives.starbulletin.com